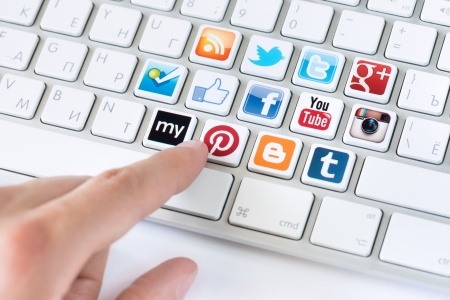 Most people know how to manage their own personal social media accounts. But what about business social media? Is managing it for a business really that different? The short answer is yes. Here are a few social media tips to get you started.
Choose the right platform.
Just because a social media platform is out there, doesn't mean your business needs to be using it. Take time & figure out which platforms truly fit your business. For example, LinkedIn may not be a great fit for a small retail business, but Pinterest could be. Make sure you do some research on each platform & determine which are the best fits. The more time you put into managing platforms that aren't a good fit for your business, the less time you'll have to manage those that are.
Take time to consider who uses each platform & what they use it for.
Twitter & Facebook
Who uses it: Everyone
What is it used for: Staying connected with family & friends, sharing ideas
LinkedIn
Who uses it: B2B companies, professionals, job seekers
What is it used for: Professional networking
Pinterest
Who uses it: People who like crafts, cooking, projects, etc
What is it used for: sharing recipes & DIY projects
Google+
Who uses it: Businesses, a few individuals
What is it used for: Google+ is great for search engine optimization for businesses.
Engage your audience.
Once you decide which platforms are a good fit for your business & start posting content, be prepared to engage with your audience. Engage your audience by asking questions occasionally, & making sure you respond to comments in a timely manner. Consumer studies show people are more likely to do business with a company when they are engaged on social media.
Include calls to action.
Make sure you are making your social media work for you. Use those platforms to drive people to your website. Giving a teaser & then including a "see more" feature which links to your website can really help.
Know when to post.
Knowing when your audience is online really helps. Analytic tools provided by social media sites can help you determine this. If these aren't available, take general notice of when people are engaging your company. Posting around those times can really help get your brand noticed.
Sometimes, less is more.
Along with knowing the times to post, also think about how often you should be posting. People are more likely to stop following your brand if you flood them with messages. Keep the posting to just a few times a day, & make sure the posts are spread apart & not one right after another.
A picture is worth a thousand words.
It's been proven time & time again – posts with pictures get noticed more than posts without them. When possible, post interesting images along with your content. It will help bring more attention to your post & your brand.
Don't just talk about your company.
We all have that one Facebook friend. The one who only posts about how great her job is, how much she loves her husband, how wonderful her kids are. It makes you wonder if they ever pay attention to anything else that's going on in the world. Don't let your company be that person. Instead of exclusively posting about your products or services, also mix in some posts about things happening in your community or current events. That will make your audience realize that your business cares about what's going on in the world, & will generally lead to more social media followers.
Hire a social media manager.
Realize that no one person can do everything within your business. Just because you are the owner or manager, doesn't mean you are the best person to do social media management for your company. Consider hiring an expert that has the time & ability to stay up-to-date on everything that's going on with your pages. If you don't have it within your budget to hire someone else, consider hiring an outside marketing company.
If you decide it is best to hire a social media management team, Blue Frog is here for you. Learn more about what we have to offer by clicking here.