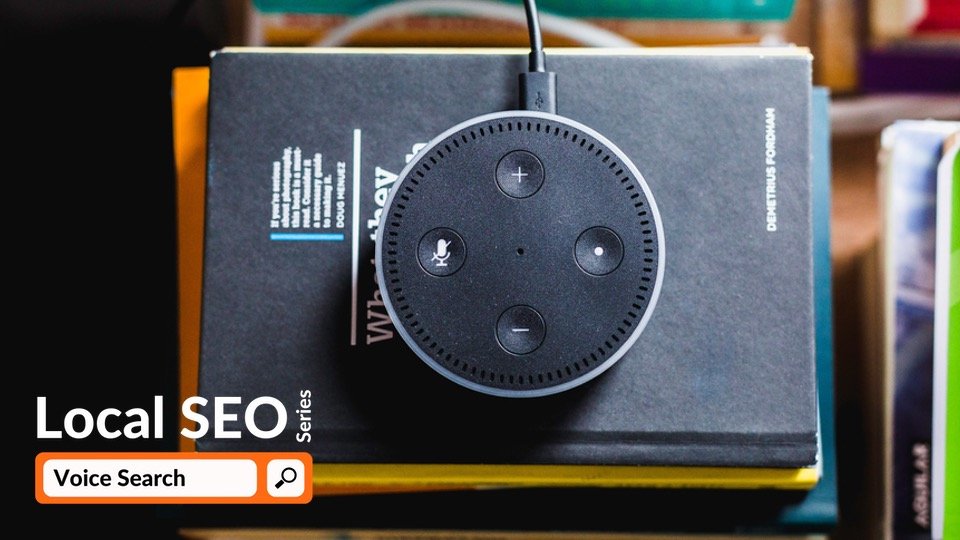 Virtual assistants are everywhere and are rapidly changing how people search for information and businesses. The hands-free convenience and incredibly quick response time allows users to multitask and get answers immediately; who doesn't love that? But with this advanced technology comes yet another factor you need to optimize your site for! How do you get started?
You could try: "Hey Google, optimize my website for voice search!"
But sadly, it's not that simple…
In this article, we'll walk through how voice search differs from traditional search, and how to optimize your site to be discovered via voice search.
How Does Voice Search Work?
Voice search is an organic search method of speaking to a virtual assistant and receiving a spoken response.

When asked a question, the virtual assistant transcribes the human speech into text and analyzes the text for questions and commands. It then searches for relevant information in its respective external data source (search engines) and translates the information back to the user by either speaking back to them or performing the command.
Virtual assistants are available on mobile devices, like Apple's Siri, and in-home devices, like Amazon Alexa or Google Home.
How Does Voice Search Differ?
There's More Than Just Google
When it comes to traditional search methods, Google reigns supreme over all other search engines, maintaining a 92% market share.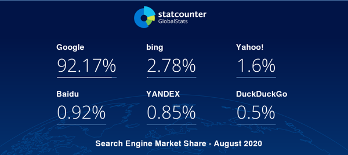 But with voice search, Google is no longer the only player in the game. When creating their virtual assistant devices, top brands partnered with different search engines. Google and Apple use Google, but Cortana and Amazon Alexa use Bing.

Google is in control of the traditional search market share, but in voice search, it's a lot more divided. Siri and Google Assistant are the most popular for smartphone users, while Alexa takes the top slot among smart home devices.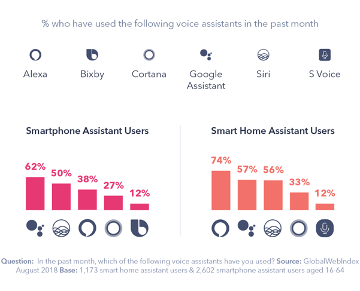 Voice search is growing quickly, and since Amazon Alexa and Microsoft Cortana use Bing and Yelp, when you go to optimize your site for voice search, you need to focus on more than just Google.
Local Search Intent
Millions of voice assistant users around the world have incorporated the technology into their daily routines and use them to carry out basic informational and transactional searches. In fact, voice searches are 3 times more likely to have local intent, meaning the user is looking for a local business or something nearby. Without optimizing your site to be found via voice search, you could be missing out on a large group of potential buyers.
There are many reasons people use voice search: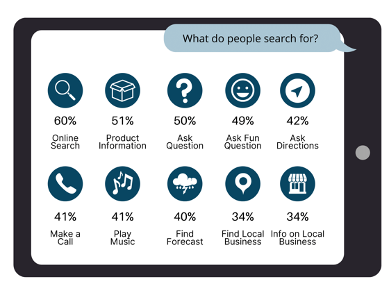 For local businesses, voice search optimization is incredibly beneficial! Since voice searches tend to be locally focused, it is important to keep business information accurate and optimized.
Conversational Keywords
Voice searching is different than traditional search methods in that users tend to have a "conversation" with the virtual assistant. For example, think about what you would type into a search bar if you were looking for an apple pie recipe.
You might type: "apple pie recipe" or "apple pie from scratch"
With voice search, a user is more likely to ask a question, like: "Hey Google, how do I make apple pie from scratch at home?"
As you can tell, the voice search query is much longer than the typed search query. This is common for voice searches.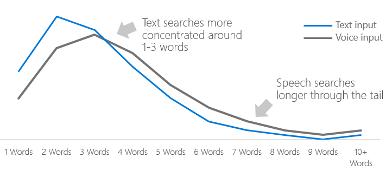 Not only is the voice search query longer, but it is more conversational in nature. This is where semantic search comes into play. Semantic search describes a search engine's ability to understand the meaning behind the user's search query. By understanding the meaning, search engines are able to provide more relevant and reliable results, rather than exact word match results. To do this, search engines look at the user's search history, location, spelling variations, and structured data on websites.
Conversational queries in voice search are also more likely to be phrased as a question or request. If fact, 20% of voice search queries are triggered by just 25 keywords.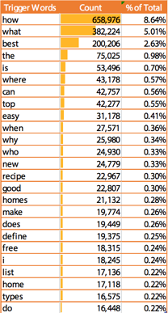 As you can see, over 16% of all voice searches include "how," "what," and "best." Understanding what users are searching for will help you develop a content strategy to provide answers to users' questions.
Search Engine Results
Voice search is often a screenless interaction, which means the user may never see a physical search result, they only hear the answer or options played back to them. So, if you want a user to learn about your business, get directions, or call you, your site and Google My Business listing need to be optimized and accurate.
Optimizing for voice search means optimizing for rich results. SEMrush conducted a study on voice search answers and found that "70% of all answers returned from voice searches occupied a SERP feature (with 60% of those returning a Featured Snippet result)." Rich results are often referred to as "Position 0" because they appear at the very top of the search results page (SERP).
Featured snippets aim to answer questions or informational queries right in the search results, removing the need to click into a website. Voice search takes it a step further by speaking the featured snippet result to the user.
Usage of voice search is predicted to continue to grow year over year, and the reasons people use voice assistants makes it pretty easy to understand the appeal!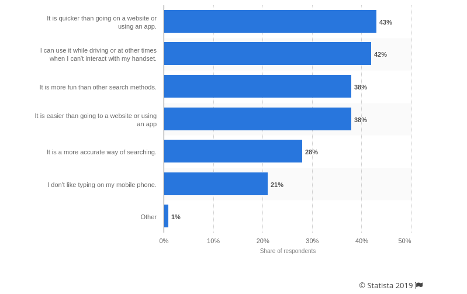 Using voice search is quicker, easier, and more fun than traditional search methods. Voice assistants provide users with the answers they want almost instantly, meaning users no longer have to select a search result option or scroll through pages to find the information they are looking for. Instead, it is up to you to provide search engines with the answers directly, which takes a little more optimization work.
The good news is, optimizing for voice search generally involves optimizing for mobile use and local search engine results pages as well, just with a twist. Use these 5 tips and strategies to set your business on the right track to be found via voice search.
How to Optimize for Voice Search
1. Incorporate Structured Data
With a focus on semantic search, incorporating structured data into your website pages will help search engines understand your content more clearly. Along with relevance and quality, structured data is also beneficial in claiming rich features, which are popular results for voice searches. In fact, 36.4% of voice search results came from pages that use schema markup structured data.
One type of markup in particular was designed specifically for voice search answers: speakable markup. Speakable markup allows you to identify parts of your content that are written well for audio playback, like text-to-speech (TTS). Using this markup allows Google to quickly identify content to play back to the user that will sound natural.
If you want to learn more about structured data markup, you can read all about its local SEO benefits and how to use it in this article: How to Use Local Structured Data Markup (Schema).
2. Optimize Your Google My Business Listing
When it comes to finding information about local businesses, virtual assistants turn to Google My Business (GMB) listings. Your GMB listing contains important business information such as your name, address, and phone number (also known as your NAP info). You can also include additional information like your business hours, website URL, a description, other contact information, and more.
Note: Remember, not all virtual assistant devices use the same search engine to gather their information. Google devices use Google, but others use Yelp or Bing. Ensure you also optimize for their local listing features.
If a user tells their voice search device "give me directions to Target," it will use their current location to find the closest Target available through its listing information. It is important to ensure your listings contain the correct information. Many people use voice search when their hands are otherwise occupied (like driving), so if the address is incorrect, the user may end up in the wrong place and have a poor experience with the company.
3. Develop a Mobile Friendly Website
Mobile friendly and voice search optimization go hand in hand. Between Google's shift to Mobile-Frist Indexing and more than 88% of "near me" voice searches occurring on mobile devices, your site needs to be mobile friendly to be discovered.
Optimize your site for mobile use by utilizing the 10 tips available in this article: Optimizing Your Website for Mobile Use
While you optimize for mobile usage, incorporate features that are particularly useful for voice search capabilities—like AMP pages.
Accelerated Mobile Pages (AMP) were designed specifically to improve the load time of mobile website pages. AMP pages can load almost instantly, and they do this by restricting HTML, CSS, and JavaScript, which quickens the rendering time for the mobile page. AMP pages are also automatically cached by Google. When a page is cached it is temporarily stored so the page does not need to be loaded every time.
A similar process is used when you enter a website domain into your search bar if you have already been there before. For example, if I type "am" into the search bar, Google will automatically fill it with "amazon.com" because it remembers how often I shop online ...

When it comes to voice search optimization, the AMP feature can be utilized for any page, but focus on pages that answer common search questions or provide information about your business. Not only can you use AMP pages to help reduce load time, but you can also incorporate structured data in them to further enhance the performance of the page.
4. Optimize Your Content
Content is the most important part of voice search optimization. Voice search queries tend to be phrased as questions or requests and the average length of voice searches is 29 words, so your content strategy should involve a focus on long-tail keywords.
To find long-tail keywords that are framed as questions, you can turn to a site called AnswerThe Public. This site allows you to enter a keyword into the search bar, and it will provide a list of recommended questions related to the keyword.
Here is an example of what I got when I searched for "voice search":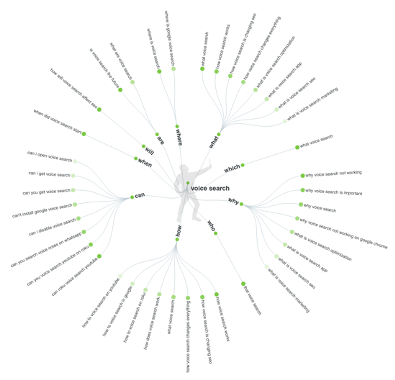 It divides the questions up into categories like "what," "how," "where," etc. Using these common questions about the related topic, you can develop content that answers these questions, while incorporating structured data and mobile friendliness.
Long-tail keywords tend to be easier to rank for because the search volume is usually lower. These keywords are considered "low-hanging" fruit, which is beneficial because 75% of voice search results will rank in the top 3 positions for the particular query on desktop searches. So, if you can rank high for long-tail keyword questions, you can likely obtain a voice search response.
To discover more local based keywords to target, check out this article: Local Keyword Research Tips & Tricks.
Voice search responses tend to be short and concise, however, the average word count of a voice search result page is 2,312 words. Longer pages tend to rank higher because they encompass a topic more fully, thus creating more authority and trust in the site.
A simple method of creating a strong page while keeping the answers short, is to create a Frequently Asked Questions (FAQ) page. FAQ pages are aimed at answering questions, just like featured snippets, which are frequently used in voice search responses. There is also FAQ structured data markup you can add to the page to communicate each question and answer combination clearly to search engines.
5. Improve Site Loading Time
Page speed is a ranking factor for both desktop and mobile search results and is also highly influential in bounce rates and user experience. Page speed also plays a role in voice search results. When a user asks their virtual assistant a question, they typically get an answer back within a second, but the average webpage loads in about 2 seconds.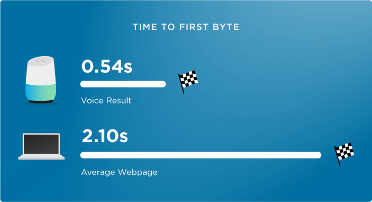 Backlinko conducted a study and found that voice search results load 52% faster than the average webpage. Optimizing your site to load quicker or provide search engines with the means of caching your information, can influence your chance of claiming a voice search result.
Common causes of slow websites are image sizes and unminified JavaScript or CSS. Learn how to optimize your website images in this article: How to Create SEO-Friendly Images.
Voice search is quickly becoming a powerful new way to search for information and local businesses. Few businesses are properly optimized to be discovered via voice search, so optimizing you website and local listings now will put your business ahead of the curve and at an advantage against your competitors.
For even more SEO tips, download the Local SEO Checklist E-book!