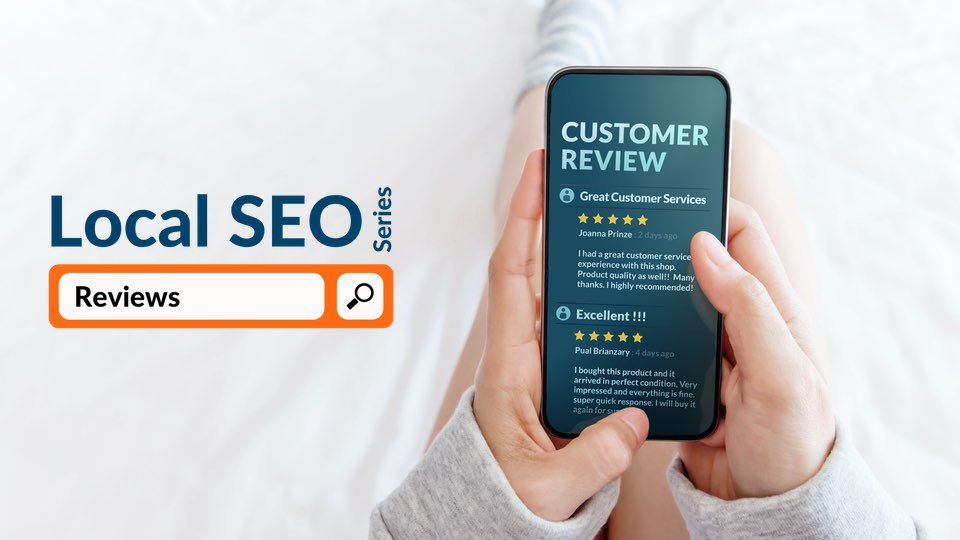 Reviews are an important, influential component in consumer purchasing behavior, and have also become an integral part of search engine ranking factors. However, it's not just about the star rating or the quantity of reviews, your business' response matters too. Developing a review strategy can influence how consumers (and search engines) perceive your business and how quickly they are willing to trust you.
Read through, or jump to a specific section:
How Reviews Impact SEO & Users
Tips to Generate Reviews
Tips to Respond to Reviews
Impact of Negative Reviews
Developing a review strategy will help your business generate new reviews consistently, target customers at the right time, and ensure you maintain your reputation with thoughtful and credible responses.
How Reviews Impact SEO & Users
Search engine optimization (SEO) has been evolving with a focus on providing the user with the best and most relevant search results. This focus on the user often means if you optimize for one, you are likely optimizing for the other as well. Because reviews are important to users, they have become a highly influential ranking factor for search results, and here are a few reasons why:
Improved Trust & Credibility
Search engines continuously look for ways to validate your business and determine its credibility. One way it does that is through reviews. Obtaining reviews tells search engines that real people are engaging with your business and the more positive reviews your business generates, the more reliable your business will appear to search engines and users.
Reviews are highly influential in building user trust, with 91% of consumers saying they are more likely to use a business with positive reviews.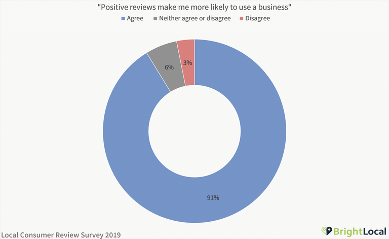 Additionally, users trust reviews; 76% of consumers trust online reviews just as much as a recommendation from friends or family. It is clear that users trust reviews, but it takes about 10 reviews for a user to feel like they can trust a business. The more genuine reviews you can generate, the more trust you can instill in potential customers for your business.
Reviews = Keywords
Similar to how keywords work on your webpages, the words used in reviews help search engines identify and categorize your business. Let's use Google My Business (GMB) as an example.
Your GMB listing lets you associate various attributes to your business; however, most of the attributes are only generated from user engagement. If users leave reviews for your business and include phrases like "family friendly" or "great patio space," Google will add those attributes to your business and use them to show your business in more specific searches like "best patios Des Moines" or "family-friendly restaurants near me."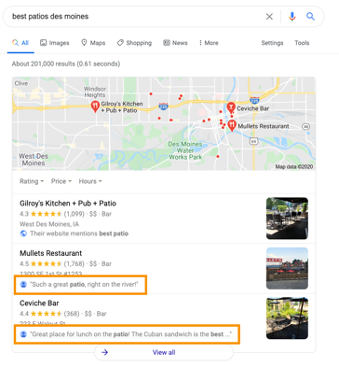 The words used in reviews are also influential to the users reading them. Notice how the top result from the Local Pack image above has "Their website mentions best patio" instead of a review with the word patio? Users are more likely to trust what other reviews say about a business than what a business says about itself.
Increase Engagement
Search engines have a preference for fresh content and are more likely to rank business profiles that are actively updating their listing and have new reviews coming in continuously.
The recency of reviews is also influential to users. A BrightLocal study of consumer review behavior in 2019 found that 48% of consumers only pay attention to a review if it was written within the past 2 weeks.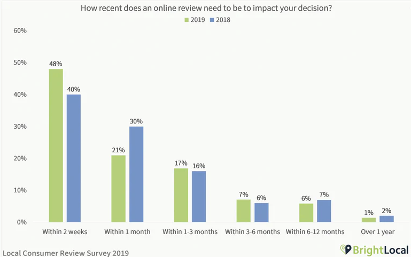 Developing a review generation strategy will help your business target consumers at the right moment to leave a review, which will increase the engagement on your business listings and keep new reviews flowing continuously.
Tips to Generate Reviews
Review generation strategies are often overlooked by businesses, but they are a vital piece of your brand management puzzle. Consumers value reviews and are likely to leave a review themselves if asked to do so. BrightLocal's study found that 85% of consumers would leave a review for a business if requested. Use the following tips to get started with your review generation strategy.
Set a Goal
A study on Google reviews discovered that the average number of reviews for businesses ranking in positions 1 through 3 was 47 Google reviews. That may seem like a low number for some industries, but for smaller businesses in more niche markets, the average may be lower.
Google and review sites use reviews to determine trust and credibility and often compare your review stats with your competitors and industry rather than all businesses globally. When deciding on a target number of reviews (or weekly goal), look at how many reviews your top competitors have in your area and aim a little higher.
It is also important to set a realistic goal for average star rating. While 47% of consumers would consider purchasing from a business with less than 4 stars, it is important to take into account that a negative review may be inevitable. Targeting your customers at the right moment after purchase can largely influence the type of reviews you receive.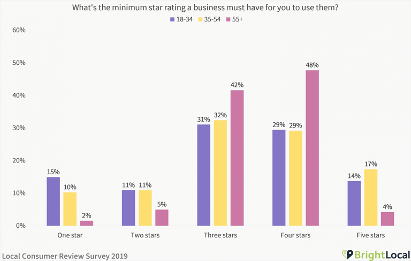 Determine the Right Place & Time
Remember, customers are likely to leave a review if asked, and BrightLocal discovered that it's more common for consumers to write a review about a positive experience than a negative one. This is contradictory from previous expectations of review writing but is likely related to users being more likely to go out of their way to write a negative review. With proactive review management, you can target customers who recently purchased or visited your business and increase the chance of reaching a customer with a positive experience.
There are many ways you can target customers to leave a review; you can send a follow up email, use a QR code or link on a receipt, or even send a postcard. Whatever option you choose, ensure it aligns with your customers' expectations of your business. For example, if you are an ecommerce store, it might make more sense to send a follow-up email once their package is delivered; but if you are a dental clinic, sending a postcard after their appointment might work well for you. There is a lot of flexibility in how you reach your customers, but whatever method you choose, ensure you simplify the process.
Simplify the Process
The simpler the process of leaving a review, the more likely the user is to leave one. Let's use the follow-up email option as an example. Once a customer's purchase has been delivered, you send a follow-up email the next day asking them to review their purchase. Within the email, you provide a link directly to the review platform and clearly outline the steps the user needs to take to leave a review.
The review platforms you send your customers to may vary and you may want to mix them up from time to time to ensure you have new reviews being consistently generated on multiple platforms.
Provide Platform Options
There are many different platforms that consumers use to find local businesses: Google, Yelp, TripAdvisor, etc. It is beneficial for your business to have citations listed in all major directories and local, specific ones as well.
To learn more about building local citations, check out this article: The Ultimate Guide to Local SEO Citations
Much like you have a preference on where you want reviews to go, users have a preference on where they want to leave reviews. Using the follow-up email example again, you can provide multiple links in your email to different platform options where the user could leave a review.
Regardless of where they leave a review, you should also have a strategy for responding to those reviews.
Tips to Respond to Reviews
Responding to reviews is important to users, both those leaving the review and those reading them later on. In fact, 97% of consumers who read reviews will also read a business' response.
Respond to Every Review
Whether the review is positive, negative, or anywhere in between, you should be responding to all of them. This shows your business' level of dedication and care to your customers and how you handle various situations.
This is particularly important in building and maintaining relationships with your customers. In fact, BrightLocal found that 71% of consumers said they are more likely to use a business that responds to reviews.
Timeliness is also important to users. 52% of consumers expect a reply within a week of leaving a review. How you respond to reviews will have a large impact on current and potential customers as well. Quick responses are especially important for negative reviews.
It is worth noting that it can be difficult to respond to every review every time. Try to respond to all reviews that include feedback. For example, it is not always expected to respond to customers who only leave a star rating with no written feedback compared to a written review.
Personalize Each Response
Your reviewers are real people and want to know a real person is reading their feedback. Avoid using the same responses over and over again. Instead, try to pull out specific elements from their review to reiterate or resolve. Here are some ways you can address negative, positive, and neutral reviews:
Tips to Respond to Negative Reviews
It can be difficult to respond to negative reviews. They can be hurtful and sometimes cruel. Getting upset over a negative review is natural, but avoid responding to reviews when you've lost your cool or are angry. When you are calm and ready to respond, here are some things you should include:
Address the reviewer – Avoid the generic "Dear customer" response. Instead use their name so they, and other customers, know you are speaking directly to them.
Thank them – Show your customers that you value their feedback and take it seriously.
Apologize and take responsibility – By apologizing, you show the customer you care about the issue, even if it was not your fault.
Provide contact information – Providing contact information allows the reviewer to further discuss their issue and shows you genuinely want to make the situation right.
Make things right – Offer a way to make the situation better, such as refunding their purchase or asking for a second chance to make their experience better.
Example: "Dear Karen, thank you for your review. I'm sorry to hear our service did not meet your expectations. I appreciate you bringing the issue to my attention. We always aim to deliver a great experience and your feedback helps make us better to ensure this doesn't happen again. Please reach out to me at (123) 456-7890 so we can further resolve the issue. I hope you will give us a second chance to meet your expectations in the future. Thank you."
Tips to Respond to Positive Reviews
Responding to positive reviews is a great way to build loyal returning customers and highlight your business' positive attributes. When responding to positive reviews, you could:
Thank them – Show your customers that you value their feedback and take it seriously.
Reiterate the positive – Focus on what was positive to draw more attention to the good experience, not to mention it adds more beneficial keywords to your listing.
Ask them to come back again – Welcoming your happy customers with an invitation to return is a great way to develop loyal returning customers as well as shows potential customers you are the kind of business people would visit again and again.
Mention other products/services – Avoid sounding to sales-y when mentioning other products or services, but use it as an opportunity to suggest other offerings relevant to the product or service the reviewer mentioned.
Example: "Amy, thank you for taking the time to leave us this amazing review, you made our day! We are so glad you enjoyed your service from Emily, we will pass along your kind words. Next time you're here, try out our new seasonal dishes. Hope to see you again soon!"
Tips to Respond to Neutral Reviews
Neutral reviews can be more of a challenge to respond to as the tend to include both positive and negative experiences. Ensure you address those negatives but highlight the positives as well.
Thank them – Show your customers that you value their feedback and take it seriously.
Reiterate the positive – Focus on what was positive to draw more attention to the good experience, not to mention it adds more beneficial keywords to your listing.
Address any negatives – If there is any negative feedback, acknowledge the issue and provide a short apology and make it right if possible.
Provide contact information – Providing contact information allows the reviewer to further discuss their issue and shows you genuinely want to make the situation right.
Example: "Dear David, thank you for your review, we appreciate you taking the time to share your experience with us. Please reach out to us as (123) 456-7890 so we can ensure your experience next time is even better. We appreciate your time and feedback."
How to Handle Fake Reviews
Fake reviews can be tricky to deal with; however, your consumers are smart. BrightLocal found that over 80% of consumers claim to have read at least one fake review in 2019. Similar to responding to negative reviews, avoid responding when you are upset about the situation, but you should still respond to the review to request clarification and show potential customers you take feedback seriously.
The good news is, there is the potential to remove fake reviews from most sites. There is no guarantee that the review will be taken down, which is why you should still submit a thoughtful response to the review.
Impact of Negative Reviews
There is no doubt that negative reviews can have negative effects on user purchasing behavior and search result rankings. However, if you receive a few negative or neutral reviews, the effects may not be as bad as you would think.
Search engines and users are smart. They rely on reviews to determine credibility and establish trust in your business. Having nothing but positive reviews on your site can appear suspicious to potential customers, especially if the review content is unbelievably positive.
Research from the Harvard Business Review discovered that moderately positive reviews can actually be more persuasive than reviews that are excessively optimistic and positive. Similarly, consumers tend to view negative reviews as having more credibility than positive reviews.
Having an array of reviews helps search engines verify the legitimacy of your business. Even those negative reviews lead to increased engagement on your business listings, which shows search engines and users that your business is real and genuine.
Negative reviews are also an opportunity for you to obtain constructive feedback on your business that you can use to make better decisions on improving your company. Responding to negative reviews shows potential customers how your business handles feedback and resolves any issues. Understanding that your business will make an issue right will show potential customers that you are reliable to do business with.
Users and search engines do not expect your business to be perfect, and that is factored into their considerations of reviews. Develop a strong review generation strategy to ensure you are targeting your customers at the right moments to better your chances of obtaining positive reviews. As long as you respond to your customers and use their feedback, your business can greatly benefit from all types of reviews.
Our Local SEO Checklist covers anything and everything local SEO, download it below!