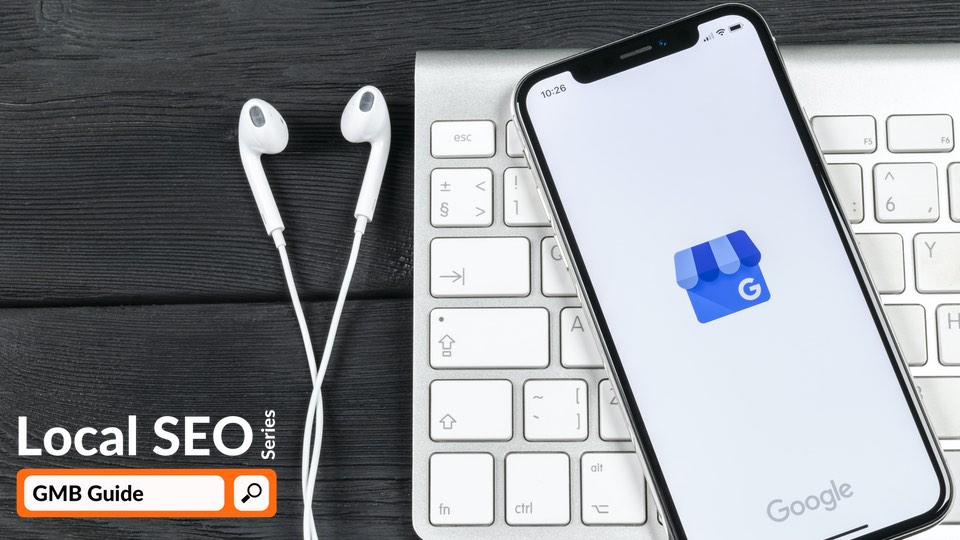 Google optimizes their search results pages for the user, which involves making it as quick and simple as possible to help them find the information they are looking for. With that comes a shift known as "Google as the new homepage," which aims to prevent users from ever having to leave the search results page. So, if you want your business to be found by local searchers, you need an optimized and accurate Google My Business (GMB) listing.
Follow along, or jump to a specific feature to optimize:

Create/Claim & Verify GMB Listing
Add Consistent NAP Information
Select Business Category
Optimize Business Description
Add Quality Images
Generate & Respond to Reviews
Utilize Other Features
Monitor GMB Performance
GMB Ranking Factors
When it comes to local searches, you want your local business to be found, but with search result positions being taken by domains like Yellow Pages, Yelp, and Trip Advisor, your local business can't compete. GMB listings combat this by providing the user with an alternative result that shows individual local businesses near them.
For example, if I type, "restaurants near me", into the Google search bar, the link results will look like this: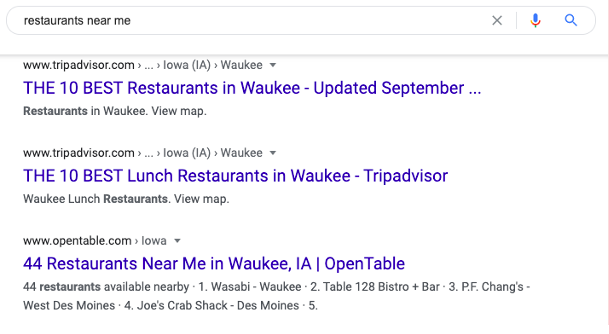 While those pages would provide great information about local restaurants in the area, Google provides a list of local restaurants in the form of the "Local 3 Pack": the top three relevant GMB listings with a map. This result shows up at the very top of the search results page, which means users will see these local listings before they see the linked results from Yelp and Trip Advisor.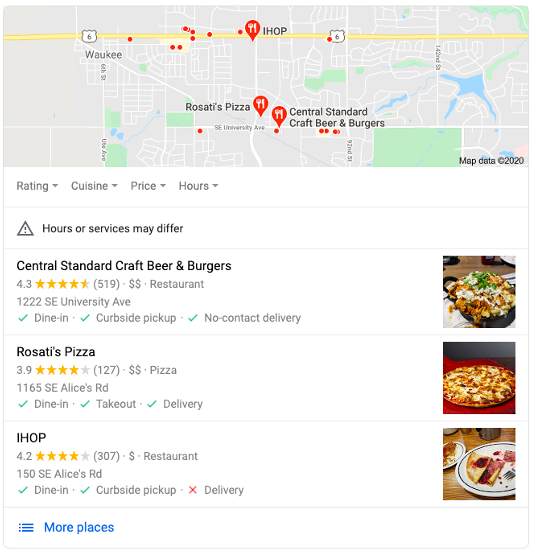 This is where you want to be found—the local map pack—and to do so, you need an optimized Google My Business listing. To rank in the local map pack, Google looks at three main factors: distance from searcher, relevance to search query, and prominence.
Distance
Users searching for local businesses near them typically want the closest options, so Google will take how far your business is from the user into consideration when ranking for the local 3 pack.
However, you do not need to be the closest to claim the top spots, that's where relevance and prominence come into play.
Relevance
To be relevant to the search query, your business needs to align with what the user is searching for. Let's look at the example for "restaurants near me" again: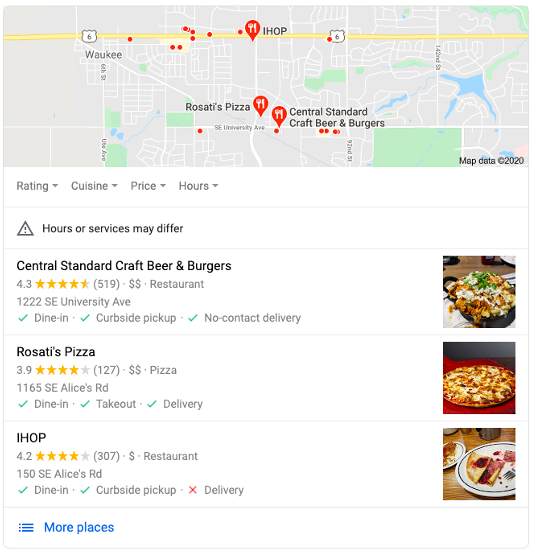 The search query is pretty vague, which is why the three results in the map pack are very different from one another: American cuisine, a pizzeria, and breakfast food. That is because all of these places are "restaurants" near me. Two of which have "restaurant" listed as a business category.
If I were to type in a more specific search query such as "pizza places near me," I would see more specific results to what I am looking for: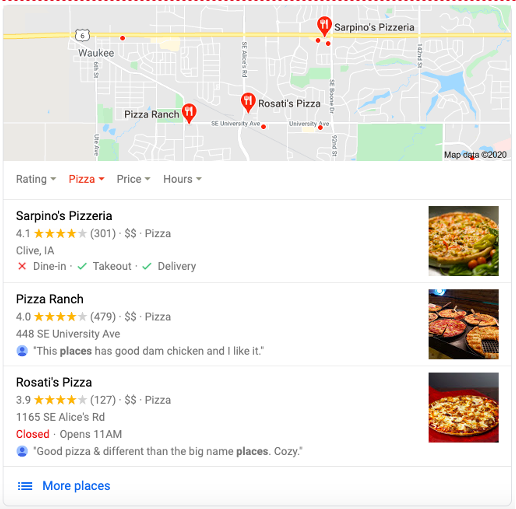 Relevance is why selecting your business category is so important. You want to be found by the right searchers every time.
Prominence
Prominence is a harder factor to influence, as it relates to how well established and known your business is; essentially, the quality of your business. There are several ways Google determines the quality of your business; among the top three factors are:
Reviews are particularly important, both in ranking potential and for user experience. Google takes into consideration your average review score, and the quantity of reviews you have.
The "pizza places near me" search result is the perfect example of this: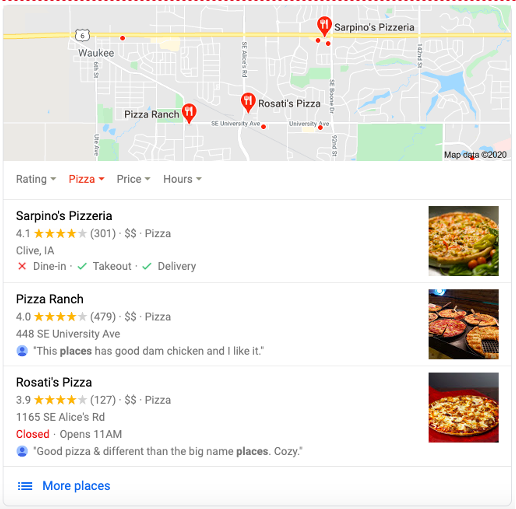 The second result has 178 more reviews than the first result, but the first result has a higher rating. Both are important for ranking potential.
Another thing to note is the difference between what is listed under Sarpino's Pizzeria versus Pizza Ranch and Rosati's Pizza. Remember, the search query was "pizza places near me"; both Pizza Ranch and Rosati's Pizza show a review that contains the word "places" in it, where Sarpino's Pizza shows how they offer take-out and delivery instead. Reviews are highly influential, which is why it is important to build quality reviews for your GMB listing.
There are a lot of elements and features to work with in a GMB listing. Follow this guide to optimize your listing for success!
You can also download our Local SEO Checklist below!
1. Create/Claim & Verify GMB Listing
The first step is to create or claim your GMB listing, if you have not done so!
To check if there is a listing already created, head over to Google My Business and type your business' name into the search bar.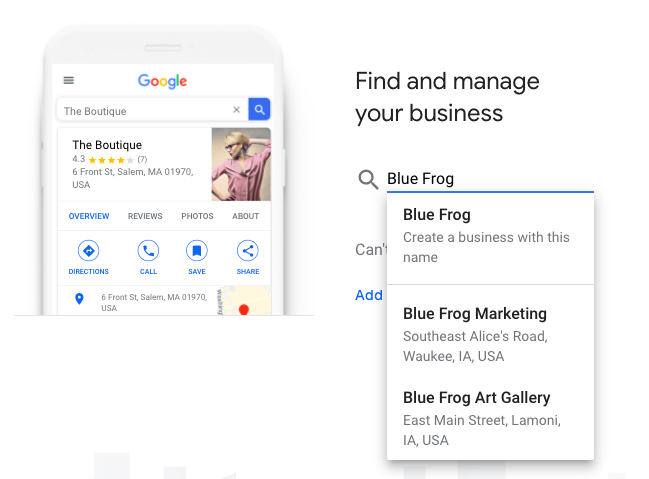 As you type in your business' name, options will appear in the drop down. If there is a listing that already matches your business' name and location, click on it. If not, click the top option to "create a business with this name" to create your new listing.
If you are starting from scratch, use this guide to set up your GMB listing.
If you are claiming a listing that already exists, use this guide to optimize your GMB listing.
Verify Your GMB Listing
Verifying your GMB listing is important as it tells Google that the business really does exist. You can choose to verify your GMB listing by postcard, phone, email, instant, or bulk.
Some industries have limited verification options, so keep that in mind if you do not see all the options listed above.
If your business is not verified right away, avoid making any changes to the listing information you have added until the verification status comes through. Any changes made while Google works on verifying your listing can increase the time it takes to complete the process.
2. Add Consistent NAP Information
Your business information is the most important part of your GMB listing! This is how users will find you and learn more about your business. NAP information refers to your business' name, address, and phone number.
Consistency is key for optimizing your GMB listing, and for optimizing citations in directories. Google considers consistency in its algorithm for ranking local results and listings in the local pack. To ensure consistency, use the same format for your business' information that a user might find on your website. For example:
Because our website lists our address as 814 SE Alice's Road Waukee, Iowa
We would NOT enter our address into GMB as 814 Southeast Alice's Rd. Waukee, IA
We would enter the address in the same format, every time, everywhere.
The same goes for your business' name, phone number, hours, etc. When deciding on what the consistent format should be, consider what you have already been using on your website, and what is easier for the user to understand. For instance, it is a lot easier to read a phone number formatted like (123) 456-7890 than it is to read one like 123456789.
To edit the information, log in to your GMB account and click into the "Info" tab from the left-hand menu. From there, you can edit all of your business' information.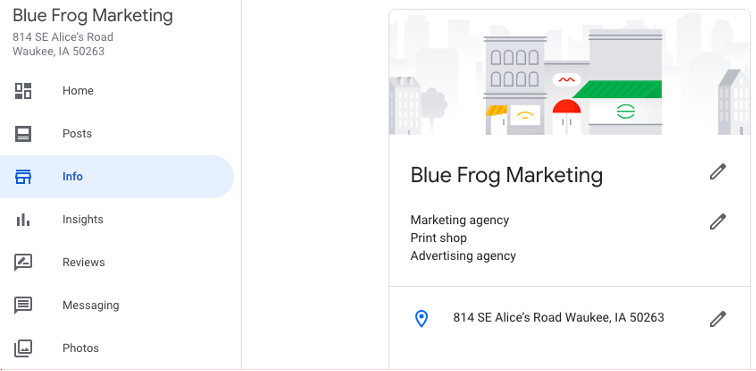 You should add as much information and media as you can to your GMB profile, including hours, attributes, when you opened, pubic phone number, website URL, and more.
Anyone can "suggest an edit" to your listing! This means it's important to include as much information as possible, and that all the information is correct and accurate. Google does not always notify you if a change is made to your listing, so you should periodically check your GMB listing details to ensure consistency.
3. Select Business Categories
Selecting your business category is important to rank for relevant local searches. You have the option to add a primary business category, as well as secondary business categories. Each can influence how your business ranks, and for what.
Primary Business Category
There are SO many categories to choose from that it can be hard to know what fits your business best. According to Google, your primary category should be specific and reflect what is most important to your business.
When you use a more specific category, you will reduce the amount of businesses you have to compete with for keywords and searches related to that category.
For example, if your business is a retail store, you could select the category "store"; but if you only sell shoes, a better category option would be "shoe store." Now, maybe "shoe store" is too specific. If you sell only outerwear, for example, your best category option might be "outerwear store."
There are over 3,000 GMB categories to choose from, so there is a good chance you will find one that perfectly describes your business. However, you can only select your category from Google's provided list, rather than create your own.
Secondary Business Category
Your secondary business categories are used to provide additional information about what your business has to offer. Do not confuse secondary categories with services, as that is a more specific section of your GMB listing. Instead, focus on additional areas your business covers.
For example, if you run a gas station that also has a car wash, you could list "gas station" as your primary business category, and "car wash" as a secondary category.
Another example is if you have a "dental clinic" as your primary category, but your business also spans the "pediatric dentist" and "orthodontist" categories; you can list "pediatric dentist" and "orthodontist" as secondary categories as they are more specific offerings under the "dental clinic" umbrella.
When in doubt, focus on what categories you know your business falls into. You can always add or change the categories later. However, Google has the right to review and disapprove your changes if they do not align with other available information surrounding your business.
4. Optimize Description
There are two types of GMB descriptions that can appear on your profile listing: one you can control and optimize, and another that Google creates for you.
Google's Executive Summary
The business summaries are short details primarily about the business. They are generally one or two sentences in length and appear just above the business' address.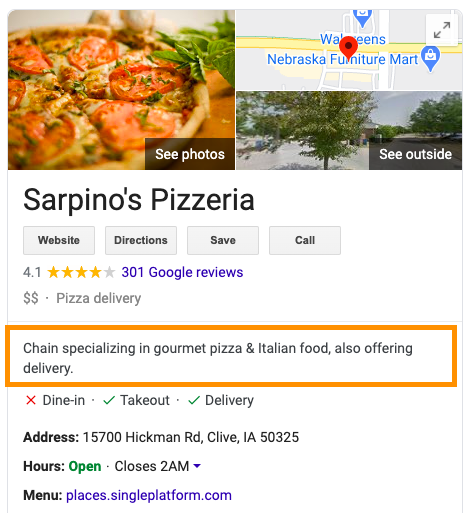 These summaries can also appear in the map or with review and rating information. While Google's editorial writers are generally good about writing these summaries, they cannot be directly edited like the "From This Business" section. Google tries to incorporate up-to-date and accurate information into their summaries, but they are not likely to remove or edit summaries for being unclear or negative. They will, however, review summaries that claim the following:
Keywords and snippets associated with an unrelated place
Summaries that describe a service the business does not offer
While you do not have as much control over the summary at the top of the listing, you do have complete control over the "From This Business" section, often found below the reviews.
From This Business Section
Your GMB business description is the perfect place to tell users more about your business. Use content from your About page, incorporate your mission statement, use your brand personality, etc. Google has guidelines in place that prohibit the use of promotional content and links in the description, so be sure to focus on information about your company and who you are.
You have up to 750 characters to fit into this description, and you should use every character you can. However, when users view your GMB listing, only the first 250 characters are displayed. When writing your perfect business description, focus on incorporating the most important information into the beginning.

You can add additional information into the second half of the description. While you should avoid keyword stuffing, the description is a great place to include more relevant keywords your target audience might use to find similar businesses.
Keep in mind, there is a lot of information displayed in your GMB listing outside of your business description, so avoid repeating the same information, such as listing out all your services again if you have already added them as a listing feature. Instead, focus on additional keywords and phrases about that highlight your business' value proposition.
5. Add Quality Images
Images are a great way to help your business stand out from other GMB profiles. In fact, according to a study from BrightLocal, when a business profile displays images, users are 42% more likely to request directions, and 35% more likely to view the website.
Bright Local also found a positive correlation between the number of images in a profile and the number of actions taken by users.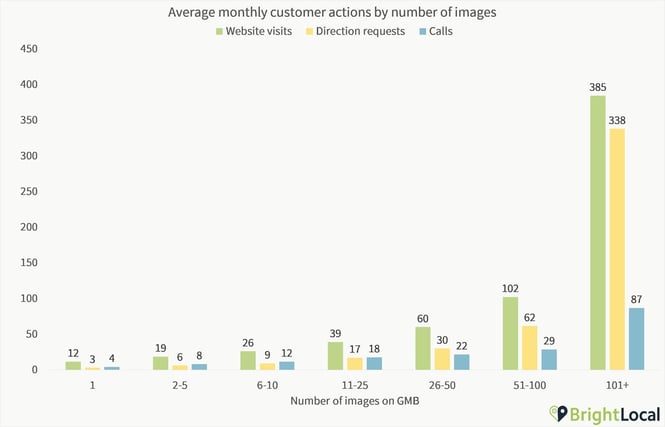 Now, before you go and add 100 photos to your GMB listing, it's important to note that the average number of images displayed varies greatly between industries. The vast majority of listings only use around 11 images.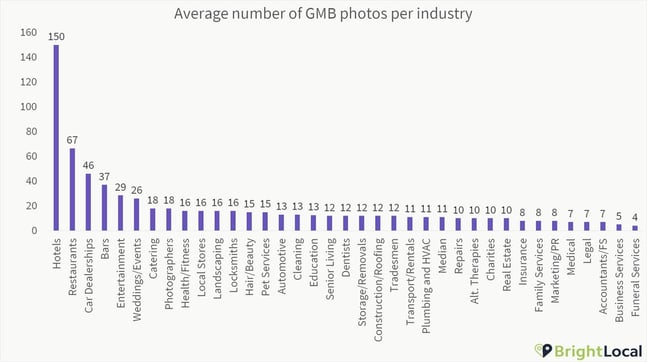 To properly optimize your listing with images, look at what your competitors are doing and what seems to resonate with your target market. For example, restaurants tend to upload more images because their viewers want to see the food they serve; but a dentist office may just want to showcase their team and the atmosphere of their clinic. Here are some tips for images you could include in your GMB listing:
Upload your logo and cover image
Add at least 3 exterior images of your business taken from different directions and different times of day.
Add at least 3 images of the interior of your business; showcase the atmosphere, décor, etc. (Only add these images if you have a physical location for users to visit).
Add at least 3 images of your team. These are particularly useful if the team is performing their service or interacting with customers.
Add at least 3 images of the products or services you offer. These could be physical products, food and drinks, or images of rooms for hotels.
Avoid using stock photos or using the images to display offers or events.
It is important to continuously add new images to your profile. Google values active engagement, so proactively updating your listing is likely to benefit your ranks. Within your GMB account, you can see how many views each uploaded image has received. Use those metrics to identify the types of images people like the most, so you can add more of what they want to see.
Additionally, anyone can add photos to your profile; which you can see under "by customer" in your GMB account. Ensure you upload the best quality images so you can still stand out if customers add their own images. You can follow Google's guidelines to ensure your images are the proper size and quality.
6. Generate & Respond to Reviews
Reviews are one of the most influential factors on consumer buying decisions, which is why reviews are a top ranking factor for Google's local pack. However, it's not just about having the reviews, but what the reviews include.
Google will bold relevant and commonly searched for words from reviews so potential customers can quickly see what your past or current customers have to say about you.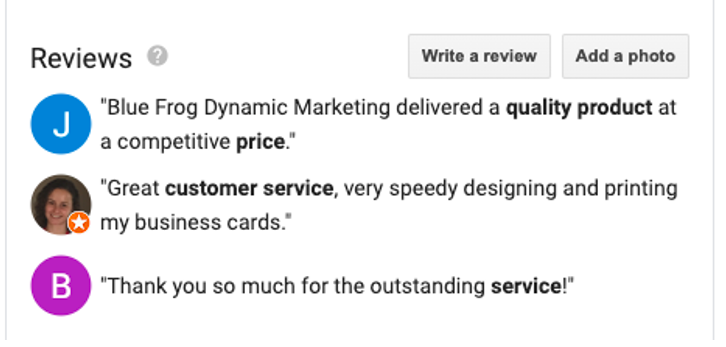 You want to make it as easy as possible for users to leave a review, and don't be afraid to ask your customers to write one! BrightLocal discovered that 62% of customers will leave a review if asked. The more reviews you have, the easier it will be for potential customers to trust your business. In fact, the average consumer will read 10 reviews before deciding to trust a business.
Responding to reviews is just as important to potential and existing customers as the review itself. You should be actively responding to reviews in a timely manner, whether it is positive or negative. The feedback incentivizes others to leave reviews, and also reveals your business' brand and personality. If you take the time to respond, it shows your customers how much you care. However, avoid using copy-and-paste, cookie-cutter responses; those will have a negative impact on your audience.
7. Utilize Other Features
There are so many fantastic features available in your GMB profile, and some industries will have more than others. Here are some common features you can utilize to help your profile provide even more beneficial information to your users.
Service Area Location
If you are a business that delivers to your customers directly, you have the option to add service area locations to your GMB profile. Setting this feature lets customers see where you will visit or deliver. There are two types of businesses that should utilize this feature:
Service-area business: you deliver to your customers directly, but do not serve them in your physical business address. Examples include; cleaning services, electricians, landscapers, etc. Service-area businesses can hide their physical business address from their GMB profile if they choose. This helps prevent customers from visiting your business.
Hybrid businesses: you serve customers at your physical business address, but you also offer deliveries directly to the customer. Examples include restaurants that also offer delivery, floral shops that deliver, etc. If you are a hybrid business, you can display both your physical business address along with your service area locations in your GMB profile.
You can enter up to 20 service areas, and those areas can be based on cities, postal codes, or other areas.
Using service areas is a great way for your business to show up in more search results. For example, if you deliver up to 2 hours away, you can be discovered in "near me" searches for cities further away, instead of just your business' physical address.
Add Attributes
Attributes are additional informational statements that tell customers more about your business and what you have to offer. You can include features like payment options, amenities, accessibility options, highlights, and more. Certain attributes will be available to you depending on your industry and service offerings.
There are two types of attributes available to your GMB profile: objective and subjective.
Objective Attributes
The objective attributes can be added by you from your GMB account. Google can update or add these attributes depending on user responses and feedback. Only add attributes that accurately describe your business. Providing false attributes could result in negative reviews from your customers.
Subjective Attributes
The subjective reviews are not available to be added from your GMB account, because they relate to what your business is known for. On your GMB listing is a section where Google asks users questions to learn more about your business. When customers answer these questions, Google will add the relevant attributes to your profile.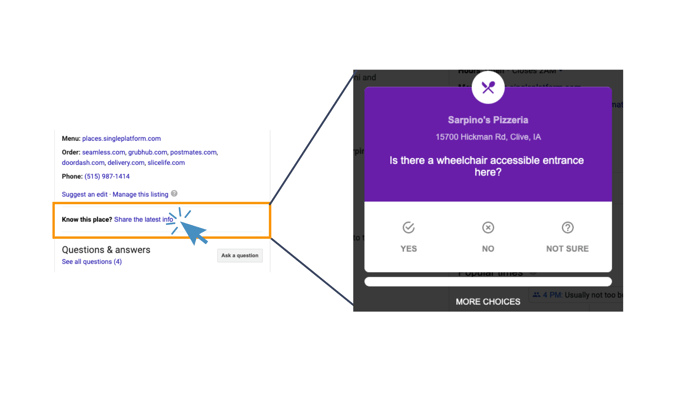 While these attributes cannot be directly influenced like objective attributes, Google does provide the results of these responses for popular locations within your insights dashboard.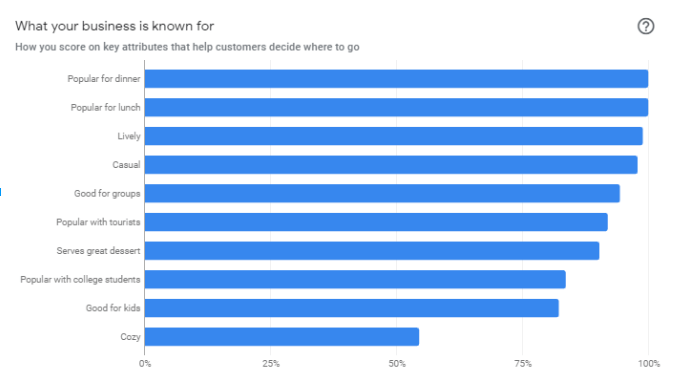 Encourage your customers to answer questions about your business through your GMB listing. When your business has attributes associated with it, your GMB listing has the potential to show up in suggested searches displayed by Google as "Discover more places" in the map search between other listings.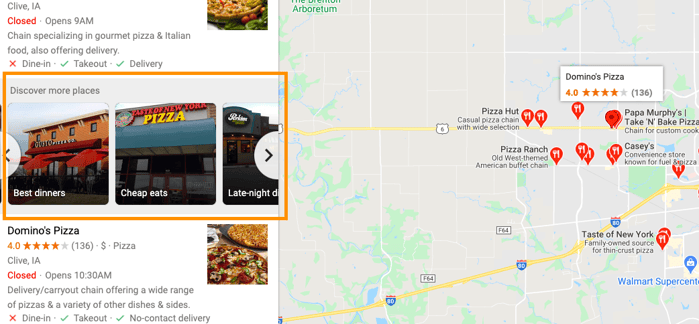 From the image above, you can see that Google is recommending various categories to help the user make their decision. If they click into "cheap eats", they will see results for pizza places that have attributes associated to low prices. The more Google knows about your business, and the more your customers interact with your GMB profile, the more likely your listing is to appear in more places.
Make Posts & Offers
Another way to stand out from competitors and grab viewers' attention is to add posts and offers to your GMB profile. Google allows you to make posts under the following categories:
What's New – use these posts to highlight updates from your company or new content you have recently uploaded, like a blog post. What's new posts do not let you set time frames, but they will automatically expire after 7 days.
Events – through your GMB listing, you can post upcoming events to let customers know what's happening with your company and pique their interest. When you set the time frame for the event, your post has the potential to help your business rank when users search for "events near them".
Offers – offers are best used for limited-time promotions. You have the options to set up offers as either an online redemption or a coupon code for in-store purchase. The time frame you set for your offer is the time the post will be live on Google.
Products – product posts also expire after 7 days but are a great way to showcase a new product or service offering. You can also associate a price with product posts.

When it comes to creating your posts, here are some tips to help you get the most out of what's available to you:
Use High Quality Images: photos help your post stand out and allow you to get more information across before the user even clicks on the post. Photos uploaded in posts should have a resolution of at least 400px by 300px in either JPG or PNG format.
Add Event Title: if your post is an event, you have the option to add a title with up to 58 characters. Use the title to describe your event in 4-5 words.
Add Details: When you make a post, you have up to 1,500 characters to describe the event, offer, etc. However, the ideal length, according to Google, is 150-300 characters.
Add Call to Action: include instructions on what you want the user to do after reading the post. Add calls to action such as "Buy Now", "Book Online", "Visit", "Call", "View Offer", etc.
Posts are a great way to stand out from competitors and encourage engagement with your profile from customers. It is recommended to post regularly and consistently to see the best results.
Add Social Profiles
Social media profiles are a great way to encourage further engagement with your business. Google will automatically include social media profiles in GMB listings for eligible businesses. To increase the chance of Google adding your social profiles, consider the following:
Consistency: Ensure you use the same name for your business in each social media profile and your listing. For example, Google may not be able to recognize "Blue Frog Dynamic Marketing" and "Blue Frog Marketing" as the same company and connect their profiles together.
Authenticity: When possible, go through the verification process on available social media platforms. Verifying your business' social media profiles helps Google determine associations with relevant GMB profiles.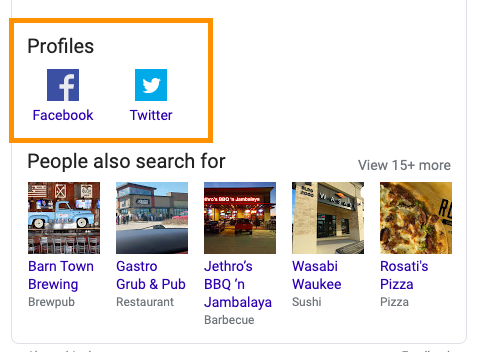 8. Monitor GMB Performance
Google My Business is ever evolving and there are still event more features you can incorporate into your business profile. Much like many other SEO strategies, Google My Business requires continuous review and re-optimization. Luckily, your GMB account allows you to see exactly what users do on your profile. Use these valuable insights to better understand what works for your business and resonates with your customers.
To find the following reports, log into your GMB account and click into the "Insights" tab from the left side menu.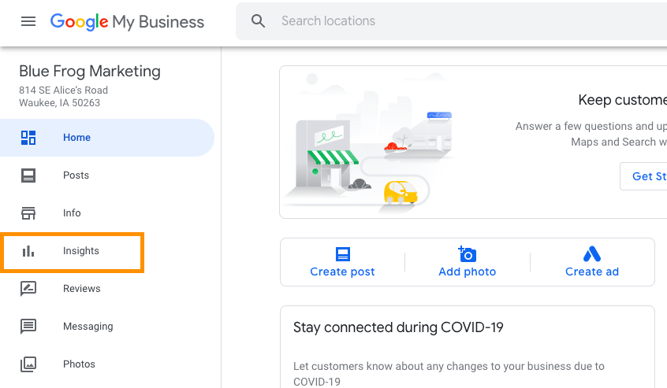 How customers search for your business:
This section shows how many users found your listing, and in what way they found you.
Direct search – typed your business name into the search bar
Discovery search – searched for a category, product, or service relevant to your business
Branded search – searched for your brand or a brand associated with your business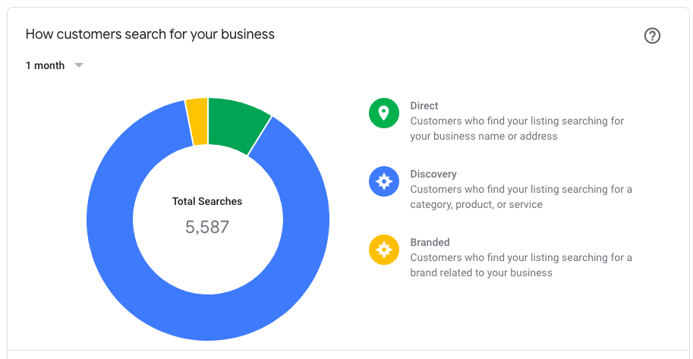 Queries used to find your business:
This section of the insights report shows you common search terms that caused your GMB listing to appear in search results. Use these keywords and phrases to help create better posts and offers. If you notice a word is missing, try adding it to your description.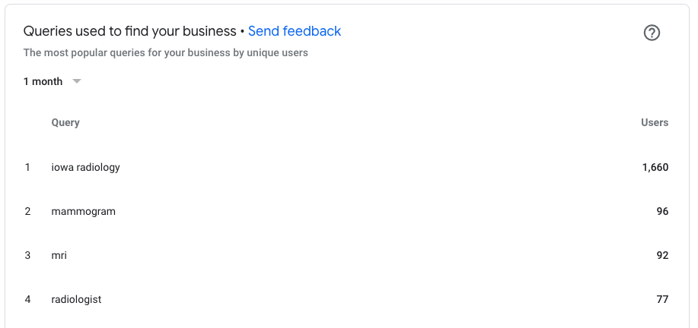 Customer actions:
The customer actions insights shows how many and which actions were taken in the particular time frame from your profile. You will also be able to see the days when actions occurred the most. Compare actions taken with the total number of visits to your profile. Understanding when people are viewing your profile the most can help you share GMB posts at relevant times and help you optimize your listing to display valuable information when your users need it.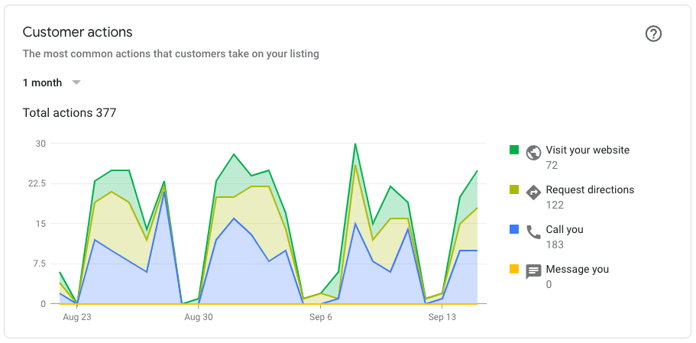 Additional Insights
GMB's insights report also offers several additional insights surrounding your GMB listing's performance:
Direction requests - shows the common cities and zip codes that users are in when they request directions.
Phone calls – how many phone calls you receive each day of the week.
Popular times – for businesses that receive enough in person traffic to their location, a popular times section will appear both in your account insights and on your public profile.
Photo views – how many views your photos received and what days had the most views.
Use these insights and reports to better understand how your GMB profile is performing and how you can continue to optimize your listing to better fit the wants and needs of your customers.