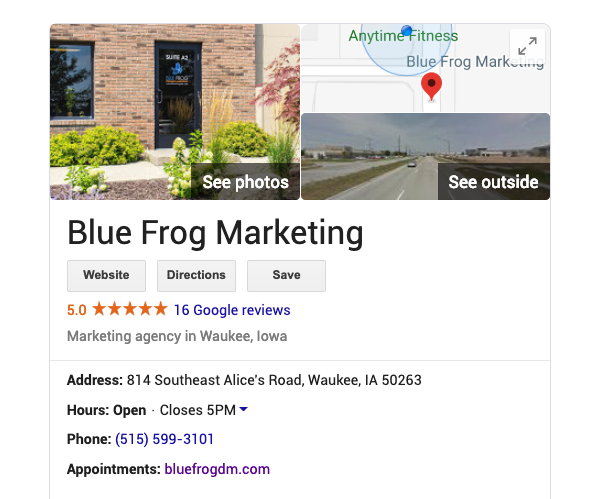 Going far beyond helping potential customers find a business' contact information and physical location, a Google My Business (GMB) listing is a powerful SEO tool for any business. Claiming and verifying your business can improve your chances of showing up in Google Maps, Google's local pack, and organic searches. However, most businesses claim their GMB listing, forget about it, and don't realize the value of continuously optimizing their profile. In fact, taking advantage of the multiple features Google offers can help your website rank higher when potential customers perform a search related to your business. According to a ReviewTrackers study the Google local three pack grabs as much as 44 percent of the total clicks on search engine results pages. Follow these three steps to increase your Google My Business ranking.
1. Make sure your profile is complete.
It sounds easy, but many GMB listings are missing basic information that Google asks for when the listing was created. This information includes phone numbers, hours, and an optimized description. Uploading a photo of your business' physical location and logo is also important. Businesses with photos on their listings receive 42 percent more requests for driving directions on Google Maps and 35 percent more click-throughs to their websites than businesses that without photos, according to Google.
2. Utilize the Posts on Google feature.
Think of Google Posts as similar to a social media post. Any post you make will show up in your Google My Business listing. Creating a post can be especially useful when you want to announce an event, offer a discount code, or promote a recent blog post. Attaching videos and photos to your Google posts is a great way to engage your audience as well. PatientPop, a healthcare practice growth platform, is a great example of a company that has taken full advantage of the Google Posts feature. After optimizing its posting strategy, the company saw an 11% increase in appointment bookings.
3. Get reviews, and respond to all of them.
Google reviews are extremely important to the success of your GMB listing. In fact, nearly 64 percent of consumers say they are likely to check reviews on Google before visiting a business. Try reaching out to your previous customers and offering them a discount or other reward for a review. Once your listing has received some reviews, be sure to respond to each and every one of them, good or bad. According to a ReviewTrackers study, 45 percent of consumers say they're more likely to visit a business if it responds to negative online reviews.
Optimizing your Google My Business listing is an effective way to increase your business' local online presence. Approximately 53 percent of consumers visit a business within 48 hours of performing a local search on Google, and 21 percent of consumers think that the position of the search result is one of the most important factors when they make a decision about a business. Making sure your profile is complete, utilizing the Posts on Google feature, and responding to every one of your reviews are all important steps in the optimization process.
Do you need help ensuring your business appears in local listings? The team at Blue Frog can work to ensure your digital marketing is aligned to a winning SEO strategy. To learn more about our inbound marketing services schedule a free consultation!