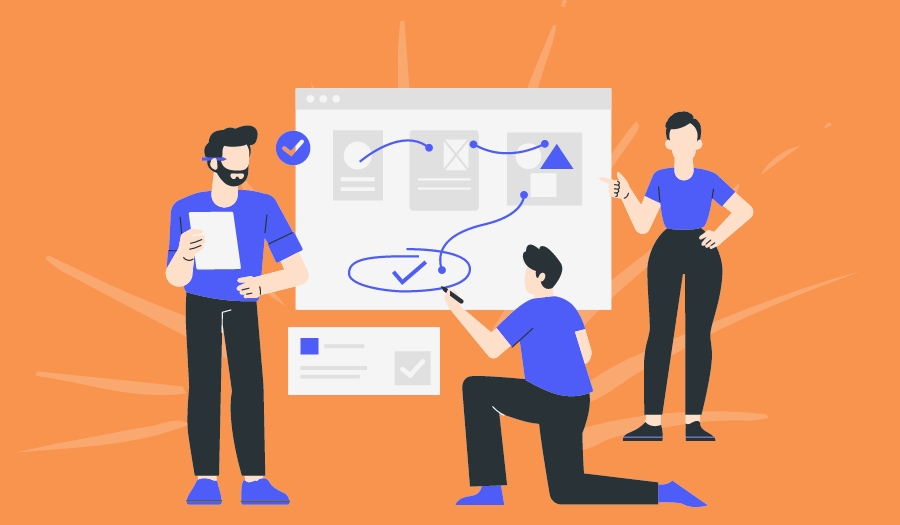 An organization's data is at the heart of everything it does. While data holds a ton of value for a business, it can also become unwieldy and even a hindrance. Whether it's outdated, misaligned across teams, or flat-out wrong, business information that isn't properly curated can very rapidly cause more harm than good. Uniting HubSpot's capabilities with ZoomInfo's data insights, however, can alleviate many of the issues that poor data creates.
What is data orchestration?
Data orchestration encompasses the practices of acquiring, cleansing, routing, and creating accessible data across various technology systems. A fully-fledged data orchestration process accumulates data from many sources and unifies the information within a single system, in which data is enriched, structured, and ready for revenue generation teams to use. Much like a head coach directing their players on how to best engage an opponent on the basketball court, proper data orchestration fosters an environment in which your team can best fulfill their duties.
What does data orchestration involve?
Cleanliness
The effects of impure contact and company information are well known. Data orchestration includes ensuring all contact information is current, complete, and accurate.
Enrichment
Often, leads in a CRM lack key data points. Not only does information such as industry, revenue amount, and headcount give your team a more complete view of each prospect they're speaking with; this information also builds efficiency by enabling automated lead segmentation and more efficient routing.
Normalization
Lack of data continuity inhibits proper workflows and reporting. Many data points, such as phone numbers, job titles, and street addresses, frequently have synonymous variations. Data orchestration solves this issue by automatically formatting data in a consistent manner.
Deduplication
Record merging and duplication prevention allow your team to view, engage with, and report on records in a clean and efficient manner. Deduping saves time by eliminating the problem of multiple team members reaching out to the same prospect.
Segmentation
Proper segmentation of your accounts requires comprehensive and accurate CRM records. Once in place, segmentation tools allow you to filter your data to make the most of your marketing and sales efforts.
Routing
It is well known that lead response time is directly correlated to success in sales and marketing. Data orchestration practices that support data accuracy and completeness allow for advanced automated lead routing to ensure leads are delivered to the appropriate team member in a timely manner.
How do HubSpot and ZoomInfo work together for data orchestration?
The process of reviewing, merging, cleaning, updating, and maintaining a database can be a full-time job. Even with massive time investments, there can still be an element of human error. Proper data orchestration allows businesses to build comprehensive data management plans, enabling teams to access the information they need at a moment's notice. How you implement these techniques will depend on what your business does. However, below is an example that could apply to almost any organization.
Attract, Engage, & Convert Customers
At the heart of HubSpot's inbound methodology is the fundamental principle of attracting new prospects by meeting them where they're seeking solutions. HubSpot's Marketing Hub is loaded with tools to meet prospects where they are in their buyer's journey. Encompassing a CMS and tools for SEO, blogging, ad management, and social media engagement, HubSpot is a one-stop shop for attracting new customers.
HubSpot also holds a breadth of tools to engage with contacts and convert them into leads and sales. HubSpot has everything an organization needs to manage and track your calls to action, landing pages, and contact forms to consistently convert more leads.
Know Your Prospects & Respond to Their Needs
Reaching out to new prospects is challenging when you don't have a comprehensive view of the contact or their organization. ZoomInfo's Enrich tool validates and appends CRM records with key data points to eliminate uncertainty, and its SalesOS platform allows sales personnel to efficiently do a deep dive into your prospect and their organization, empowering your team to anticipate contacts' needs so they can make the most of their discussions.
This comprehensive information enables HubSpot's workflows to intelligently and accurately route leads to the appropriate team member to engage each prospect. Layering HubSpot's Operations Hub into the process allows for efficient data normalization to ensure all CRM records have the same data structuring conventions.
When it's time for a sales rep to reach out, maintaining a consistent, structured engagement cadence is imperative. HubSpot's sequences tool allows teams to build one-to-one sales communication cadences to automate tasks, ensuring all prospects are meaningfully engaged and none slip through the cracks.
HubSpot + ZoomInfo = More Efficient Marketing & Sales
By pairing HubSpot and ZoomInfo, an organization gains the ability to create a full-funnel data orchestration and engagement process, ensuring data remains current and accurate while keeping business processes efficient and consistent. This joint solution is a simple way to create a data orchestration plan that's easy to implement, use, and manage. ZoomInfo allows you to keep accurate and comprehensive data, which HubSpot's Operations Hub can then use to efficiently power your marketing and sales machine. To learn more about using HubSpot and ZoomInfo together or for more marketing and sales tips, subscribe to Blue Frog's blog!