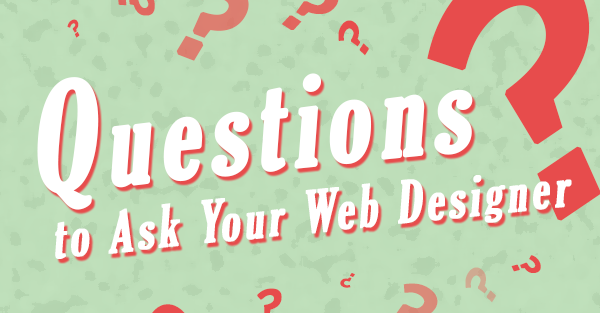 It is very important, when looking for someone to hire to design your business website, that you do your research to find a company that is capable of producing a
high quality website
that will attract visitors and convert them into customers. There are many factors to consider when attempting to find the right designer for your website. By asking these questions, you'll be able to find the answers and the designer you are looking for.
1. How long will it take to complete the project?
This answer can vary drastically, depending on multiple factors. Firstly, it will depend on how complex your site is: how many pages it consists of and how detailed the pages are. Secondly, it will depend on how long it takes for content, photos, logos, and other graphics to be provided. A third factor that will weigh in is the number of people that are participating in the decision-making process. For example, if the designer is working with only one person, he or she will most likely be able to make decisions pretty quickly and the project will move along faster. On the other hand, if there are multiple people, such as a committee, making decisions, the project will probably take longer to finish. Ask your designer how long, on average, it takes them to finish a project to get an good idea.
2. What do I need to provide?
Your web designer will do their own research, but they will need some information from you as well to provide you with the kind of site you want. The designer will very likely need your logo with a high quality resolution. Images that you want included in the site may also need to be provided to the designer, or funds to pay for stock imagery. Throughout the process, it makes it a lot easier for the web designer and gets the job done more quickly and efficiently if the client offers feedback in a timely manner. You might need to also provide content (or information on what type of content needs to be written if the design company offers content creation services).
3. Besides web design, what other services are offered?
If you find a good company to work with that you like and trust, it can be very handy to have them carry out other services that you need as well. Most business will need more than one type of design piece done throughout the lifetime of the company. If you can find a company that offers multiple services, such as web design, graphic design, social media, content writing, and marketing, you'll have a lot of bases covered and the ability to take advantage of different opportunities to help your business grow into the future.
4. Do you offer website optimization services?
Certain web designers don't offer SEO (search engine optimization) services to keep your site competing for the top spots on search engine results. Choosing a company that does offer these services is a very wise choice that can help your site gain traffic and credibility. SEO will continually build links to your site. Having great content written and continuously added to your site, such as in the form of a company blog, is a great way to keep your site fresh, build trust with your customers, and rank higher up on search engine results.
These are just a few of the many important questions you should be asking your potential (or current) web designer. Other good questions to ask include the following:
How much does it cost?
Will my site work well on mobile devices?
What type of results should I be expecting?
Who owns the website?
Website Design in Denver & Des Moines
Blue Frog Marketing in Des Moines, Iowa offers a wide range of services to customers, including website design and SEO, graphic design, printing, social media marketing, content creation, and inbound marketing. We offer efficient, responsive, and personalized service that sets us apart from our competition. No other marketing company provides our unique suite of services chosen for their high utilization by large and small companies alike.