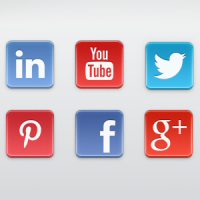 With more and more people joining social media platforms every day, your business can't afford not to be on it. When managed correctly, social media can lead your business to a lot of sales. Here's a list of 4 ways to use social media to make a sale.
Post relevant content.
Once your business has joined the correct social media platforms, it is important that you know what to post and that you post consistently. While it is important to post about your business and your products, you should also post about other things, such as the community, your industry, and current events. This will help your company's pages appeal to a wider audience, which will increase your reach. Anytime your reach is increased, there's a good possibility that your sales will increase as well.
As the saying goes, a picture is worth a thousand words. When it comes to social media, posts with pictures are key. Posts with pictures get a much higher reach than those without pictures. If you sell a product, be creative in how your display your product in pictures. For example, over Halloween get creative by decorating your product and posting a picture of it. Maybe put a spider web or witch hat on it. If you don't sell a product, try posting some 'behind the scenes' or 'before and after' pictures.
Engage with your fans and followers.
Social media should always be a two way street. Encourage your fans to leave comments and reviews, even if they aren't positive ones. Positive reviews will obviously be beneficial because people will see what others like about your product or service and be more inclined to become a customer.
A negative review can also be helpful, as long as it is addressed correctly and in a timely manner. When a complaint or negative review is received, it needs to be addressed as soon as possible to try and save the customer and to convey to others that your company cares deeply about their experience. Also let people see what your company is doing to resolve the issue. This will create a lasting impression on them and make people more likely to become a customer in the future.
If your company is on LinkedIn, join a few different groups and start discussions there. It's best to start discussions in groups where your target customers are as a way to establish your company as an expert in your industry.
Offer deals and coupons exclusively to social media fans.
One of the best ways to get sales using social media is to offer discounts and deals to just your online fan base. A great way to grow your fan base even more is by asking people to share the online deal with their social media friends. This will get them to 'like' your page or follow you and will increase your reach. This will give you a greater number of potential customers.
Conduct contests and giveaways.
Along with exclusive deals, contests and giveaways are huge on social media. There are tons of things you can do for this, so get creative. With Thanksgiving coming up, you could ask your fans to post their favorite recipes for a chance to win a turkey, or a product that your company sells. You can even increase engagement by having your fans vote for the winners. The possibilities with contests and giveaways are endless and can be altered each month or each season, depending on how often you chose to do them. Remember, increased engagement and reach on social media can often lead to an increase in fans and sales.
While all of these tips are effective, they can also be very difficult and time-consuming. If you don't have the time to spend on social media, check out what Blue Frog can do for your company.