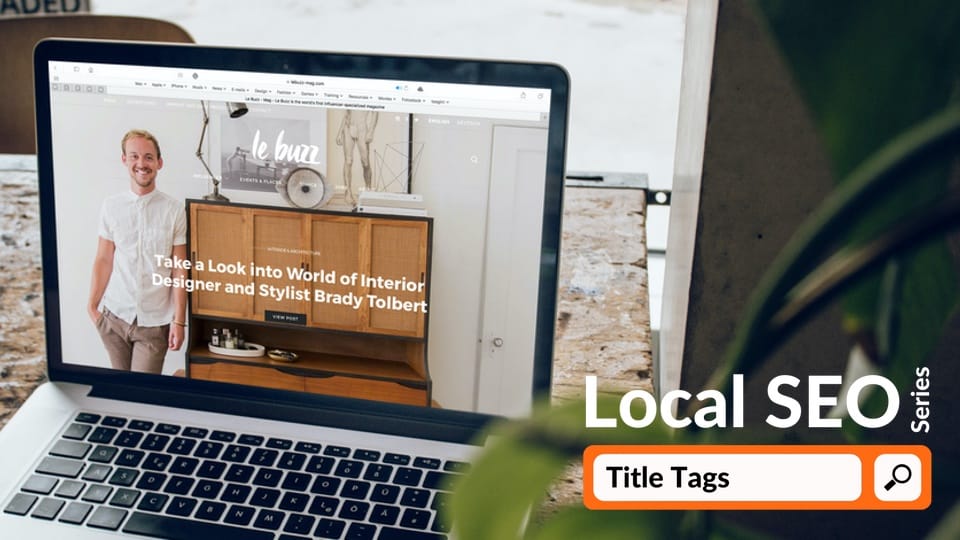 Did you know your web page's title tag can make or break its performance? A title tag is oftentimes the first element a user sees before they click through to your web page. Having a relevant and concise title tag is key for users and search engine robots to understand your page's content.
Read straight through, or jump to the five steps for optimizing your title tags.
We've compiled every step to building your own local SEO strategy in our Local SEO Checklist E-book. Download it below!
What is a website title?
A website title tag is an HTML element that indicates the title of a web page for search engines. Title tags help set clear expectations about a web page's content for search engines and visitors. The title tag is displayed in search engine results pages (SERPs), web browsers, and social networks. In SERPs, the title appears as the clickable text that links users to the web page. In the example below, the title of the web page is, "Blue Frog Marketing | Digital Marketing Agency - Des Moines, IA."

Source: Google
In web browsers, the title displays at the top of the page; a unique title makes it easy for visitors to identify your web page from other open tabs in their web browser.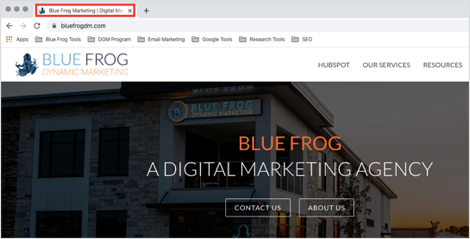 Finally, the title also appears as the title of a post when shared on social networks.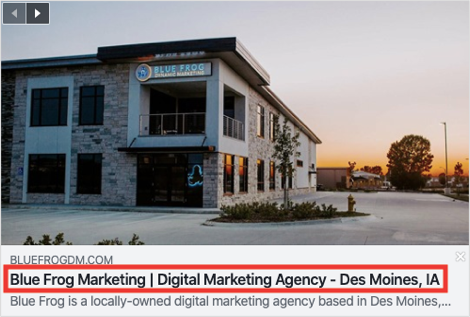 Not only does the HTML title tag specify the title of the page for search engines, but it also plays an important role in a web page's on-page search engine optimization (SEO) . On-page SEO refers to the practice of optimizing the on-page elements (the content and HTML source code) of a web page in order to rank higher in search results. Optimizing a web page's title tag can help you make a positive first impression on potential website visitors.
How to Optimize Your Website's Title Tags
1. Identify a target keyword
Most web pages generally do not rank for one keyword. Instead, most web pages rank for several hundred, if not thousands, of relevant keywords and phrases (long-tail keywords). Identifying a target keyword centers your web page's focus on a single topic. This strategy also helps search engines and visitors clearly understand the page's purpose.
It can take a long time to rank for your target keyword in search results. One way to drive traffic in the meantime is to target long-tail variations of your main keyword. For example, the target keyword for this blog post is, "title tag." However, large competitors like Moz, Ahrefs, and Neil Patel hold the top positions in search results, so it will take a long time to compete directly with these competitors' ranking web pages. Some long-tail keywords I could target in the short-term include phrases like, "what is a website title," "html title tag," and, "what is a title tag."
2. Make your title tag unique
You web page's title tag is oftentimes a user's first impression of your web page. If your title tag is bland and doesn't stand apart from the sea of search results, a user will most likely not click through to your website. When crafting a title tag, consider these three questions:
What is your target keyword?
What is your unique selling proposition?
Who is your target audience?
A title tag should always incorporate your target keyword, but absolutely do not keyword stuff! According to user experience research, people tend to scan web pages in an F-shaped pattern. This means that visitors typically scan the first few lines of text horizontally, then skim down the left side of a page for key information.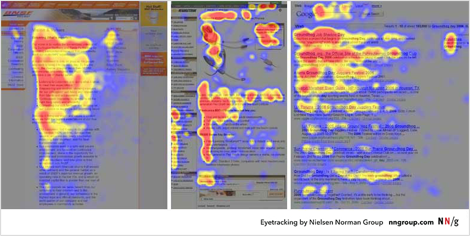 Source: Nielsen Norman Group
The same user tendencies apply to SERPs too. Based on this research, aim to use your target keyword toward the beginning of your title tag rather than toward the end. This makes it easy for users to quickly scan your title and understand exactly what your content is about before they click through to your web page. Try testing the same strategy with your meta descriptions!
3. Keep title length between 50 and 60 characters
If your title tag is too long, Google will shorten your title tag with an ellipsis (…), leaving your readers clinging to the edge of their seat screaming, "WHAT IS THIS PAGE ABOUT?" While long title tags with ellipses can work in some cases to instill curiosity in users, it's best to err on the side of caution and keep your title tags short yet descriptive. While the exact title limit is based on a 600-pixel container, Google recommends keeping your title length between 50 and 60 characters to avoid the chopping block.
In the example below, the original title is, "How to Write Catchy Headlines and Blog Titles Your Readers Can't Resist" (71 characters), but Google shortened the title to, "How to Write Catchy Headlines and Blog Titles Your Readers…" (58 characters).

Source: Google
It's important to note that even if you follow Google's guidelines for creating descriptive title tags, Google may still generate an improved title in search results to better match the user's search query. Google pulls this information from anchors, on-page text, or other sources.
4. Write several variations of your title tag
When writing your title tag, draft several versions of your title tag using the following tips:
Use your target keyword.
Make your title tag unique and descriptive.
Keep your title length short, preferably between 50 and 60 characters.
For example, I wrote the following titles for this blog post:
Option 1: 5 Simple Steps to Optimize Your Title Tag (41 characters)
Option 2: Optimize Your Title Tag in 5 Simple Steps (41 characters)
Option 3: Title Tag Optimization: 5 Simple Steps (38 characters)
Option 4: Title Tag Optimization in 5 Simple Steps (40 characters)
Option 5: 5 Simple Steps You Can Use to Optimize Your Website Title Tags (62 characters)
In each title, I included my target keyword, "title tag," but I immediately ruled out Options 1, 2, and 5 because the words title tag were either buried in the middle of the title or tacked on at the end. For each version, I was focused on keeping the title short, yet descriptive and geared toward my target audience—individuals searching for tips and tricks surrounding SEO best practices. In this particular case, individuals specifically searching for best practices surrounding title tag optimization. Lastly, I checked the length of each title using a character count tool. With the exception of Option 5, each title was well under the cutoff of 60 characters. With Options 1, 2, and 5 ruled out, I had to choose between Options 3 and 4. With only a difference of two characters and one word between the two, I picked Option 3 because it checked all the boxes and had a slightly better ring to it than Option 4.
5. Properly format your title tag
After you've drafted several titles and picked a winner, you can properly format your title tag for SERPs! There are two standard formatting options for titles:
Capitalize the first word in the title.
Capitalize most of the words in the title.
In the example below, with the exception of Des Moines, IA (city and state) and OpenTable (brand), only the first word in the title (Best) is capitalized.

Source: Google
In the second example below, almost every word in the title is capitalized.

Source: Google
This type of formatting is based on preference, so pick one that works best for your brand and stick with it for consistency's sake. One pro tip (hopefully an obvious one): AVOID USING CAPS AT ALL COSTS. You don't want your title tag to scream at users. Instead, your title tag should incorporate all of the elements listed above and users should organically click through to your web page because your title tag is intriguing and aligns with their search query.
Optimizing your title tags is just one small piece of an all-encompassing SEO strategy, and paying attention to the details will pay off in the long run!
This blog post is part of a larger series. Check out the second post in the series: Optimize Website URLs: A Simple Guide. Subscribe to get updates on the next post in the Local SEO Series!