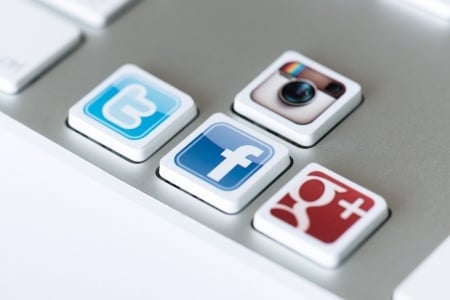 When I think of the words "social media" and "branding", I can't help but be reminded of the theme song to "Married with Children". More specifically, the line "You can't have one without the other". This is very true when it comes to social media and branding.
If your company is active on social media (and it should be!), you'll want to make sure your social media pages are a direct extension of your brand. This starts with the images on the pages. Generally speaking, your profile should be your logo and should match your website. During holidays it's fine to change it a bit to make it more 'festive', but just make sure people can still tell it's your company. Be sure to use the same profile picture across all social media platforms. This will avoid confusion when customers try to find your company on different platforms.
You have a bit more freedom and flexibility with your header image. For the header, you can basically have whatever picture you want and just add your logo somewhere on it. Make sure the picture is somehow related to your company or a current campaign. A lot of companies change their headers each seasons to advertise sales and promotions. Just make sure you position the logo on the header carefully so it isn't covered up by words on the profile page.
Having a consistent color scheme can help as well. When you think of Target, what colors do you think of? Red and white, of course! Take a look at their different social media pages. Notice something? Yep, they're all red and white. When you go to their pages, you know you've reached the correct company because of this.
Also make sure your username is the same on each page, or at least as similar as possible. You want to make it as easy as possible for people to find your company anywhere and everywhere.
Post consistently on all pages. In the online world, absence does not make the heart grow fonder. It's best to remain consistent to attract new followers and keep the ones you have. The easiest way to do this is by getting set up on a social media scheduler, such as Hootsuite, Tweetdeck, or for the more advanced – Hubspot.
Branding isn't all about your company's physical appearance, however. Branding is also about the messages your company wants to send. Social media is a great way to craft this message on a continual basis. If your brand is known for being funny and quick witted, make sure this is reflected in your online presence. Feel free to post memes and jokes. On the other hand, if your brand is known for being extremely professional, this should be reflected online as well.
Another way to reinforce branding online is by displaying good customer service. No matter what your company does, customer service should always be a priority. Good customer service is a great way to reinforce the beliefs of your company, and ultimately help with branding. In order to do this correctly though, you must make sure every customer complaint is replied to in a timely manner. When people see a complaint or a negative review that isn't addressed, it hurts your company. Maybe even more than the negative review.
Making sure your branding is consistent across all social media platforms can be challenging and time consuming, but with the number of social media users increasing all the time, it isn't something your company can afford to skip. If maintaining your online presence isn't something you have adequate time for, Blue Frog can help. To see what we can do for your business, click here.