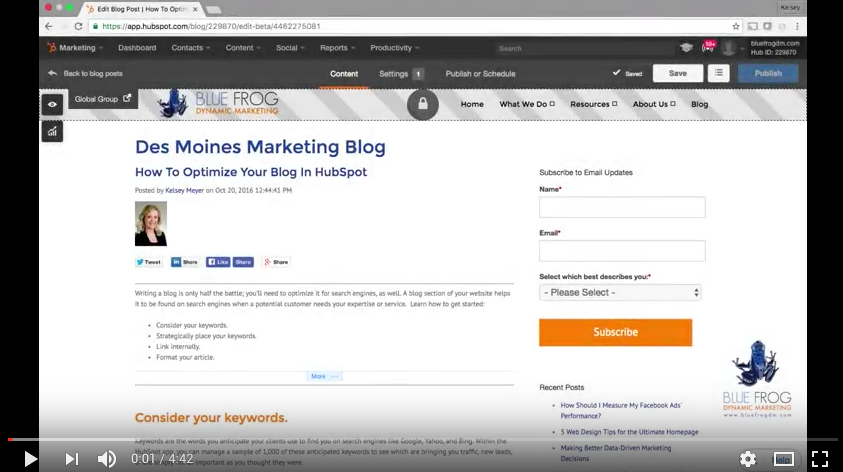 Writing a blog is only half the battle; if you want visitors to find it, you'll need to optimize it for search engines, as well. A blog section can help your website get found on search engines when potential customers needs your expertise or service. Here's how to get started:
Consider your keywords.
Strategically place your keywords.
Link internally.
Format your article.
Consider your keywords.
Keywords are the words you anticipate your clients will use to find you on search engines like Google, Yahoo, and Bing. Within the HubSpot app, you can manage a sample of up to 1,000 of these anticipated keywords to see which are bringing you traffic and new leads and which are not.
When choosing strong keywords to utilize in your written content, consider the keywords that the HubSpot keyword tool tells you receive a lot of traffic—even if your website doesn't yet rank highly for them. Blogging helps your site improve its search engine ranking for these keywords over time; so, if you select a word that gets 1,000 monthly searches, over time, you may begin rising in the rankings to page 1.
Strategically place your keywords.
Once you've decided on the most relevant keywords for your audience and your topic, begin to add them to powerful parts of your article.
Title
The number one place to include an important keyword is in your article's title. This will allow it to come up for someone searching for this same issue on a search engine.
Meta Description
The meta description is the short explanation of your article that will show up as a representation of what your visitor will find when they click through to your article from a search result. It is smart to include relevant keywords in the meta description because it will show the person searching that the article is relevant to their search. First and foremost, however, the meta description should entice readers and accurately represent the content of the article.
Repeat
Repeat your keyword—or variations of your keyword—through your article, but no more than five or six times unless absolutely necessary. Too much repetition can make your article seem like spam. As appropriate to the structure and content of the post, use keywords in your subheadings, as well.
Link internally.
Add links to other parts of your website throughout your article so people can expand their knowledge with other blog posts you've written or find downloadable content or informational website pages. Educating your website visitor is a great way to build rapport—and hopefully gain a new customer.
Format your article.
Your blog is written, and you know which keywords you want to focus on. Now you can begin to format it within the HubSpot blogging tool. To get started, you can select certain blog templates like "list" or "how-to" and use their suggestions on formatting, or you can open up a blank document and start from scratch.
When formatting your article, be sure to include section headers that are easy to skim. I like to include a bulleted list in the intro that outlines the section headings, as well.
Add an image.
Including an image for your blog post is mostly for appeal to your reader unless it's an infographic or chart to better explain your idea. When optimizing for search engines, keep in mind they cannot "see" images, so you'll need to include alt text that describes your image (again, using keywords as appropriate) by selecting to edit the image.
Offer a call to action at the end.
A call to action is a button or image that tells the reader to do something like "Schedule a consultation" or "Get the guide." You'll want to make sure the call to action is relevant to the blog's topic so when the reader is done, they feel comfortable clicking the button and going to the offer to get in touch with you and your company.
Optimizing your blog articles is a critical step in helping search engine users find your website. If you don't have the time to dedicate to building and optimizing your blog, contact one of our professionals to help you out!