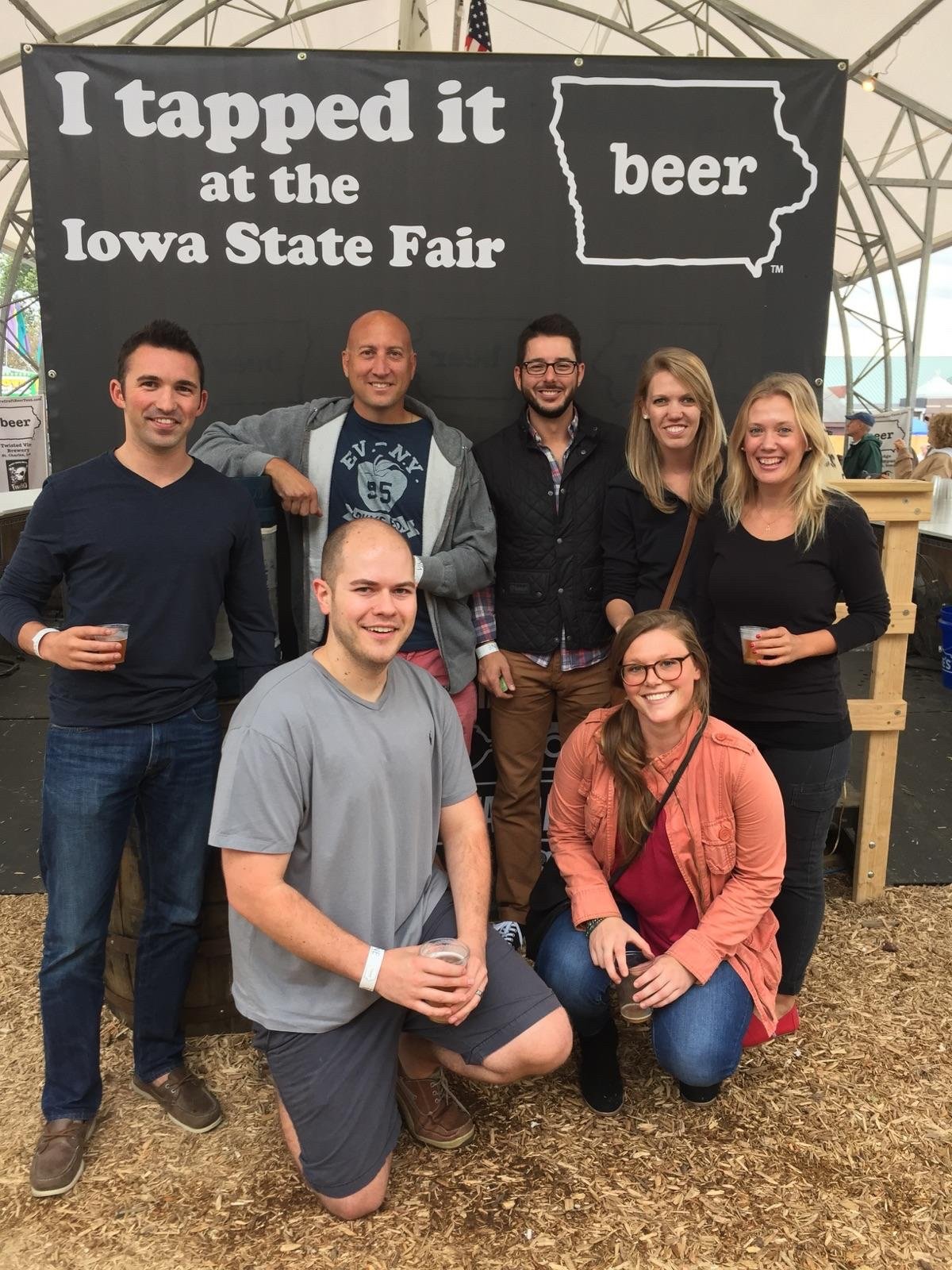 Last week, the Des Moines Blue Froggers took an afternoon to romp around the Iowa State Fair—a magical place where absolutely everything edible is deep-fried and served on a stick. Between rounds of craft beer, corndogs, fried pickle dogs, nacho balls, and mini donuts—and one communal stomachache—our team enjoyed a well-deserved day with each other out of the office!
Meet the Des Moines staff!
Clockwise from the top left:
Tyler Scott, Marketing Coordinator—Iowa State Cyclones and hockey fanatic. Was applauded by all as he ate a very unhealthy pork sandwich and fries.
John Campbell, President—Perpetually in motion. Had to backtrack to find the vendor serving raw cookie dough dipped in chocolate on a stick.
Ryan Smiley, Director of Operations—Winner of the "Blue Frog Best Last Name" award. Ate the majority of a large bag of cinnamon mini donuts by himself.
Micah Hartmann, Creative Specialist—Our Des Moines writing and graphics dynamo. Loved the fair so much she went back at least two more times (that we know of).
Kelsey Meyer, Account Manager—The bubbly personality of our Des Moines bunch. Expertly wrangled everyone together for this photo. Twice.
Erin Menardi, Creative Specialist—The baby of the Blue Frog crew. Tried her first fried cheese curd (apparently a requirement for all Iowans) and wasn't impressed.
Rhett DePauw, Creative Manager—Gets upset when other people's dogs have the same name as his. Ate nearly everything and miraculously didn't have a heart attack on the spot.
We had a great time enjoying this Iowa tradition. Thanks for sharing it with us!
Blue Frog is moving! Beginning September 1, our new Iowa location will be 1125 Southeast Westbrook Dr., Suite A-2, Waukee, IA 50263. We're still here for all of your inbound marketing and print needs. Give us a call today at 515.221.2214 or catch us at www.bluefrogdm.com!