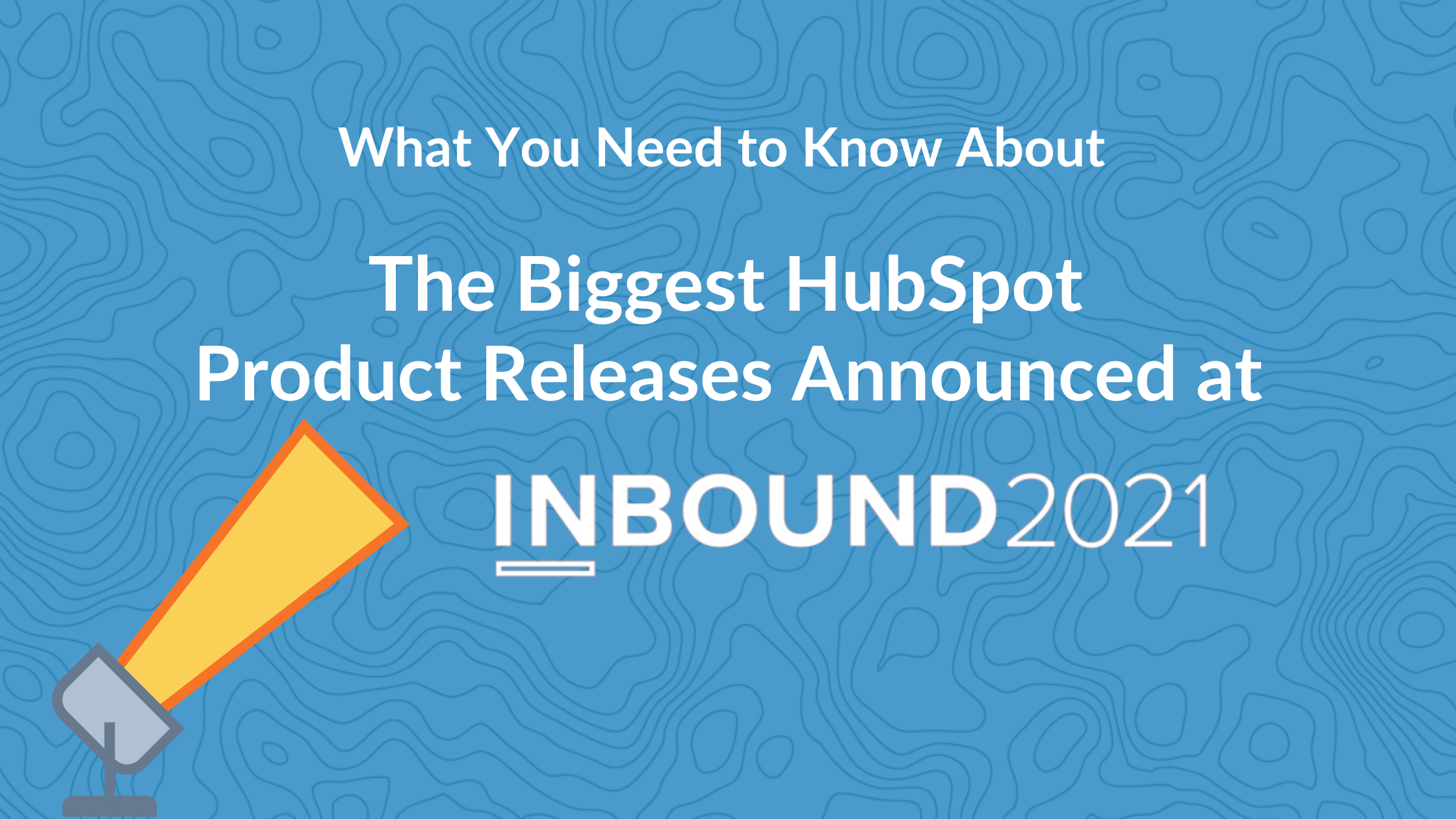 HubSpot's product experts took to INBOUND's virtual stage on October 12, 2021, to discuss the newest features and upgrades to the HubSpot platform. Take a look at the highlights and dive into these amazing features below.
More Focus on Customers
Customer portals, feedback surveys, and (drum roll, please) native payment processing are just a few of HubSpot's latest capabilities available to help improve your customer experiences.
The latest HubSpot upgrades were designed with your teams and customers in mind. Now, customers can see and manage support requests, search the knowledge base, and take greater control over their service experience with Customer Portals, currently available in beta by request. HubSpot also added custom feedback questionnaires you can use to ensure your customers feel appreciated and heard at all times.
Service Hub: now with Customer Portals!
Empower your customers to obtain the help and information they need, when they need it; allowing your support staff to focus on more important responsibilities. HubSpot's Customer Portal allows you to:
Create and update the portal without the help of a developer
Connect your shared inbox and help desk
Give users access to your knowledge base via the portal
Apply your brand's colors, fonts, and logo automatically
The customer portal allows your customers to gain control over their service requests with insights into current ticket statuses, easy access to your available knowledge base articles, and a centralized place for all your customer facing information to live.
Customer Feedback Software
Understand your customers even better and discover opportunities to improve their loyalty to your company. With CRM-powered customer feedback surveys, you can make sure your customers feel heard and valued throughout their customer service experience.
Custom surveys and feedback tools help you learn what your customers truly think. With a variety of survey types and configurable design, you can tailor each survey to fit your company needs. HubSpot will assist you in selecting the best feedback instrument and distribution strategy to align with your goals, allowing you to improve response rates and establish a data baseline over time. Choose from surveys that measure customer loyalty at every touchpoint with pre-built Net Promoter Score (NPS), Customer Effort Score (CES), and Customer Satisfaction (CSAT) questionnaires.
After you send your unique surveys to customers via web link or email, you can share the results and insights with your team and develop a plan to improve customer retention and satisfaction. HubSpot's built-in data feedback dashboards make it easy to track performance and act on your findings right away. As data pours into the dashboards, it will be sorted, displayed, and analyzed. Compare your customers' satisfaction against industry norms, detect patterns that could improve your customer service approach, and identify points of success and opportunity in your customer journey.
Operations Hub: Better Connected with Enterprise!
With HubSpot's newest upgrades, including the all-new Operations Hub Enterprise, you can align your data and improve reporting. HubSpot is committed to keeping your data clean and linked, so you can, in turn, prevent problems and provide a frictionless customer experience from start to finish.
They announced 50+ new HubSpot-built data sync connectors with some of the most popular products of 2021, like NetSuite, AirCall, Xero, and many more.
Custom behavioral events, which is still in testing, allows you to track and report on any site or app activity directly within HubSpot. You can also create customized reports using your CRM data, including contacts, companies, and transactions - along with custom objects, behavioral events, campaigns, and more - all in one place using HubSpot's enhanced Custom Report Builder.
Datasets
With the new business intelligence feature, Datasets, Operations Hub Enterprise (available for purchase November 1, 2021) takes a unified system of records to a whole new level by utilizing datasets to curate collections of data - pre-selected variables, computed values, and more - that users can utilize in report creation. Datasets provide operations executives with more control over their operations and provide organizations with faster, more consistent reporting. Using Operations Hub Enterprise, you can easily and quickly import HubSpot data into Snowflake, an industry-leading data warehouse. With HubSpot's Enterprise Operations Hub, you can push the boundaries of reporting by connecting your data, channels, and teams in new, more efficient and effective methods.
Sales Hub: Streamline Cash-to-Close with Payments!
The usual B2B procurement process involves several disparate technologies, resulting in aggravation, lost time, and missed opportunities. Payments combines your commerce data with your customer data to bring the purchase experience inside you CRM platform. Both your customers and your internal teams will enjoy the purchasing experience with this intelligent combo.
In a B2B environment, your customers want a streamlined eCommerce experience. Delight your customers by providing a simple payment process that allows them to pay using their preferred methods. Customers can buy and pay directly from your website, an email, or even a chat session wit HubSpot's Payments feature. There are more chances to increase income when there are more ways to collect it.
Payment Automation
It's simpler to help customers when you have the correct information. Instantly provide information to sales, marketing, and support teams, including recent purchases and payment activity. Save your teams time by triggering automated workflows when your client or customer pays, thus freeing up your customer-facing employees from manual busywork - all from the same CRM platform they know and love.
More Customization
With the newest upgrades, including sandboxes, business unites, association improvements, and more, you can truly make HubSpot your own.
Business Units
Are you ready to impress your clients? Start with a CRM platform that's created differently - one that's adaptable to your demands and aligned with your unique company model. HubSpot's latest update, Business Units, allows account administrators more flexibility over how they modify and design their HubSpot instance without creating a tangle of complexity. Use Business Units to manage numerous brands from a single HubSpot site and use association enhancements to better match your CRM with the way your company operates. With the new set of admin capabilities, managing your HubSpot instance and users is a breeze.
Sandboxes
HubSpot now offers Sandboxes for Enterprise clients. Sandboxes are production-like gateways where you can test and try new things without affecting your present HubSpot setup. This feature is a must have for any expanding business.
Want to test out a new integration without causing any disruption to your team? Done.
Want to see how a modification to your deal pipeline affects your sales team's workflow before implementing it? You got it.
Because your sandbox is a replica of your existing HubSpot site, you can experiment with new features and test new ideas to wow your customers and help your teams succeed, without affecting what is already set up. Whether you're creating a new sales funnel, or a new website theme, you can't afford to launch these customer facing features without first assessing their impact on other aspects of the company and HubSpot experience. While other CRM solutions are too complicated to evaluate customer experience aspects successfully, HubSpot's Sandboxes feature allows you to quickly modify your HubSpot instance, ensuring that every aspect of your go-to-market plan functions as intended.
Wrapping it all up
HubSpot aims to put the "customer" back into the heart of the CRM platform. With their new features, Customer Portals, Operations Hub Enterprise, Payments, Sandboxes, and more, your teams can create a fully connected and streamlined customer experience from start to finish while making your internal processes efficient, organized, and aligned at the same time.