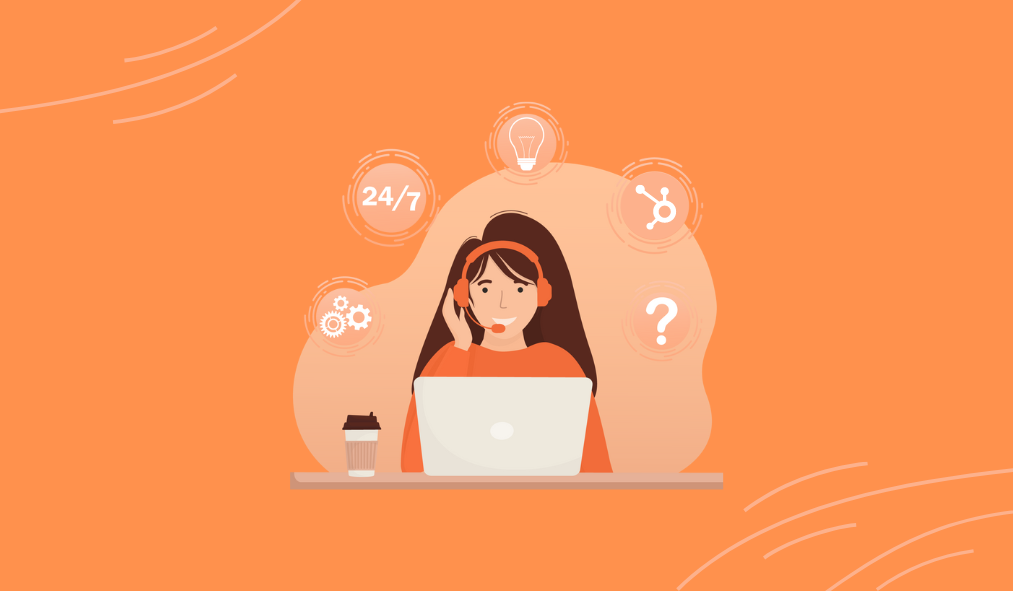 Customer service is about providing your customers tools that help them succeed. Even if all goes well during the marketing and sales process, a negative customer service experience can quickly turn your delighted customer into an unhappy one. While many business leaders understand the importance of customer service, they many not efficiently manage and act upon the feedback they receive.
HubSpot's Service Hub is a customer service based platform that empowers companies to efficiently monitor and increase customer satisfaction by presenting you with the toolset that allows for your customers to feel seen and heard, and take action from the feedback you received.
Take Advantage of the Service Hub Tools
Many HubSpot customers overlook the Service Hub tools, either because they think they don't need to use them or because they aren't sure how. The tool set in Service Hub, however, is as flexible and provides as much room for creativity as the Marketing and Sales Hub tools. Below, we'll walk you though the tools and provide tips on how to use them.
Getting your customer service processes in order can quickly turn your current customers into long-term repeat buyers. In fact, HubSpot discovered that 93% of customers are likely to make repeat purchases from companies that provide excellent customer service. Whether you use all or some of the Service Hub features, they can help you quickly and easily improve your customer experience.
Feedback Surveys
Feedback surveys can provide valuable insight into your customers' satisfaction with your company. This tool allows you to ask either standard industry questions or custom questions that you create. You can draft your own feedback properties, personalize content with personalization tokens, and choose from a variety of delivery methods (e.g., email, chat, etc.). Feedback surveys come with built-in dashboards that monitor your surveys' performance and display insights into your customers' loyalty and satisfaction, helping your organization more easily identify areas for growth.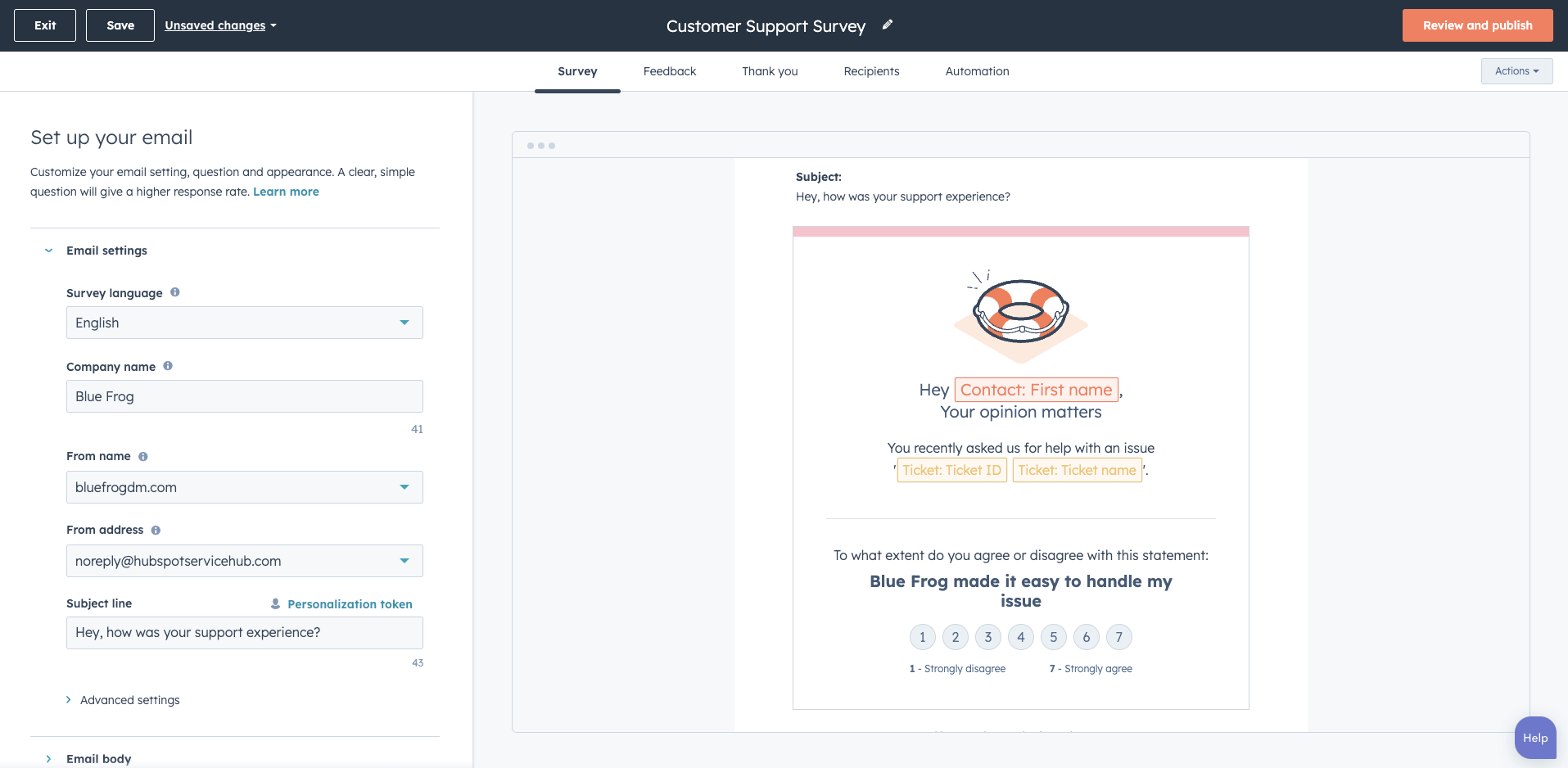 Pro Tip
Simplify what you are asking! It can be easy to fall into the trap of asking too many questions in your feedback surveys. Encourage people to fill it out by minimizing the questions to 1–3 only. Use the survey as a pulse check. If you need to follow up to collect more details, you can easily do so.

- Jillian Streit | Blue Frog Lead of Research & Training
Ticket Pipeline
One of the common reasons many companies don't utilize the tickets feature in HubSpot is that they aren't entirely sure whether or how it applies to their products or services. The ticketing tool in Service Hub allows you to use it creatively. In addition to managing service requests, it can track reviews or complaints, record and organize form submissions that require custom follow up, and much more. The purpose of the ticketing tool is to create a central location in your CRM for all customer inquiries. You can create multiple ticket pipelines, customize properties, connect email or form channels, and monitor all ticket activity. Don't let old ideas of what support tickets should be limit how you take advantage of this tool.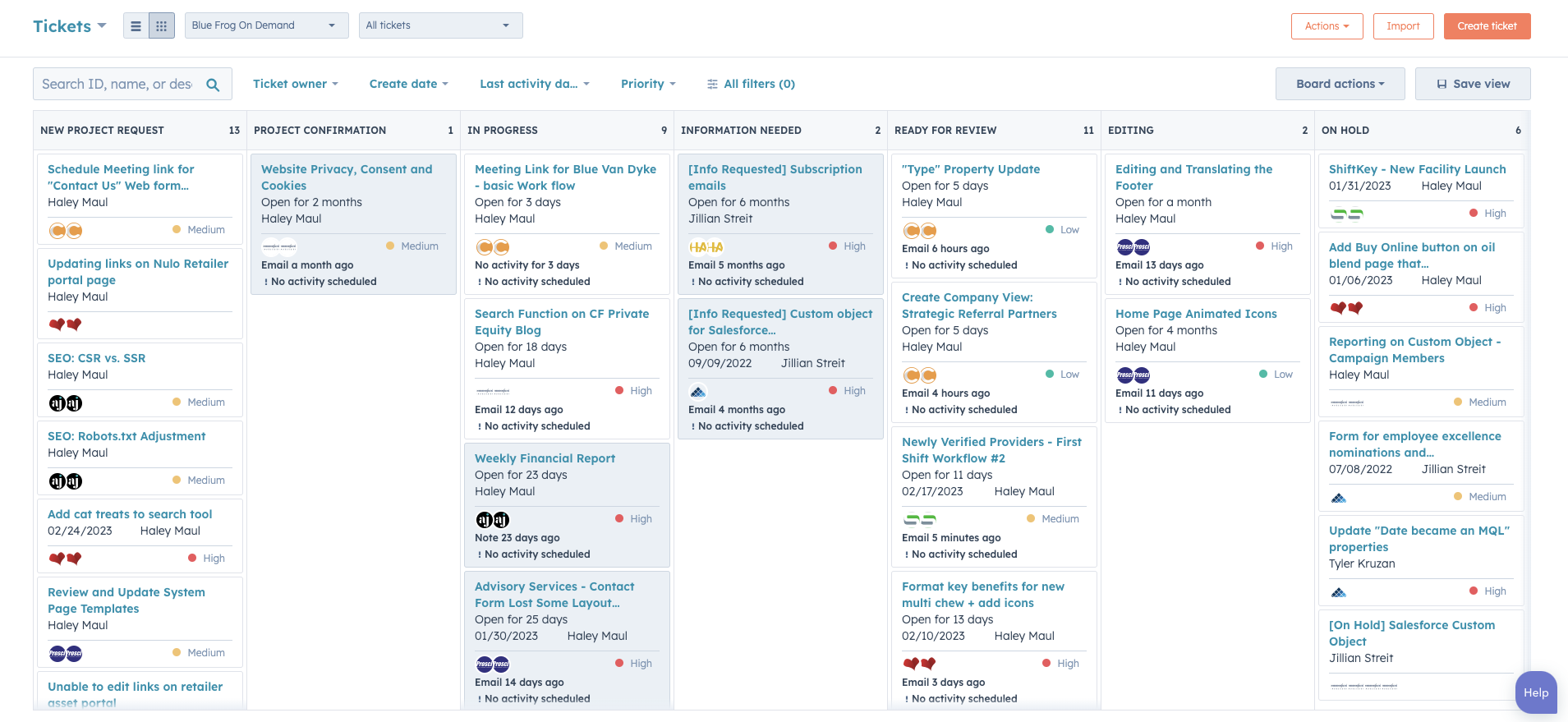 Pro Tip
Make each stage of the pipeline actionable or indicative of who is responsible for the next step. Depending on your unique service process, in progress can be sufficient for short requests that take 2­–10 minutes to complete. When requests require back and forth, you may be waiting on additional information from the customer. Indicate this with an awaiting Information stage to make it clear where you're at in the process.

- Jillian Streit | Blue Frog Lead of Research & Training
Customer Portal
Just as the tickets pipeline in Service Hub allows you to view and manage all customer inquiries in one place, the customer portal allows your customers to oversee all their communication with your company. With either public or private access, your customers can view and respond to activity on all support tickets they have submitted. You can customize who has access to your customer portal, modify its templates, create filters for your customers to organize their requests, and connect a support form for customers to submit when they need to submit a new issue or request.. Giving your customers this kind of personalized control over their communication with your business can go a long way toward ensuring their satisfaction.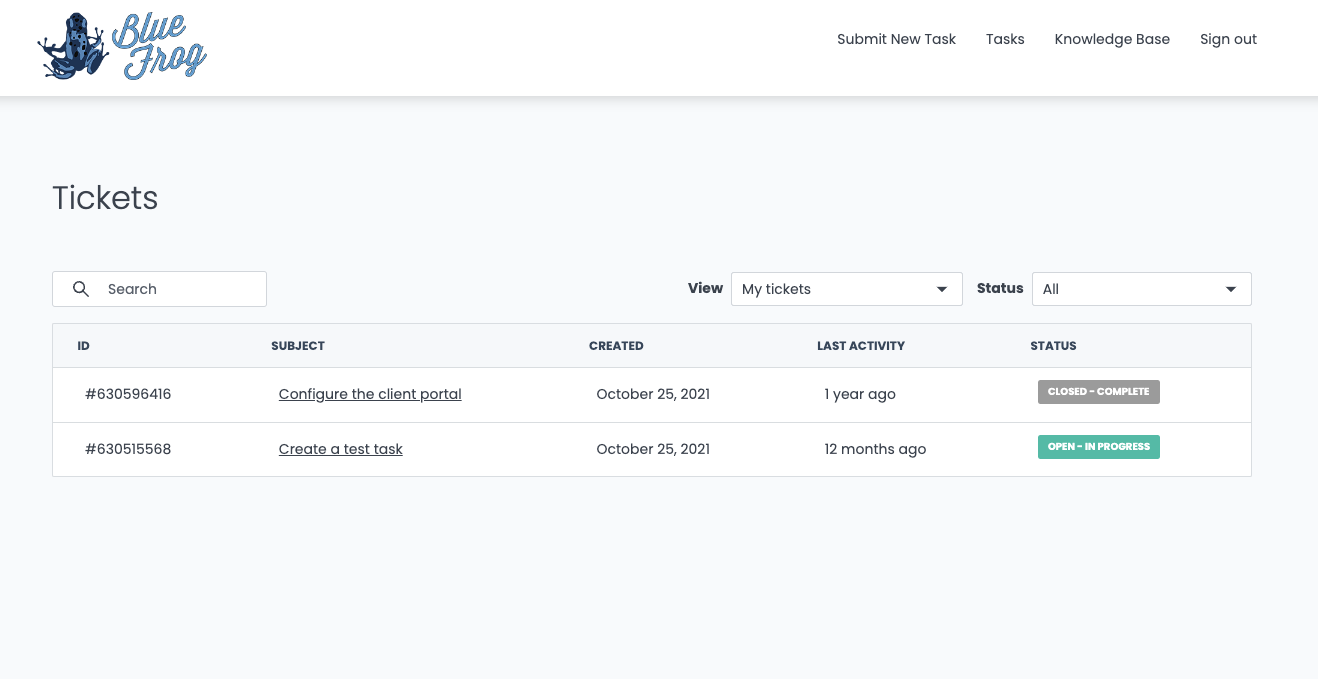 Pro Tip
The customer portal (as of this writing) is still fairly new and contains limited properties to display. You have the option to display either the status of just "open/closed" or also include the pipeline stage (i.e., in progress). If you choose to display the stage, be aware that the words you use will be visible to customers and choose them accordingly. For example, waiting on customer may not appear as customer friendly as information needed.

- Jillian Streit | Blue Frog Lead of Research & Training
Knowledge Base
With the availability of vast amounts of information online, many customers are trying to solve issues on their own instead of reaching out to a customer representative and waiting for a reply. The knowledge base tool in Service Hub allows you to publish articles, post how-to videos, and provide other resources related to your products or services. If you are a HubSpot customer, you are likely very familiar with HubSpot Academy's knowledge base. In Service Hub, your company can create its own knowledge base and customize its organization with categories, subcategories, and tags that make it easy for your customers to self-serve.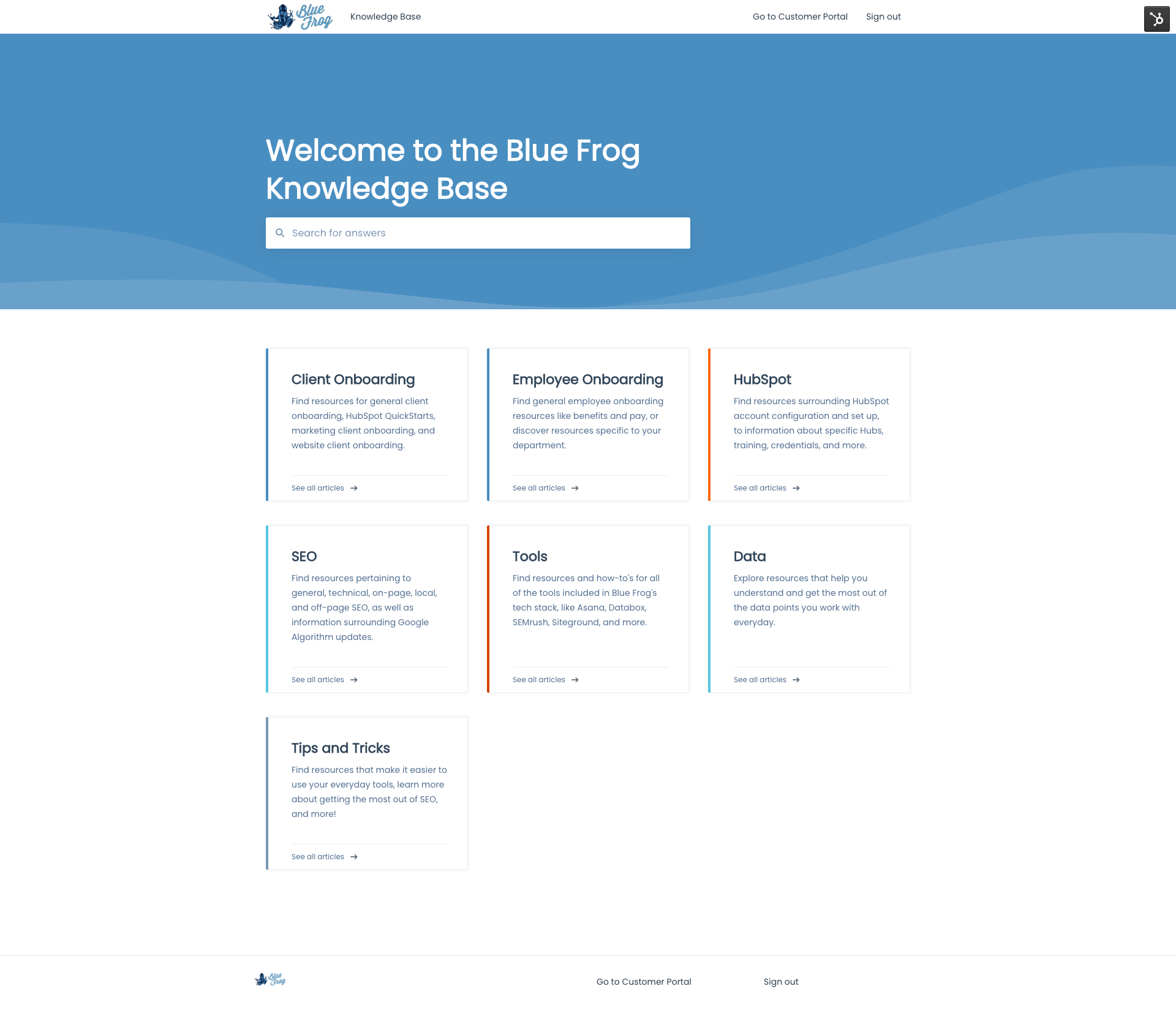 Pro Tip
While HubSpot currently allows each company to establish just one knowledge base, you can control what audience has access to each individual article. In this way, you can turn one knowledge base into two or more (for example, by making one internal and one external) by managing article access.

- Jillian Streit | Blue Frog Lead of Research & Training
Exceed Your Customers' Expectations
Customer service is just as important for your company as sales and marketing. When you help your customers succeed, they help your company succeed. With HubSpot's Service Hub, you can create a central location to manage, track, and take action on customer feedback and inquiries. By providing your customers with multiple methods of communication, opportunities to give feedback, and ongoing updates on their requests in one place, you help them feel more in control and support their success.
The team at Blue Frog is experienced at helping our clients get the most out of their HubSpot subscriptions. For more insider tips, view the HubSpot section of our blog.