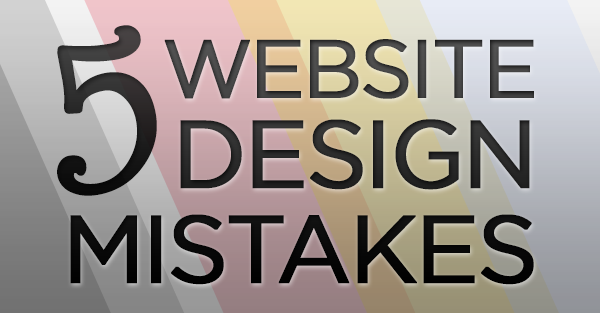 If you're not getting the kind of results from your business website that you desire, it is a clear sign that something needs to change. With the right marketing strategy and goals in mind, your business website should be able to successfully convert visitors into customers. Below are several common design mistakes that many companies make.
Mistake #1: It's unclear what your website is for, what your business does, or what you offer. The majority of the time, when visitors come to a website, they are looking for a particular product or service or a specific answer to a question. They don't want to waste time digging through pages of a website to find it. They want to be able to find it quickly. If it is hard to determine what your business is all about within a very short amount of time spent on your site, your website is not designed the way it needs to be.
Rule #1: Strive for clarity.
What your business has to offer should be as clear as day from the moment someone reaches the homepage of your website. You should clearly display your primary services and products so that visitors can quickly find what they are looking for. If they can't find it quickly, they will most likely leave your site and probably never return. Say goodbye to another potential customer. On the other hand, if your site is clearly laid out and easy to navigate, that potential customer will click on a link that sparks their interest and be lead into your website to find the information they are looking for. If they like what they see, voila! You may have just made a sale or added another potential customer to your list.
Mistake #2: The navigation is unclear. Users easily get confused or lost within your site. If your navigation bar isn't clearly displayed for all users to see at all times, you should rethink your design. Don't have pages on your site that are confusing to find or hard to navigate away from. Also, try not to make your site too large. The more pages you have, the longer it will take to load and find information quickly.
Rule #2: Make it obvious.
Place the navigation bar in an obvious place on your home page. Most of the time, you should have it consistent throughout your site as well, on all pages. This way, navigation to and from a particular page within your site will be very simple and quick.
Mistake #3: Your website doesn't stand out from others like it. Is your website bland, boring, and getting lost in the shuffle of the thousands of others similar to it on the web? Are you not getting the kind of traffic you want and customer conversions you desire?
Rule #3: Be unique.
Why is your company better than others like it? Why should people bring their business to you? Every company should have a mission statement that makes them stand out from the crowd. Whether it's for great service, low prices, quality products, or good customer service, this should be displayed on your site to help you stand out and get noticed. The design of your site should support your unique skillset, brand, and identity.
Mistake #4: The design is great, but the content is poorly written or lacks substance. Many sites have either great design or great content, but not both. In order to be successful, a website needs to be designed well and contain content that interests readers, builds trust, and integrates SEO strategies to bring in traffic in the first place.
Rule #4: Content is king. By having high quality content on your website, you will start a relationship with and engage potential customers. Quality information has the ability to build trust and prove your company to be a professional in your field. Provide customers with the kind of information and resources they seek. A great way to add quality and original content to your website that will draw in more visitors is through a business blog. Adding a blog to your website has the ability to increase website traffic by 55%!
Mistake #5: You have so much material on your home page that users don't know where to look or go from there. Oftentimes, websites try to cram as much content and as many graphics as they can onto one page of their site. Other times they try to grab a user's attention by including flashy graphics, interesting animations, or anything else that catches the eye.
Rule #5: Keep it simple.
Only include content and graphics that fully support your business identity and theme you are trying to portray. Too much pizazz is just that...too much. Aside from adding confusion, clutter will also slow down page loading times and annoy visitors. Most visitors are looking for quick and effective solutions to their problems. Keep your layout simple and your message clear enough so that it has the ability to successfully do its job: to convert visitors into customers.
If you need website design help, content creation, or a sound inbound marketing strategy put into place, contact Blue Frog Marketing in Des Moines. We will work with you to optimize your website and turn it into your 24/7 employee.