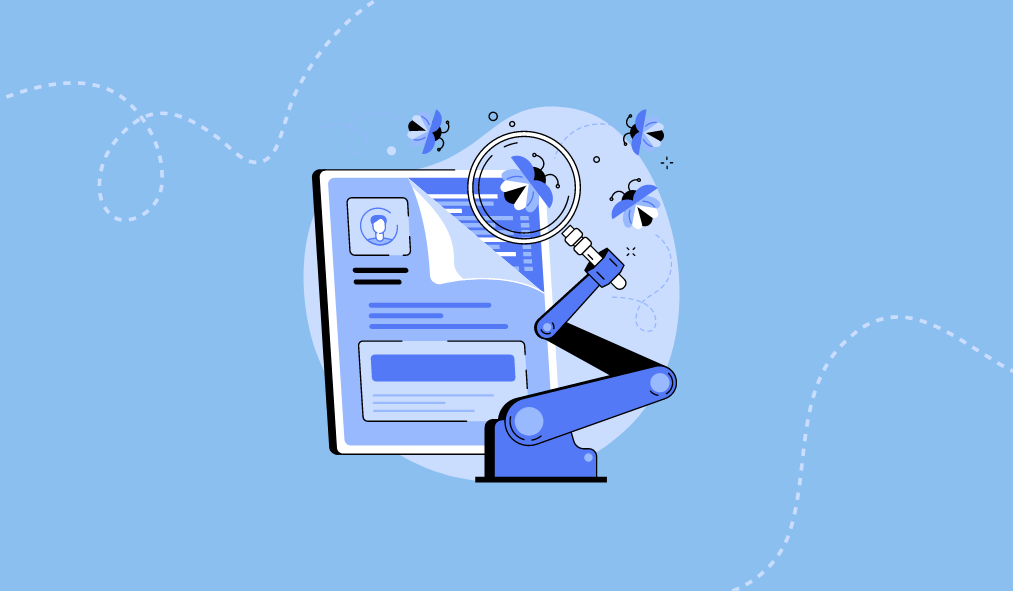 For sales and marketing teams to operate at a high velocity and stay competitive, they need data that provides insights they can act on to drive revenue. For this purpose, the data must be accurate and up to date. The only way to accomplish this is through continuous maintenance and data correction.
According to a Gartner report, bad data costs companies nearly $15 million annually. It's also very common for organizations to be completely unaware of just how much poor data quality management practices are affecting their business processes. To avoid bad data and the costs associated with it, data teams must enhance their databases with dependable sources and prevent inaccurate data from entering their systems in the future. This continued data quality management gives marketing and sales teams the edge they need.
What is "bad data?"
Any data that is unstandardized, duplicated, or includes inaccurate information should be considered "bad data." Some organizations understand bad data causes big problems and that those problems can cause them to miss out on a lot of potential revenue. For many, though, this realization can come way too late.
Gartner researchers found that missed opportunities and the technical issues associated with low data quality cause data managers to spend nearly 40% of their time manually cleaning datasets for their operations. To get the most out of your business data, your team must be able to act on it quickly and integrate it into your processes with confidence. But it's nearly impossible to transform data into real actionable insights for your team when the "three Is" of bad data-quality management problems are present:
What are the 3 Is of bad data quality?
Incomplete: Company, contact, or behavioral information is missing.
Inaccurate: Information is incorrect or outdated, including inconsistent, unstructured, or non-standardized data.
Ineffective: Ineffective or non-actionable data includes data that show inconsistencies as well as missing or siloed data points across records.
How can you improve data-quality management?
Your organization's data quality is measured by the percentage of records that are correctly matched. If you multiply the characteristics of data quality (match rate, fill rate, match confidence, and fill confidence) you can calculate a dataset's reliability rating, which indicates its trustworthiness.
Large amounts of incomplete, ineffective, or inaccurate data will result in low match rates. Higher data fill rates from your sources puts more information at your fingertips. Because your team needs the most accurate and up-to-date data for top performance, your organization should take these three steps to improve its data quality: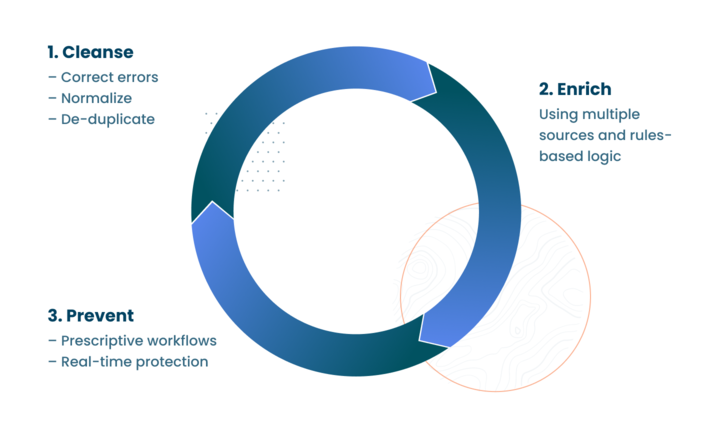 Data Cleansing
1. Cleanse: a data normalization (or standardization) process is necessary for data that enters a system in various ways. This process groups similar values into one common value for easier processing, distribution, and reporting for analysis. Standardizing data is necessary because it ensures consistency across your CRM and other systems. There are many other reasons to normalize your data, but they all relate to ensuring your database is clean, organized, and primed for your team to use in their operations and to guide strategy.
Data Enrichment
2. Enrich: Enriching data ensures each field your marketing and sales teams utilize has the best, most reliable information available and expands the information they can access, which enables more sophisticated segmentation within your CRM. Data enrichment enables you to source thousands of data points and apply that information to contact or company records. It's important to note that no data provider has the perfect database, so consider sourcing information from multiple data providers to build a single source of truth.
Prevent Data Errors
3. Prevent: Martech's "1-10-100 rule" states that the cost of correcting an error is ten times higher than preventing one, and the cost of an uncorrected error is 100 times higher than preventing it. This illustrates the need to prevent data errors from the beginning and the high cost of failing to do so.
How can you create a sophisticated targeted sales and marketing approach?
At entry level, organizations need access to several different data sources to continually supply their sales and marketing teams with information that empowers them to drive revenue and growth with targeted approaches. Many organizations use a dozen different sources with varying formats and drastically different taxonomies. Bringing all this data into your systems can be a complex and time-consuming process, nut it can be simplified through automation and integration.
Integrated Data Quality Management
Most data quality management solutions require multiple tools to clean, normalize, transfer, and enrich data, each adding complexity to the process. A centralized solution like HubSpot's Operations Hub decreases the need for multiple tools and simplified the process for maintaining reliable, high quality data.
A combination of HubSpot's Operations Hub and ZoomInfo's B2B data enrichment platform can eliminate the time-consuming and expensive process of manually updating data through cleansing and enrichment. With the HubSpot and ZoomInfo integration, revenue operations teams can focus on building actionable plans to capitalize on and drive revenue and growth.