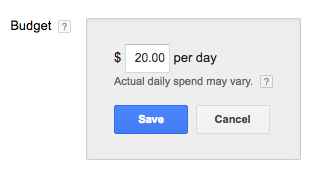 Google AdWords hadn't had a significant update since the beginning of the year—until last month, when AdWords made an important update to how it spends your daily budget. Google stated: "Starting October 4, 2017, campaigns will be able to spend up to twice the average daily budget to help you reach your advertising goals."
This change is meant to help your ads perform better! Here's how.
Your budget can be allocated more effectively.
Because internet traffic can vary greatly from one day to the next, Google is trying to spend more of your budget on days when there's a lot of high quality traffic, and it will spend less of your budget on days when there's less traffic. This update is meant to maximize your ad spend and get your ads shown more.
You retain control over your monthly spend.
Additionally, this update will also help advertisers manage their monthly budgets more easily because Google will never charge you more per month than your daily budget allows. For example, if you have a monthly budget of $600, you can set your daily budget to $20 and not worry about going over that $600 monthly budget, but on some days your daily spend could be more than $20 and on some days less. So, while you can expect your daily ad spend to fluctuate due to this update, you retain control over your monthly spend, and your day-to-day expenditures can be more effective.
It's also important to understand what Google considers your "monthly" budget. 30.4 is the average number of days in a month and Google multiplies your daily budget by 30.4 in order to determine what your budget should be over the course of a month. Keep in mind that Google is considering "a month" to be the 1st of the month to the 30th, so if you have a campaign that you launch in the middle of a month, beware that Google will consider the last day of the month to be the end of your monthly budget, and not simply 30.4 days from when you started your campaign.
If you're new to using Google AdWords, click the link below to download our free ebook to help get you started. If you'd like expert help with setting up Google ads or any other part of your digital marketing strategy, contact Blue Frog! Our inbound marketing strategists are ready to help.