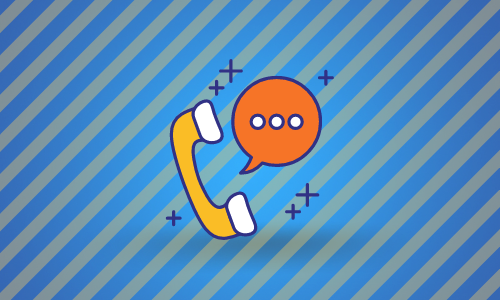 It's extremely important to understand the difference between a powerful call to action (CTA) and a weak one. You may have the greatest content, products, or services in your industry, but if you aren't able to draw users in, they might never see the value you offer.
Here are 5 tips to help you understand why your CTAs might be underperforming and how to fix them!
1. Hard to find CTAs
One common issue with CTAs is that they can get lost in the content of a page. They could be buried within text and graphics or exist as text links that don't stand out on the page like a prominent button would. This sounds very simple, but if your visitors aren't able to see your CTAs clearly, they aren't likely to take the actions you want them to. To fix this problem, try these strategies:
Use whitespace

.

If you find that your CTA looks crowded, create some space for it. Make sure it sticks out from its surroundings by separating it from content to bring more attention to it.
Utilize contrasting colors.
One way to make your CTA buttons easily identifiable on the page is to use a color that contrasts with the page background. There is no single color that leads to a higher conversion rate, but using a color that causes your CTA to pop off the page gives you the best chance at improved performance.
Place your CTA strategically.
Where you should place your CTA depends entirely on the accompanying content. For example, CTA location in a blog will differ from a landing page because the intent and direction of these types of content are drastically different. A blog may have a CTA below the fold to entice readers further into the website after they have finished your engaging article. A landing page, on the other hand, should have its CTA located in a more prominent place so it's the first thing a visitor sees. This is because the point of a landing page is to drive conversions. If you know the purpose of your content and its place in the buyer's journey, you will understand where to place your CTAs to make users more likely to convert.
2. Unclear or wrong value
Simply commanding a visitor to click your CTA isn't enough. Vague CTAs like, "Click here" or "Contact us" fail to give the user a clear reason for doing so. If your visitors have to wonder, "What's in it for me?" they may be less likely to convert. You can address this problem with these strategies:
Highlight your value proposition & unique selling points.
Users should understand how clicking your CTA will benefit them. A CTA like, "Click here for a free estimate" suggests a clear action (click here) that will deliver a specific benefit to the user (free estimate). Visitors are far more likely to click on your CTA if you show that you will address their wants and needs.
Personalize calls to action.
One way to adapt your CTAs to your visitors is with personalization. A study. by HubSpot showed that personalized CTAs deliver a 202% higher click-through rate than default versions. Personalized CTAs can be tailored to each visitor based on location, language, lead status, and many more variables. For example, if you have a contact who has already shown interest in your services, you may want to show them more bottom-of-the-funnel content or tools than a new website visitor who is still learning about your offerings.
3. Lack of urgency
Users are far more likely to convert if they believe they need to take action right away to benefit from the offer. Urgency is not always necessary and should be used judiciously, but in the right context, it can be a powerful tool for driving conversions.
Use urgent copy in your CTAs.
You can imply urgency simply by adding a few words to your CTA. Try changing your copy from "Download ebook" to "Download ebook now" or "Schedule your appointment" to "Schedule your appointment today!" to create a sense of extra urgency.
4. No emotion
You want your content to elicit a strong response from your visitors, and your CTAs are no exception. If your CTA lacks a sense of excitement, it's less likely to inspire action. Try these tactics to add some fire to your CTAs:
Use exclamation points!
Adding an exclamation point to your CTA copy can be a simple and effective way to show visitors your excitement and passion for your offering and draw attention to it!
Use words that promote an emotional response.
Generate excitement in your audience by selecting language that elicits emotion. For example, for a custom home builder, "Start building your dream home today!" is much more likely to evoke an emotional response than "Submit your project." Including the words "dream home" encourages readers to imagine themselves and their family in a new home that is perfect for them.
5. Lack of testing + Conversion Rate Optimization
If, like many website owners, you simply place a CTA and forget about it, you are missing out on a valuable chance to figure out what tactics are most effective at converting your audience. Ongoing CTA testing is a major aspect of conversion rate optimization.
A/B Testing
This is one of the easiest ways to gather data on CTA performance. First, create a CTA. Then, choose one element to change, such as color, shape, or wording. Run the test for a set period of time that is sufficient to gather a significant sample size. At the end of the test period, take the higher-performing CTA, change another element, and run it again. It's important to only change one element at a time so you can home in on the effect of each variable. Continue to update your CTAs to find out exactly what combination is most effective at converting your audience!
Never forget that conversion rate optimization is an ongoing process. Industries and customers change over time, so what may have worked best a year ago may be the worst option today. When you create a new call to action, make sure to keep your customers' needs and how you can benefit them top of mind.
Does this all seem a bit overwhelming? No worries, that's why we're here to help!