WRP Wealth Management
How a consistent, well defined content strategy increased traffic and lead conversions.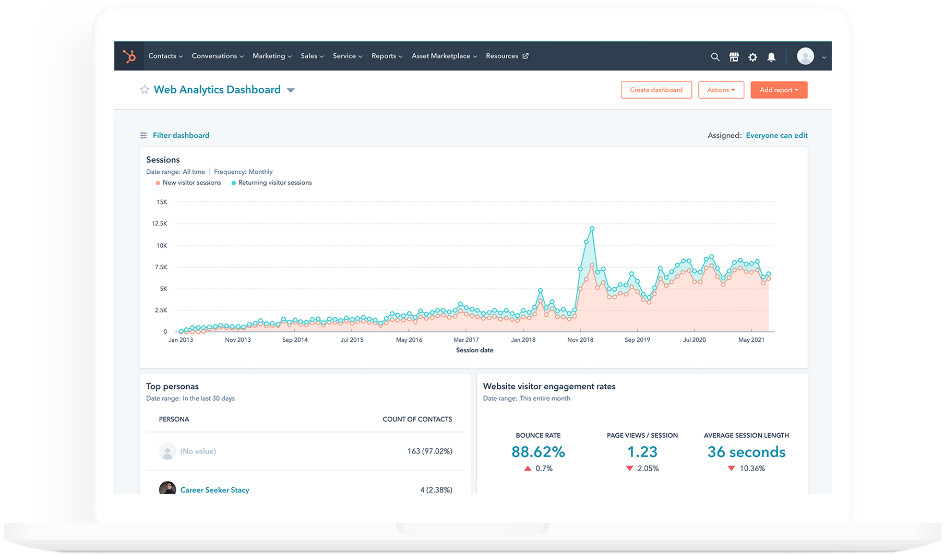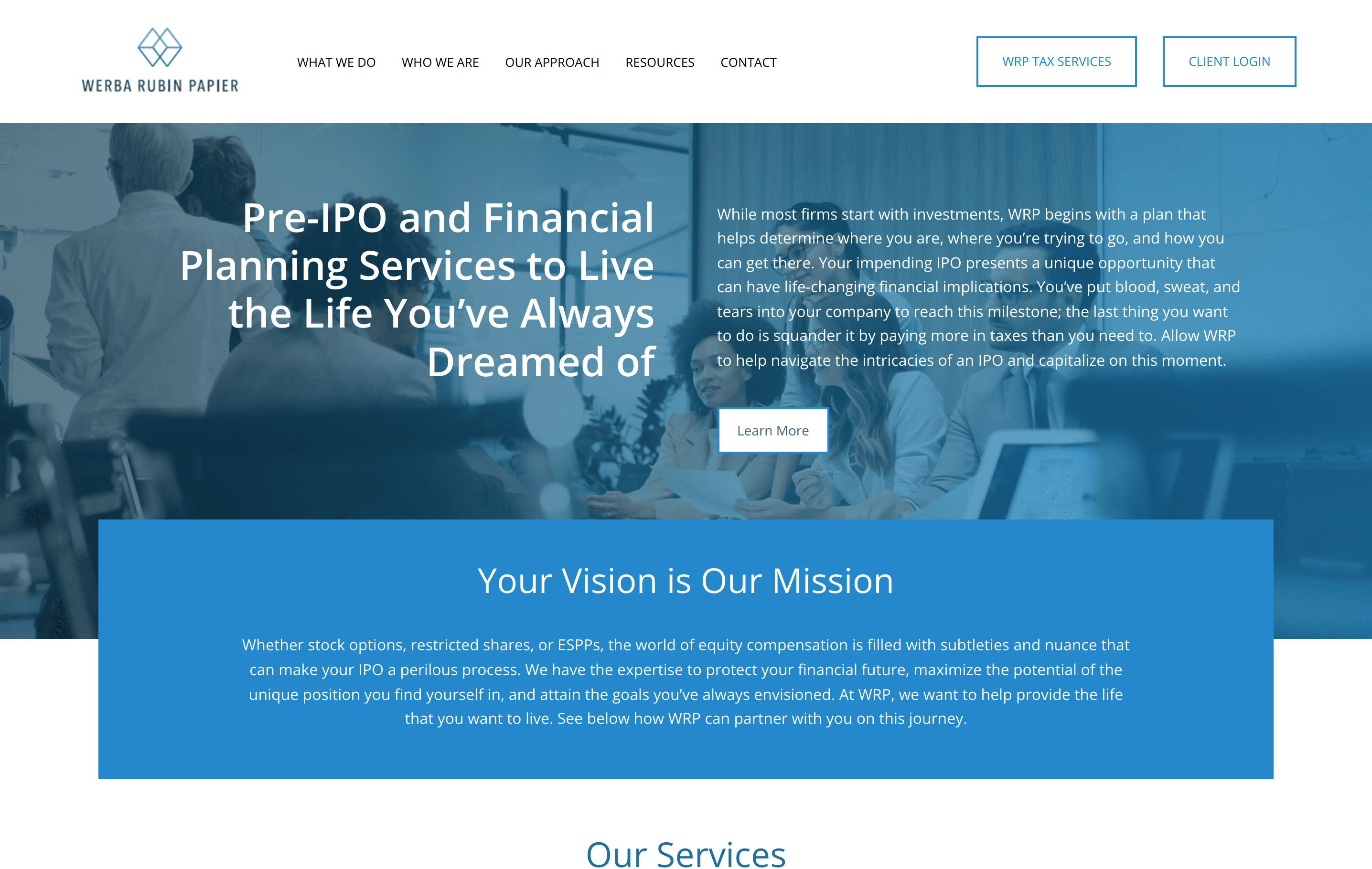 Background
Hubs Used
Marketing
Client
Werba Rubin Papier
Industry
Financial Services
Company Size
14 Employees
The Challenge
Werba Rubin Papier (WRP) is a wealth management and tax planning provider specializing in helping companies through the pre- and post-IPO process. The firm has a small, dedicated team whose expertise lies in financial and tax management, not in digital marketing. As a result, they have limited bandwidth and experience to internally create content designed to engage new prospects or manage ongoing search engine optimization (SEO) efforts.
With an inability to apply consistent effort to their digital marketing initiatives and a misaligned digital strategy in place, WRP was relying on manual networking to prospect new clients. This was an extremely time-intensive process that brought them to maximum prospecting capacity and left them with little freedom and time to further engage current leads. The firm's small niche also made it difficult to get in front of its target customers while they were actively searching for solutions like those offered by WRP. Without a well defined content strategy, it would be nearly impossible for WRP to increase its online presence, compete in organic search results with well established brands, and rank for the keywords their audience is searching for.
Prior to working with Blue Frog, we had very little market presence, no strategy for reaching prospects online, nor any process for keeping in touch with prospects."

Jason Papier | WRP Managing Partner
The Solution
WRP partnered with the team at Blue Frog, who persuaded them to adopt HubSpot's inbound marketing methodology and commit to developing a targeted content strategy. WRP recognized the benefits of hosting its blog on HubSpot as an efficient and scalable way to gain SEO traction in their market.
Prior to working with Blue Frog, the WRP team had not implemented any web analytics or tracking tools to monitor current website performance. The initial step in curating a foundational content strategy was to ensure these tools were in place to capture website visitors data to continually optimize as information was collected.
While initial data was being collected, Blue Frog utilized Semrush to conduct a competitor keyword gap analysis and HubSpot's built in SEO tools to develop a comprehensive long-term plan to continually optimize content. Some of these tools utilized include:
Topic Clusters
To establish target keyword categories and ensure every blog article is connected to a desired topic through internal linking strategies.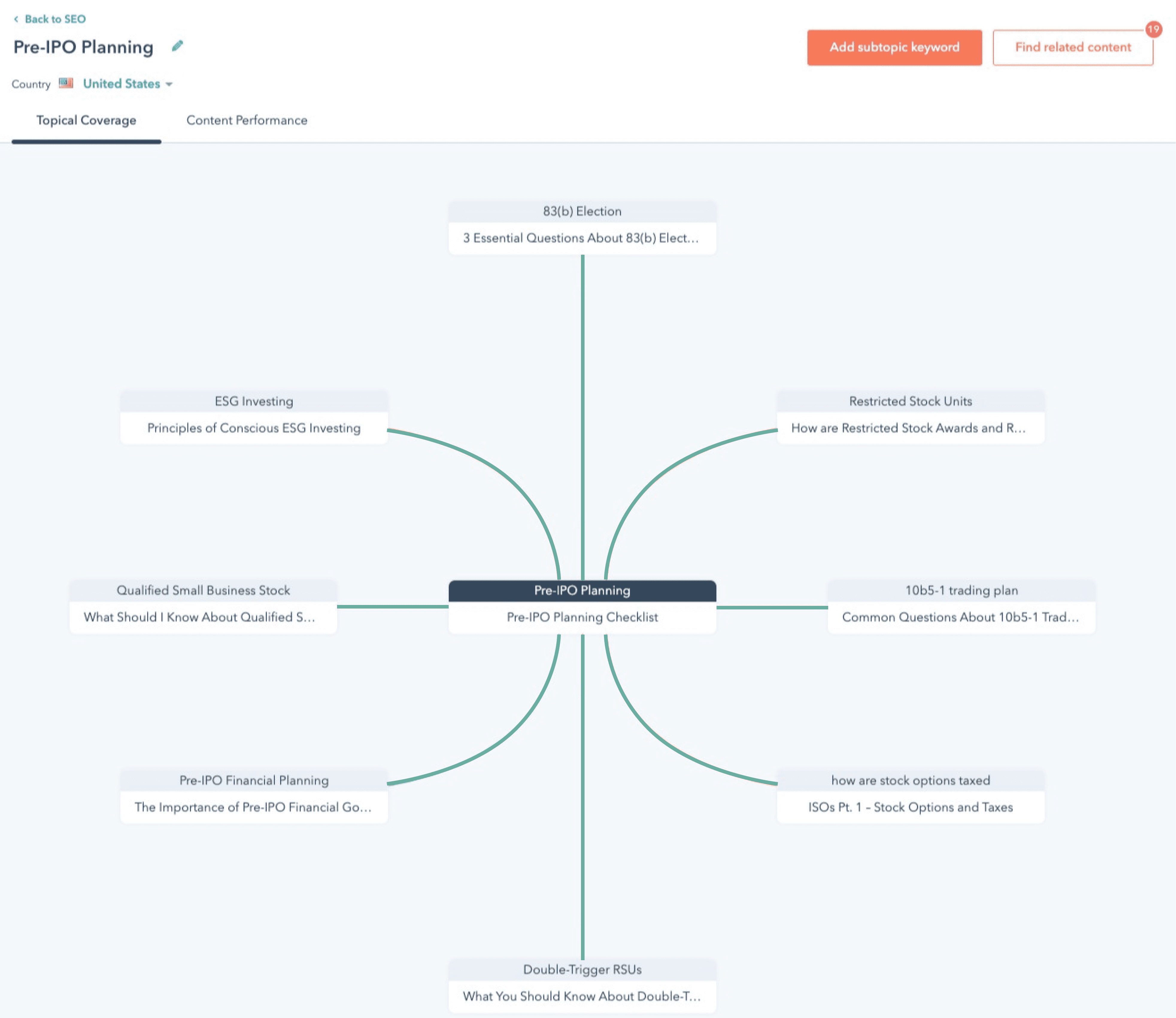 On-Page SEO Fixes
To improve published content by incorporating additional target keywords and ensuring proper SEO elements are included.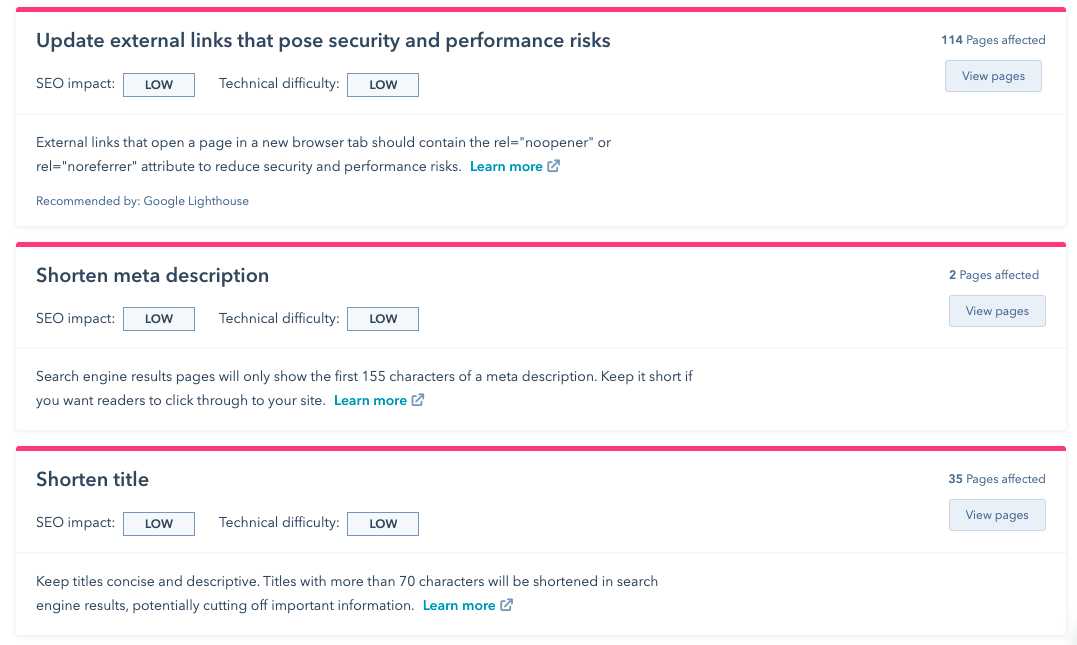 Blog & Traffic Analytics
To monitor how efforts are progressing and identify content that best resonates with the target audience.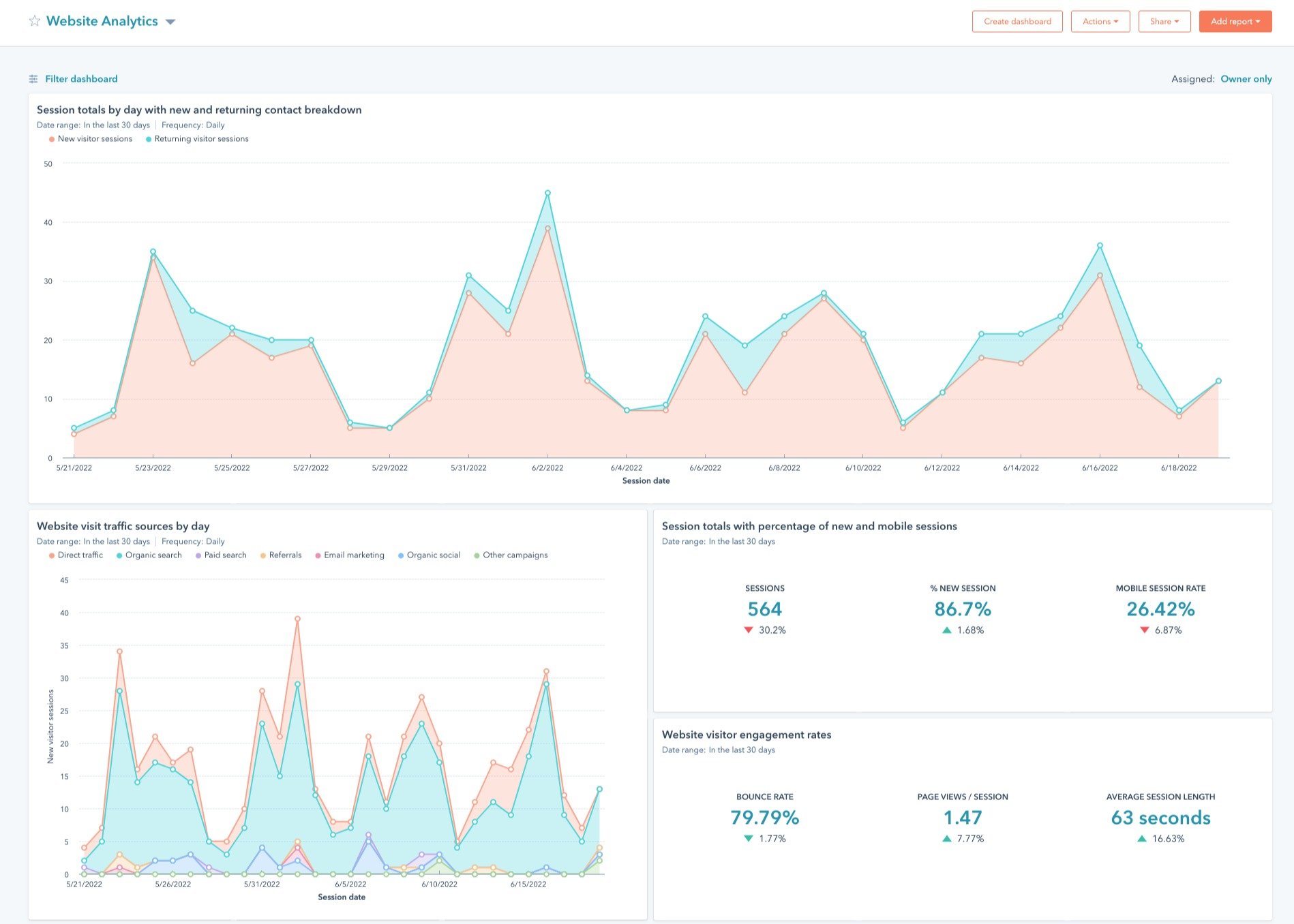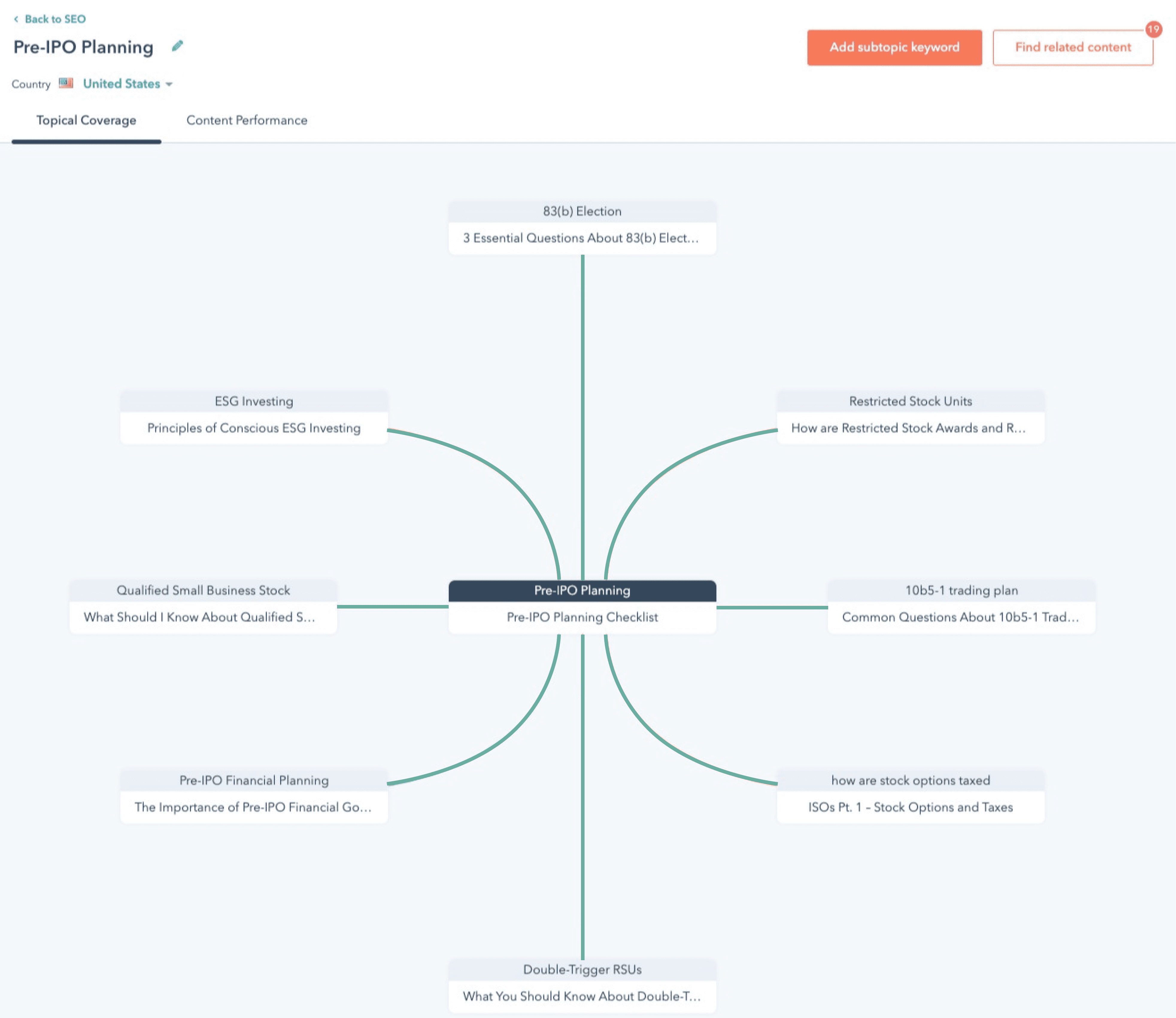 After achieving initial success in attracting new visitors to WRP's blog via organic search and converting them with this content, Blue Frog continued to optimize WRP's blog keyword strategy, using HubSpot's conversion tracking capabilities to identify which keywords were fueling the most conversions and highest value leads.
After implementing our initial content strategy, we leveraged HubSpot's keyword tracking capabilities to identify which keywords had generated early success by attracting the most traffic and conversions. We employed this data to refine our keyword strategy, identify topic clusters, and create a pillar page holistically targeting WRP's most valuable keywords"

AJ Liddell | Blue Frog Strategist
Through Blue Frog's research and implementation, they found that qualified prospects were searching for help with pre-IPO planning practices, but there was also valuable traffic garnered through more specific, nuanced keywords such as "Double Trigger RSUs" and "ISO 83(b)". This showed them that not only are prospects searching for high-level strategies, but also for very detailed, specific pieces of information. This understanding shaped Blue Frog's strategy with WRP by focusing on these nuances and providing answers to highly technical questions to highlight WRP as thought leaders in the industry. This placed WRP at the forefront of the industry and showcased their ability to handle complex situations and create comprehensive wealth management strategies for their clients.
The Results
Blue Frog worked with WRP to build consistent growth in traffic from organic search results and in conversions of these organic website visitors using a targeted and constantly evolving content marketing strategy. WRP had very limited website tracking in place prior to working with Blue Frog, but 24 months of filtered, quality organic website traffic is available to analyze.
Organic Traffic
April 2020, the first full month of organic traffic tracking, yielded 61 organic site sessions. After one year of consistent blogging, April 2021 garnered 451 organic sessions, and continued growth led to 629 organic sessions in April 2022.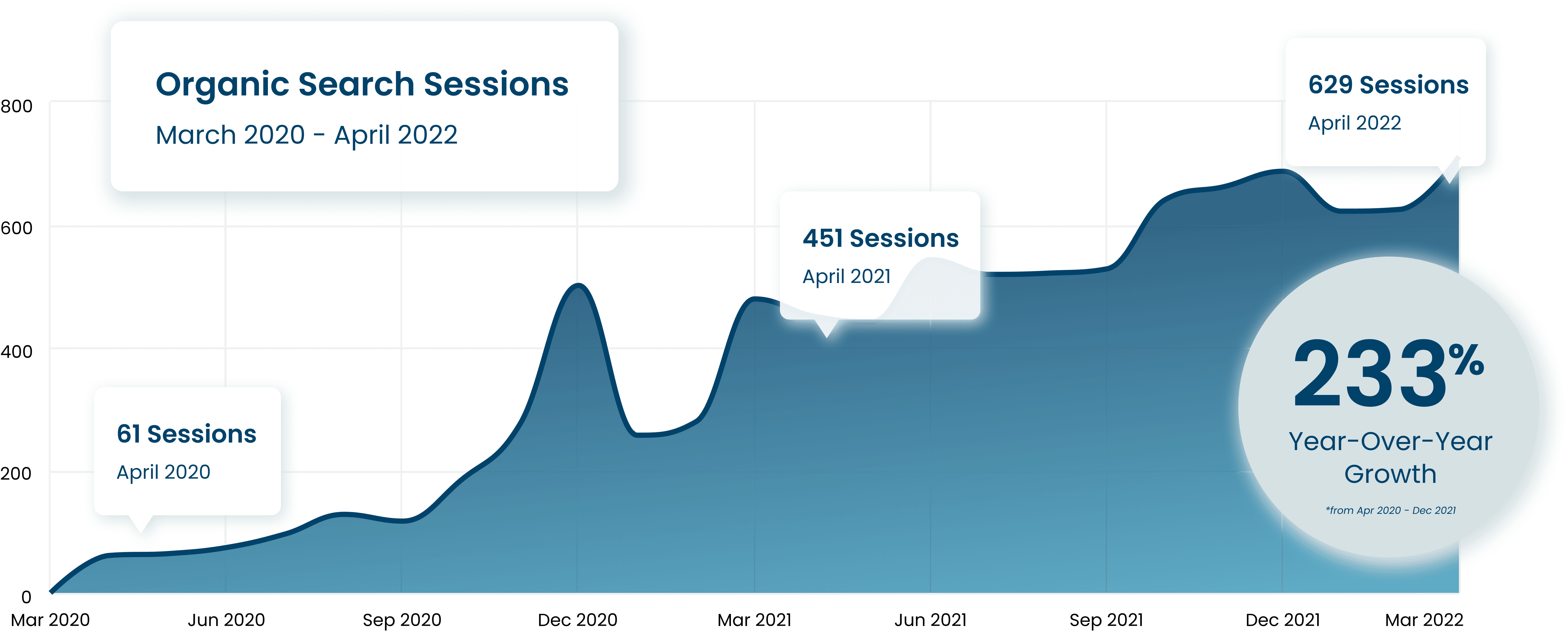 ✕
New Contacts Created
To use a larger frame, we can compare data from April-December 2020 with data from April-December 2021. By the end of 2020, WRP had seen 1,500 total organic traffic sessions and converted 11 leads. In the same period in 2021, WRP attracted 4,994 organic sessions and converted 24 leads.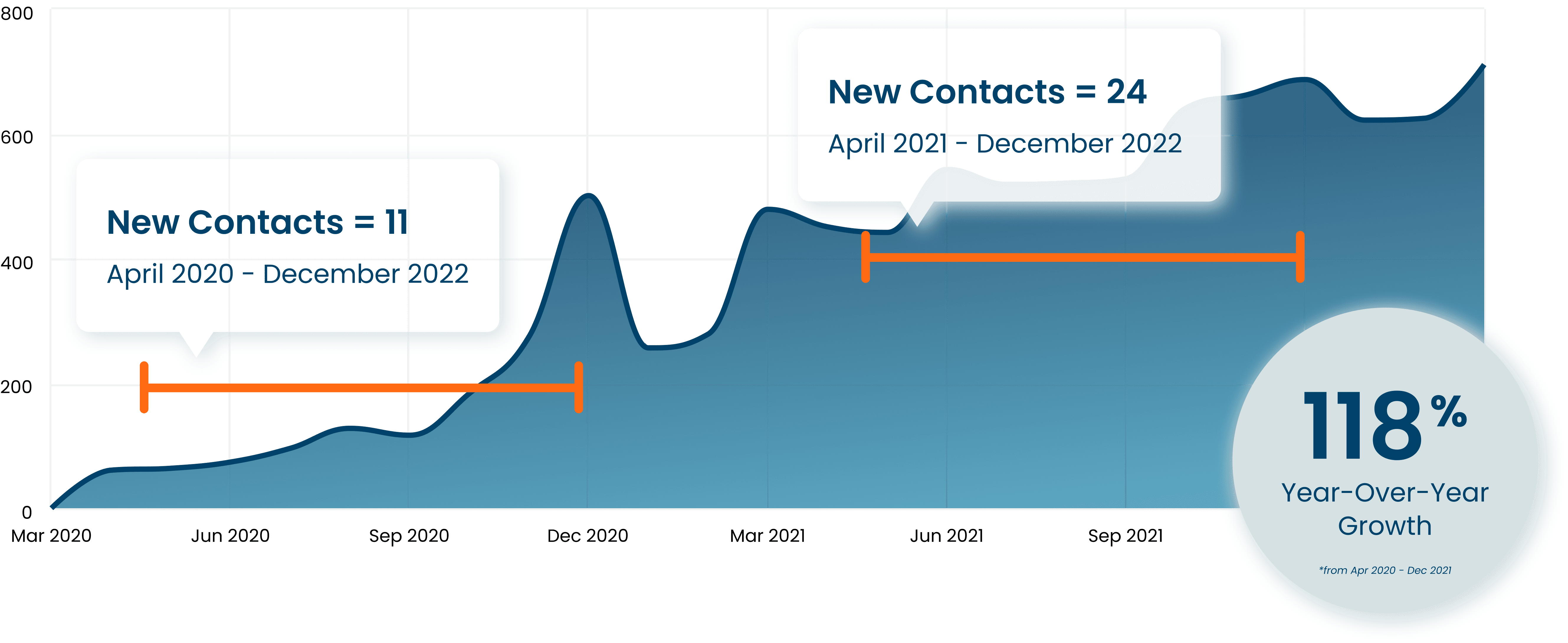 ✕
Keyword Rankings
WRP's number of keywords ranking in organic search results experienced similar growth. By targeting more specific, often long-tail keywords, WRP increased its organic search rankings from 3 keywords in the top 20 positions in April 2020 to 54 keywords in this range in April 2022.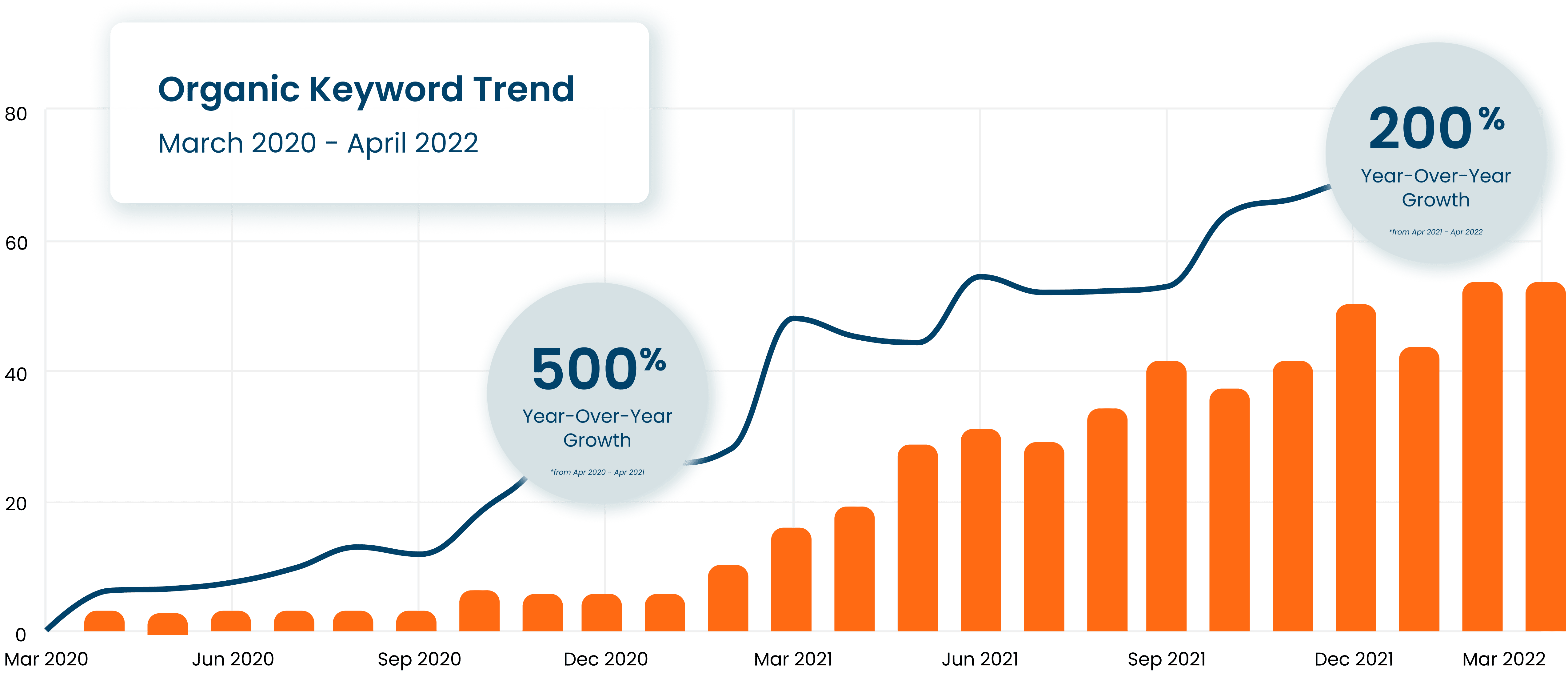 ✕
The targeted and data-driven content marketing strategy implemented by the Blue Frog team consistently increased lead flow and enabled the WRP team to focus more time on converting leads generated on the site into qualified sales opportunities as well as delighting their current customers with advanced, strategic financial guidance. Without having to manually prospect clients, the WRP team had more time to focus on serving their customers. At the same time, WRP's client base grew enough to necessitate internal team growth by hiring more employees to facilitate back-end work.
Blue Frog has helped us target, engage, and convert our ideal clients. Inbound leads and revenue have both grown significantly since working with the Blue Frog team.

Jason Papier | WRP Managing Partner
The Future
Blue Frog will continue to use HubSpot's SEO and keyword tracking capabilities to enhance WRP's inbound content marketing strategy to remain present in front of qualified prospects actively searching for solutions. The next step in the evolution of WRP's inbound strategy, beyond standard blogging practices, is to better leverage HubSpot's conversion tools such as CTAs and dynamic forms to provide prospects with unique and engaging opportunities to interact with the WRP team directly. While remaining focused on qualified organic traffic growth, Blue Frog will collaborate with WRP to create new innovative ways to optimize visitor conversion rates and continue to grow their online presence.