Background
Hubs Used
Marketing
Service
CMS
Operations
Client
ONE | A Potter's House Church
Industry
Religious Institution
Company Size
25-50 Employees
ONE, A Potter's House Church is a Christ-centered movement revolving around developing personal relationships with God. From their community groups, in person services, outreach events, ONE aims to embrace everyone, everywhere. With a strong online presence, they are able to provide accessible access to innovative ministry regardless of geography, background, or time zone.
The Challenge
Siloed Data Across Platforms
ONE Church was using several different platforms to manage various aspects of their member experiences. From participating in volunteer groups through Planning Center to making donations through Pushpay to managing email communications with ActiveCampaign, they had differing data related to the same individuals across platforms.
These disparate systems made it impossible for the ONE team to gain valuable insights into the actions their members take, and gain a full view of all activities individual members partake in.
Manual Processes
Many of the steps within their processes required a manual update to a contact record, or manually sending out different emails depending on interests. This was difficult for the team to maintain and scale as they grew their offerings and membership count.

The Solution
Connected Platforms with HubSpot
To bring ONE's systems together and provide a holistic view of their members, Blue Frog proposed utilizing HubSpot as the central source of truth for all data. This recommendation included optimizing their internal processes, adding automation to remove manual data entry and email sending where necessary.
To achieve ONE's goals, Blue Frog proposed a custom-built, multi-object, bi-directional integration with Planning Center and Pushpay. The integration involved syncing contacts, groups, check-ins, donations, and events between the two platforms.
The data flows bidirectionally from Planning Center and Pushpay into HubSpot using custom API integrations. HubSpot's custom-coded workflow actions were also utilized to sync data between the systems.
Objects in Use
In order to properly optimize and recreate existing processes used by the ONE Church team, several custom objects were created. Added associations between objects enabled cross object analysis to occur along with personalization based on values of associated records.
For example, the ONE Church team can easily segment the database down to only send an email to any Contacts who are active in a particular Volunteering team by using the association between the objects and the "status" property tied to the records.
Person > Contacts
The Person object in Planning Center maps to HubSpot Contacts and is associated with Groups, Check-Ins, Events, and Deals. The sync is bi-directional and is used to manage details about an individual who is involved with the church.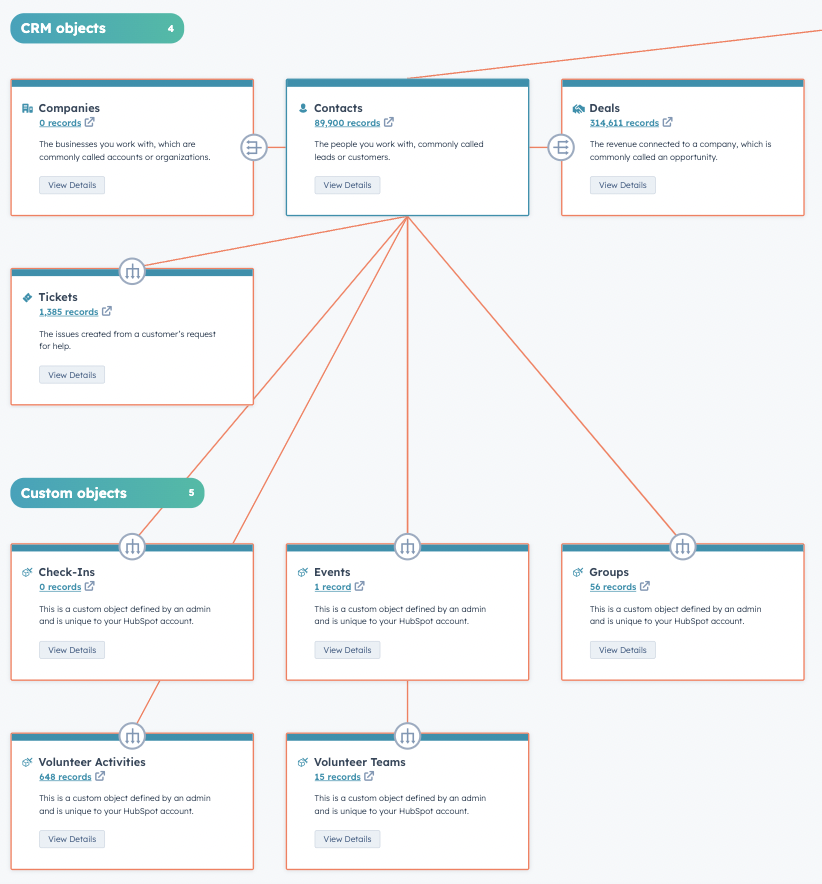 Payments > Deals
The Funds and Payments objects in Pushpay map to HubSpot Deals and is associated with Contacts, and Tickets. The sync is one way from Pushpay to HubSpot and the data is used to manage the details for donations made by individuals.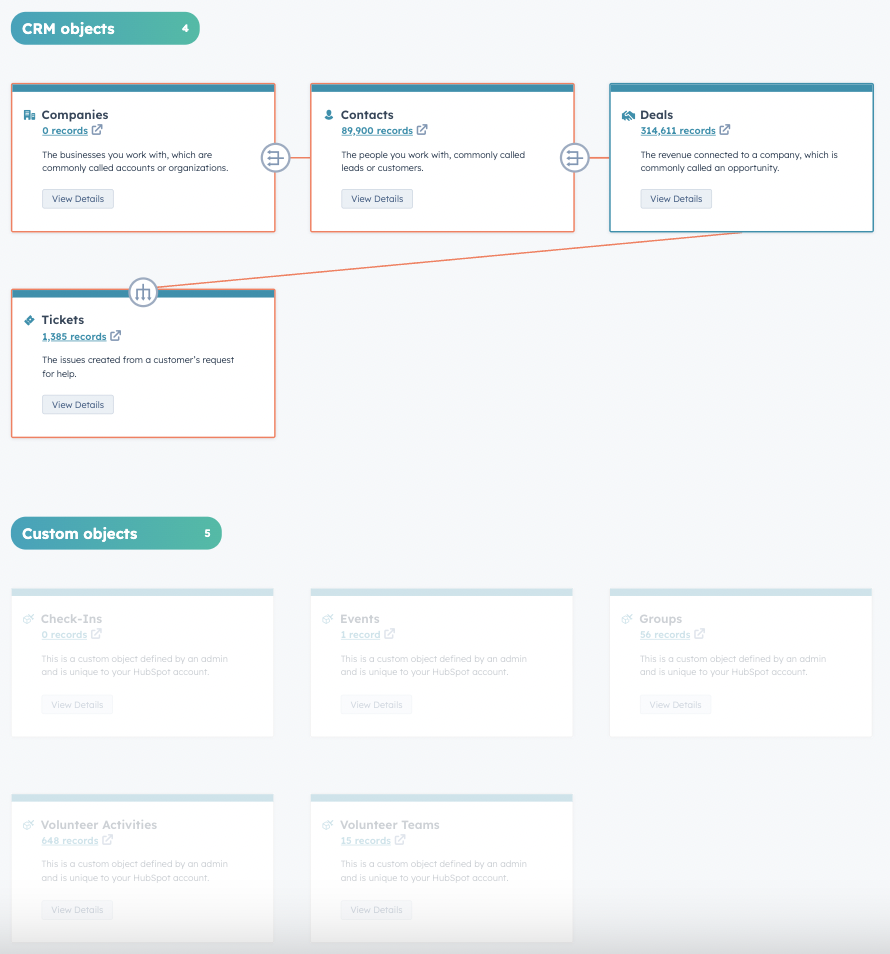 Volunteer Custom Object
To track which volunteer groups contacts are connected to, the Volunteer Teams and Volunteer Activities custom objects were created. The use of these objects and the process enabled within HubSpot removed the need for ActiveCampaign.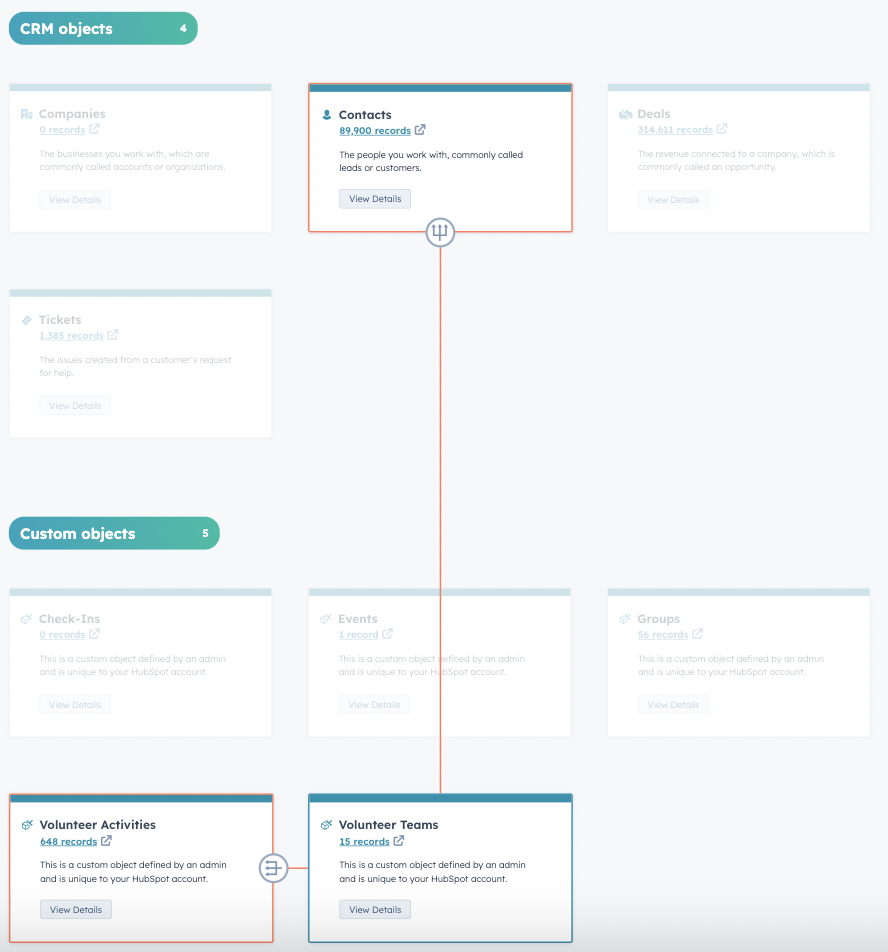 Groups Custom Object
The Groups object from Planning Center was recreated as a HubSpot custom object and is associated with Contacts and Events. The sync is bidirectional and the data is used to manage ONE's groups and facilitate communication with contacts associated to the groups.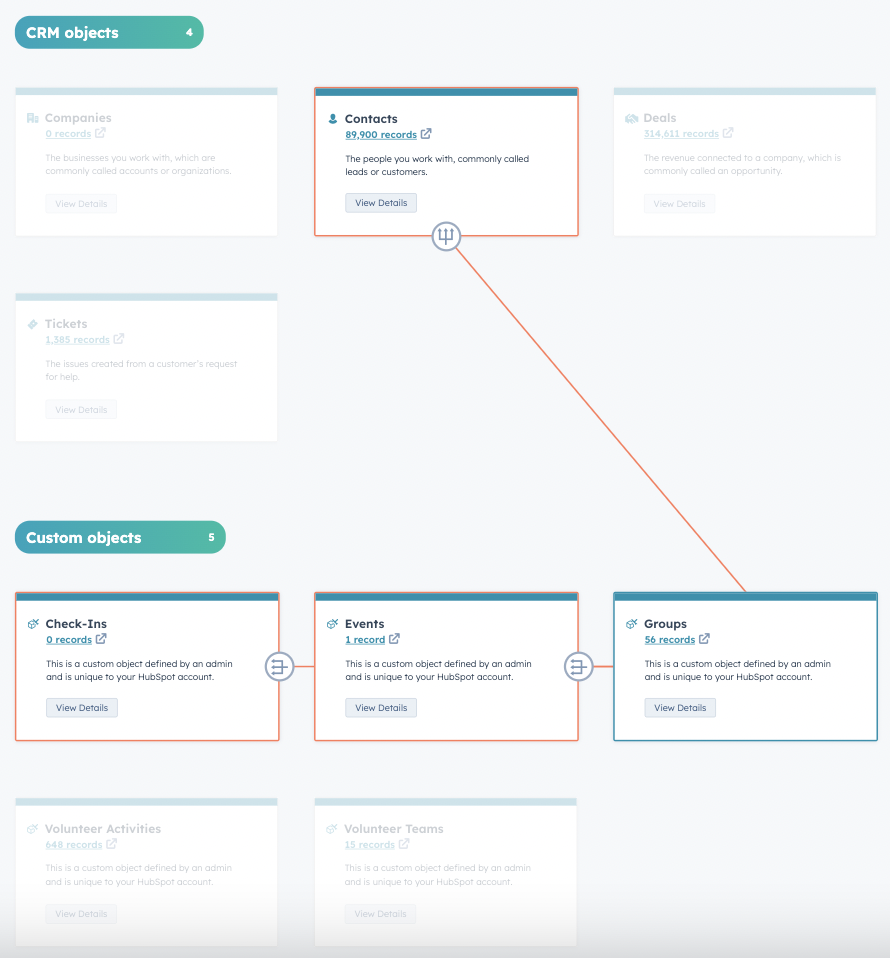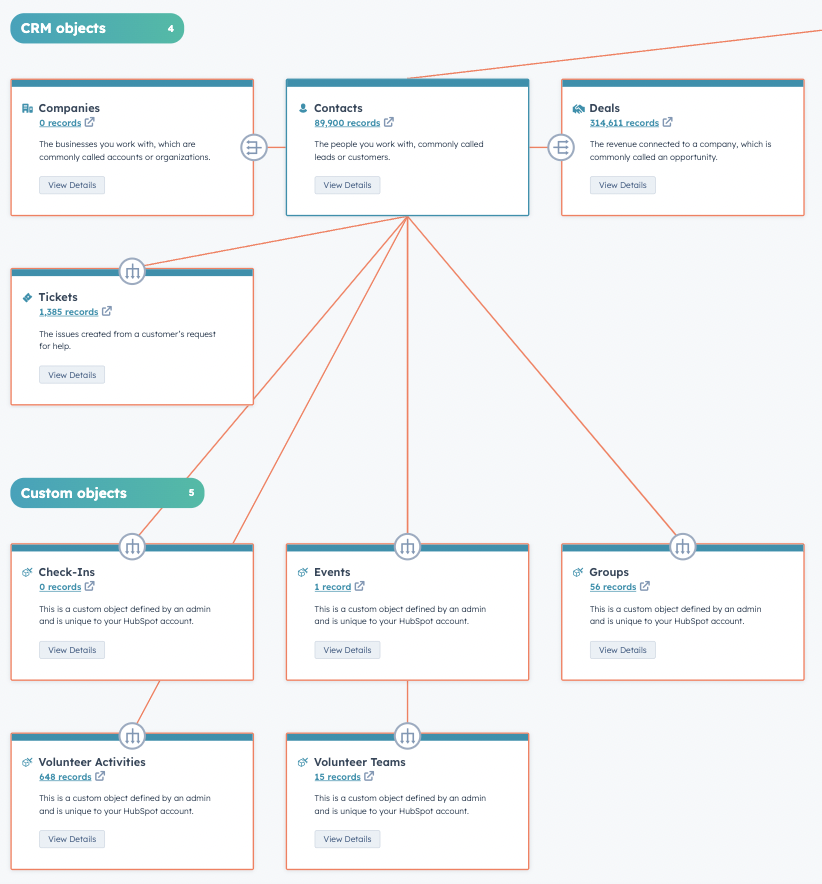 The Results
Automated Prayer Request Follow Up Process
Using a combination of HubSpot forms, emails, and workflows, Blue Frog helped ONE Church improve the team's ability to send personalized emails after an individual submits a prayer request.
The workflow sends the contacts down different branches based on the subject matter of the requested prayer and sends a personalized follow up email with dedicated content relevant to the contact's request.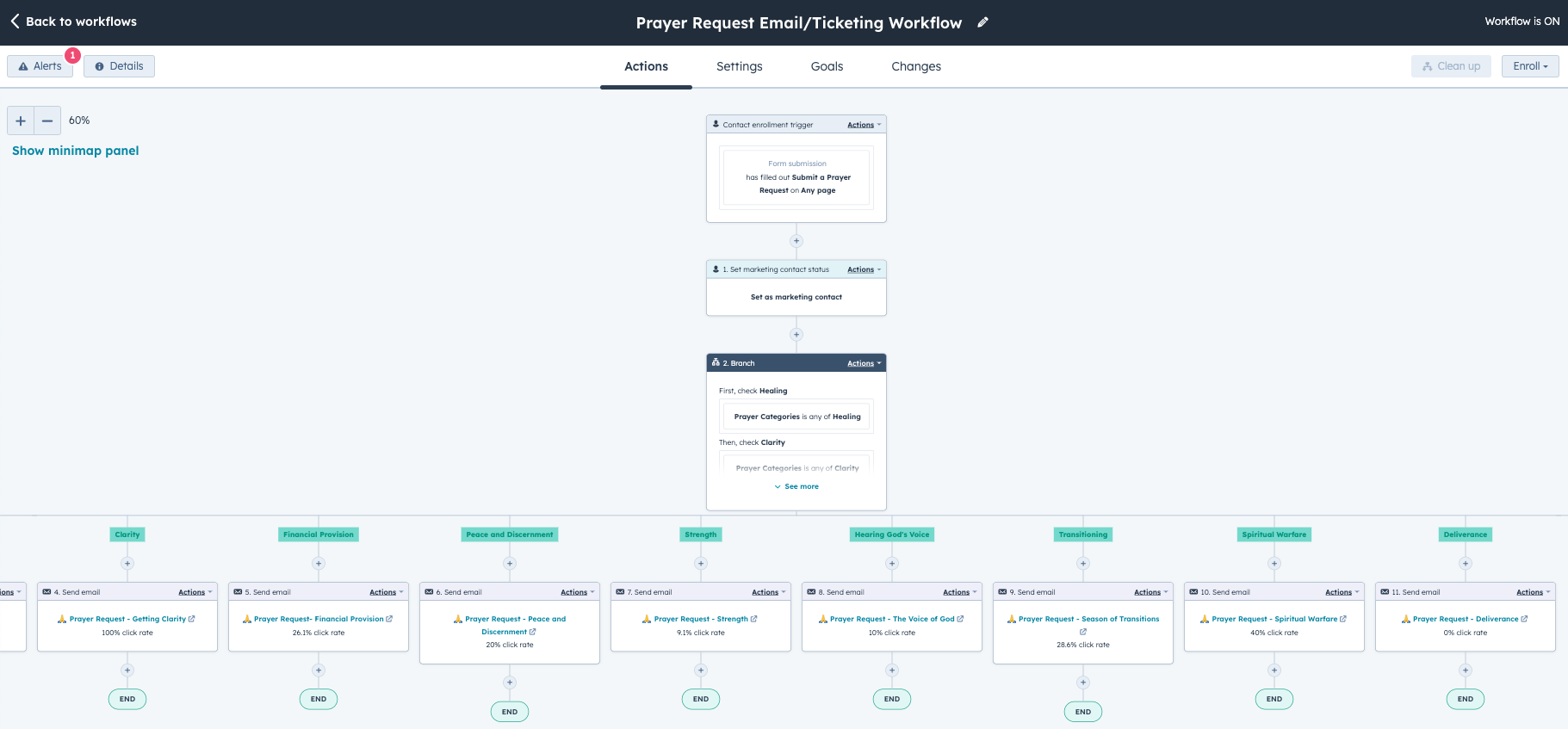 Automated Volunteer Journey Process
Previously, the ONE team had to manually send out a different email for each volunteer team when a members showed interest in joining a group.
By moving the process into HubSpot, now a single email goes out automatically and utilizes smart rules to dynamically adjust the information shared based on the volunteer group the member is interested in.
The process also includes a series of workflows to set property values used for segmentation and to encourage the member to complete the next steps of the volunteer process.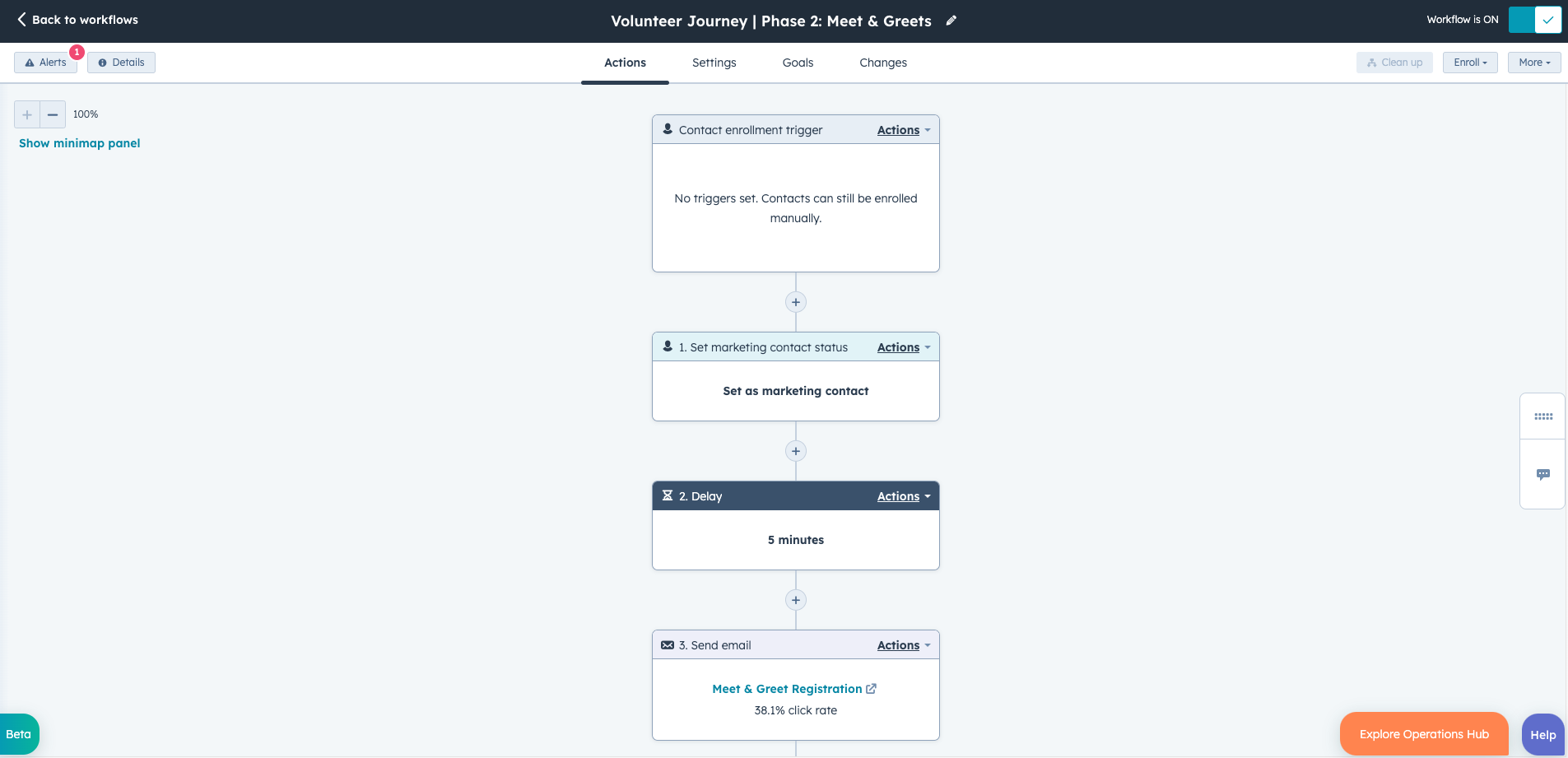 Full 360 View of Individual Contacts
With HubSpot fully integrated with Pushpay and Planning Center, and several processes from ActiveCampaign recreated and optimized within HubSpot, the various ONE teams using HubSpot to manage processes and members can finally get a full picture of what their community is doing across all engagements.
From prayer requests, to volunteer membership, through donations made, and more, the team can now see everything a contact has done throughout their time as a member.

This complete picture also enabled cross engagement reporting for the ONE team. Now they can identify which volunteer groups have higher donation levels than others, or the type of prayer requests they receive the most from certain membership groups.
Through HubSpot, the ONE team now has more data available to them to make better informed decisions for their church members.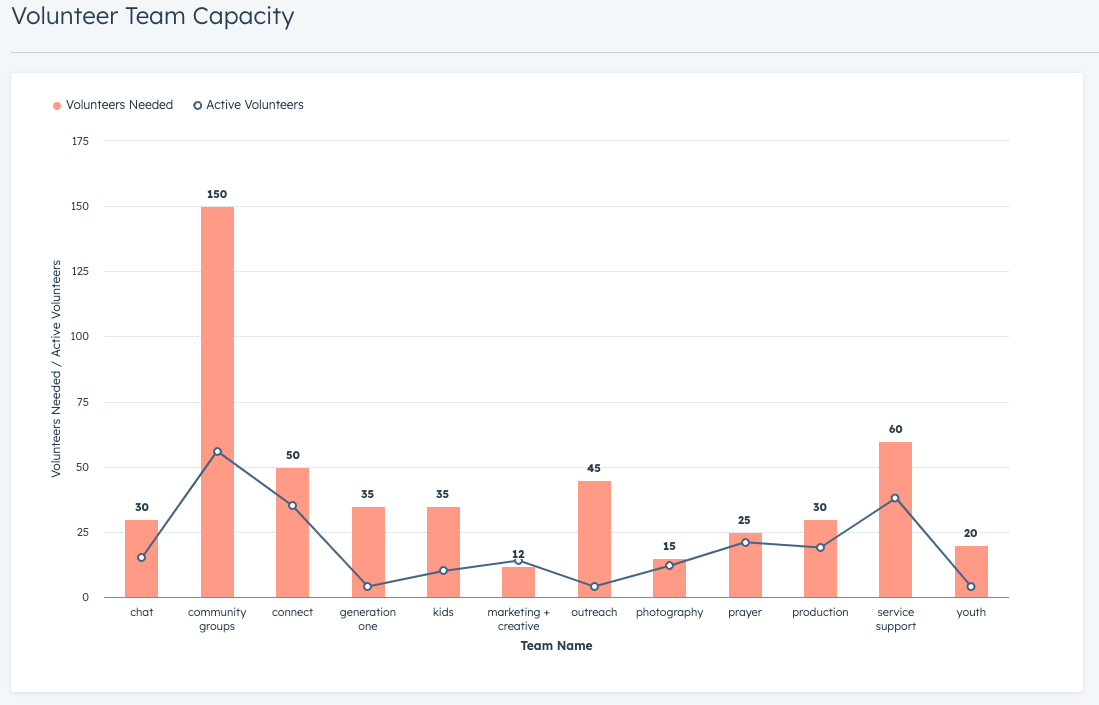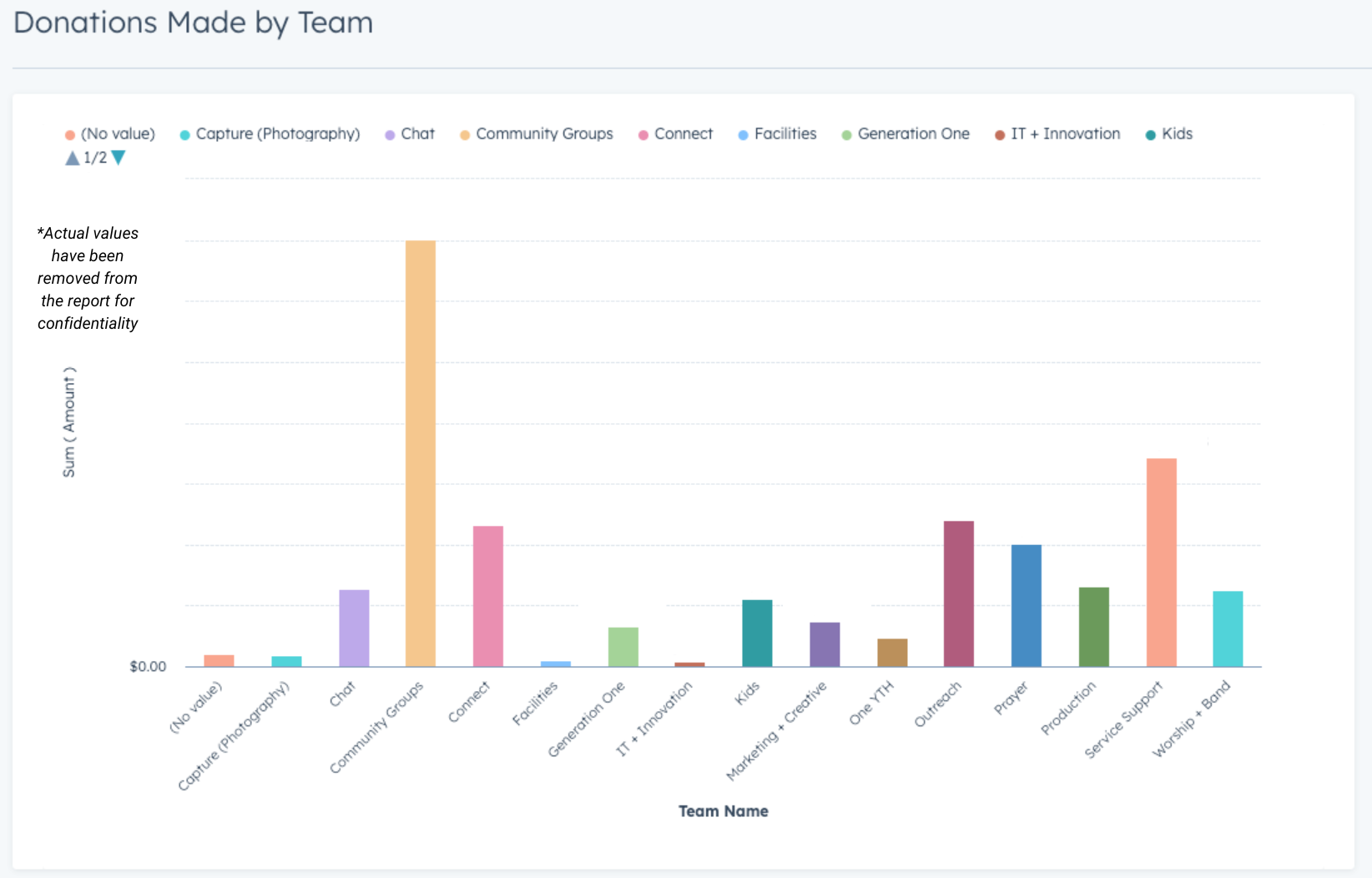 The Future
With a better understanding of the various activities and engagements their members are participating in, the ONE Church team is able to make better informed decisions to provide more opportunities for membership engagement.
With a strong foundation in HubSpot, the ONE Church team's next endeavor is to create a custom membership portal within HubSpot. The goal of this project is to provide a single location where their members can log in to view current and past activities such as volunteer groups and donations. The portal will also provide the ONE Church team a convenient way to notify their members of updates or upcoming events.