Background
Hubs Used
Marketing
CMS
Client
Infrared Cameras Inc.
Industry
Electronics Manufacturing and Software
Company Size
50-100 Employees
Infrared Cameras Inc. (ICI) is a manufacturer of thermal technologies such as cameras and software, providing top-of-the-line solutions for any application in any industry. As one of the first companies to receive FDA 510(k) clearance for its temperature screening solutions to keep workplaces safer after the pandemic hit, ICI experienced a sudden and dramatic increase in demand for its products.
The Challenge
WordPress CMS Held ICI Back
As the Covid-19 pandemic surged, information, safety recommendations, and ICI's business operations changed rapidly. The company was forced to pivot and scale as news of infrared technology for temperature screening became more abundant and demand for quality solutions rose.
ICI had always viewed their website as an extension of their business, but with increased demand, were capacity constrained. They needed support with enhanced marketing initiatives and had difficulties finding time for new web pages and ongoing maintenance of their previous WordPress CMS. Additionally, with limited analytics in place, they found it challenging to identify where their website was successful or what areas required more effort to improve.
The Solution
ICI partnered with Blue Frog to migrate its existing website from WordPress to HubSpot's CMS. The main goal was to enable the internal team to keep up with the rapid growth they were experiencing by allowing them to easily adjust website pages or create new ones whenever necessary.
Blue Frog took ICI's old website and turned it into custom modules within HubSpot. This method allowed the modules to be used within HubSpot's drag and drop web page builder, enabling the internal marketing team to save time creating new pages.
The Results
HubSpot's CMS Gave ICI a Competitive Advantage
With an easy way to edit content and no need to manually update plugins, HubSpot's CMS allowed ICI team members with little or no technical development experience to easily publish and update elements like web pages, landing pages, news articles, and blog posts. This has allowed ICI to market its products more effectively, using just one platform.
In addition to an intuitive editing experience, HubSpot's enhanced analytics and advanced features empowered the ICI team to track performance and create unique customer experiences.
Cross-Platform Analytics
Since HubSpot's CMS is integrated with its CRM, ICI's marketing and sales teams can see a prospect's activity from their first visit to the website through each marketing, sales, and customer service touchpoint. This insight enables ICI to better personalize the customer journey and prepare the sales team with a firmer knowledge base going into sales conversations with prospects.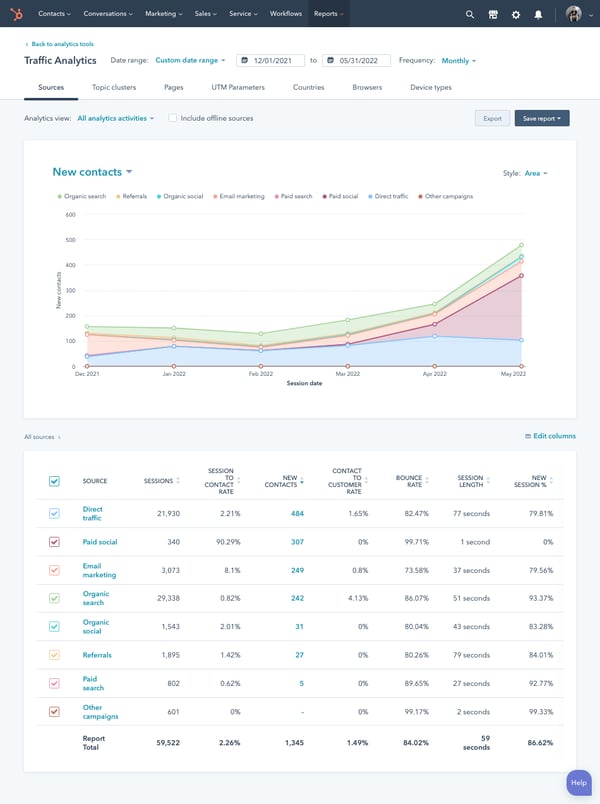 Unique User Experiences
Using HubSpot's smart content feature, Blue Frog and ICI were able to dynamically pull the product title into the contact page when a user clicks "Contact Sales" from any product page.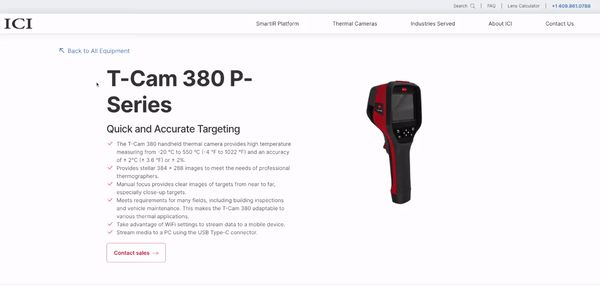 As a result of this smart content feature, six out of the top ten highest converting pages for ICI's main contact form are product pages, whereas previously, only two out of the top ten highest converting pages were product pages.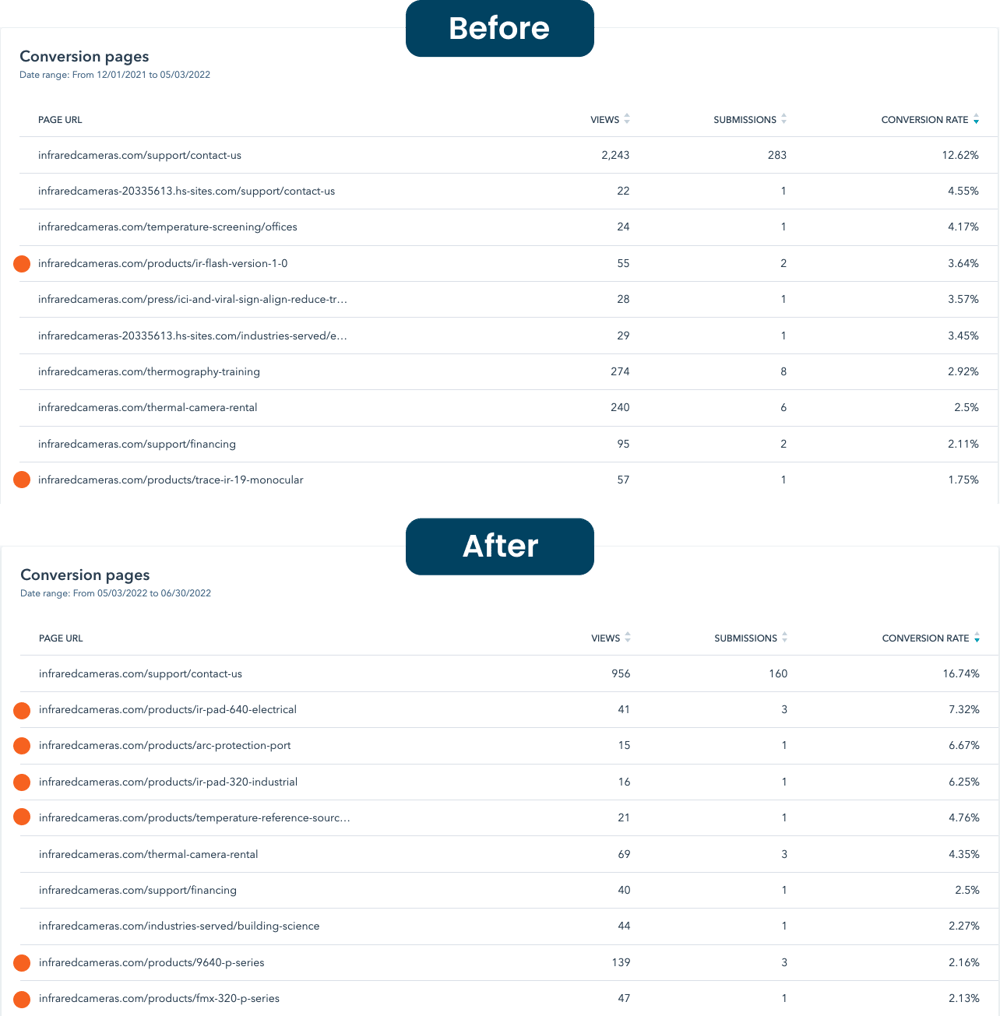 Optimized & Aesthetically Pleasing Pages
Whether they're creating a news article or a new web page to market their revolutionary intelligent thermal monitoring software, the ICI team can choose to create the page either from scratch or from a custom-built template. Using HubSpot's CMS, the team can deploy SmartIR pages by using drag-and-drop modules built by the Blue Frog team or HubSpot's out-of-the-box modules.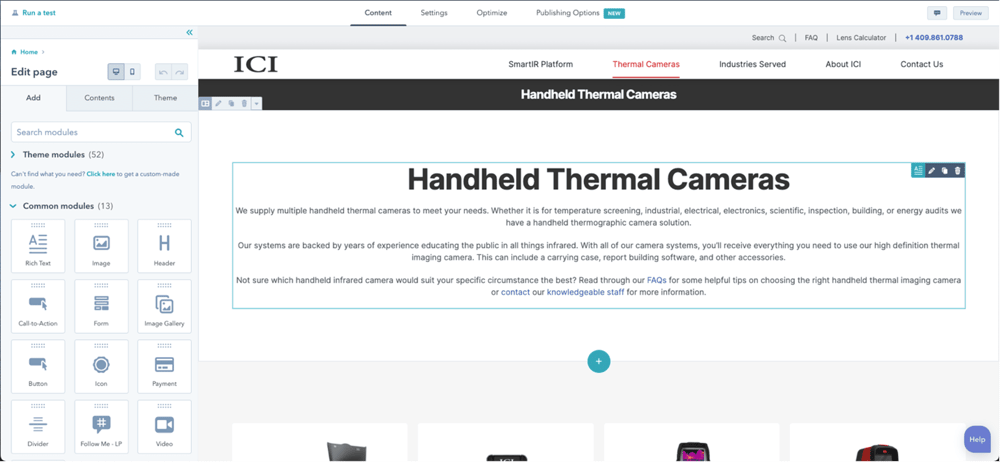 Content is Optimized for Search
Since the migration of the website from WordPress to HubSpot in November 2021, the site has seen a 55.4% increase in keywords ranking in the top three positions, although neither team emphasized content creation.
Our inbound leads from organic traffic have increased more than 20% in a few short months and the quality of the leads has increased as well.

Andrew Klobucar | ICI's Director of Marketing

Performance Analysis
Since HubSpot allows analytics across the entire platform, both teams can use a central source of truth to make strategic, data-driven decisions. HubSpot monitors page performance and provides insight into areas of the site that have room for improvement, including recommendations to enhance SEO.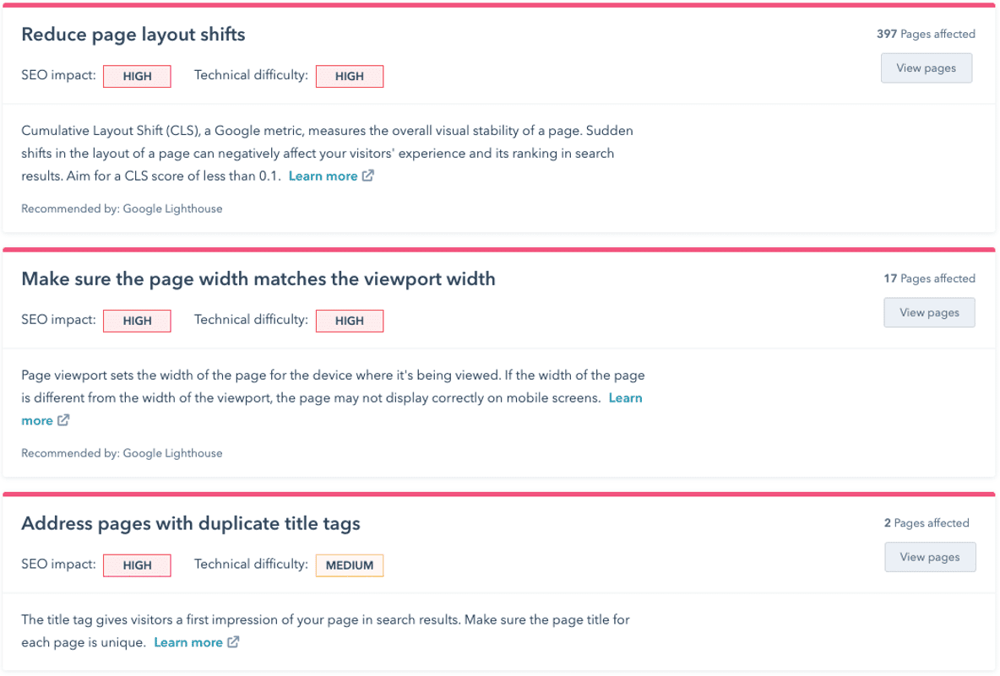 Increased Business Opportunities
The ICI team was burnt out and constrained by the time-consuming WordPress experience, which required ongoing maintenance, taking valuable time away from the pursuit of their marketing goals. With HubSpot, ICI now has a CMS that can scale with them and is simple enough to use that even their most inexperienced team members can maximize functionality.
As a result of the CRM integration with the CMS in HubSpot, the team has been able to build a powerful, personalized website that delivers a great user experience, creating increased business opportunities. Conversion rates have gone from 2.4% in December 2021 to 5.9% in May 2022—an increase of 144.6%. Now the CMS enables ICI to use bespoke modules as building blocks to readily create and rapidly publish high-performing, high-converting pages.
Blue Frog did a wonderful job migrating our website to HubSpot and has helped our team unlock new insights to inform our content strategies and improve user conversion rates.

Andrew Klobucar | ICI's Director of Marketing

The Future
ICI plans to continue utilizing all HubSpot's CMS tools, including reporting, testing, flexible themes, dynamic content, drag-and-drop page editing, and more, allowing the website to scale as the company does. Blue Frog will continue using analytics to determine how to improve user flows to increase conversions and to build pages for infrared applications so ICI can continually educate their target user base.
We are extremely impressed with Blue Frog and the HubSpot platform and are excited to continue to enhance user experience and content development to drive new leads and search engine rankings.

Andrew Klobucar | ICI's Director of Marketing