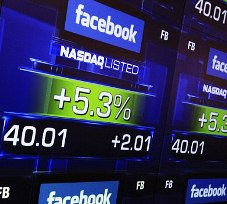 If you follow the market you are probably aware that most marketing and advertising stocks are flying high recently. While the general public has embraced social media for years, Wall Street is now falling in love with marketing automation software and Social Media for business. While Google has been the king of digital advertising, Facebook just exceeded all Wall Street expectations showing they too are now a viable alternative in online advertising and maybe more importantly, they've shown they know how to make ads effective on mobile platforms.
Facebook started it off with an earnings call that stock guru Jim Cramer called, the "best of the quarter" and "amazing". A year ago Facebook had no revenue from mobile ads. A year later 30% of their total revenue is coming from mobile advertising. That is outstanding!
Cramer went on to make this colorful statement.... "If I am an American company and I'm not advertising with Facebook, I'm an idiot!"
YELP! was the next to announce and also beat Wall Street estimates. On August 1st, the stock was up 23.2%!
Finally, LinkedIn rounded out the Social Media earnings calls also crushing estimates and trading up nearly 20% on the announcement.
In addition to these social media stocks, Marketo, the marketing automation software vendor who is roughly the publicly traded equivalent of our partner HubSpot which IPO'd at $13, has recently traded over $33 nearly tripling it's IPO price.
So what does all of this mean?
1) Social Media for Business and Digital Marketing are HOT!
2) Wall Street sees social media as a viable long term advertising platform.
3) Businesses are embracing Social Media advertising and spending on these platforms is up!
4) Marketing software like Marketo and HubSpot are maturing and business are investing in these platforms!
5) Your competition either has a social media strategy or is likely developing one!
While we do believe some platforms are better suited to certain types of business, we also believe most businesses can benefit from utilizing some level of social media activity into their overall marketing plan. Wall Street has seen the incredible value social media marketing is providing businesses and they're betting big money on the future success and growth of these companies.
If you don't have a social media strategy, it's time to start taking a good look at what social media can do for your business. Need help? Let us know and we'd be happy to schedule a consultation to discuss which social media platforms can be most effective for your business!