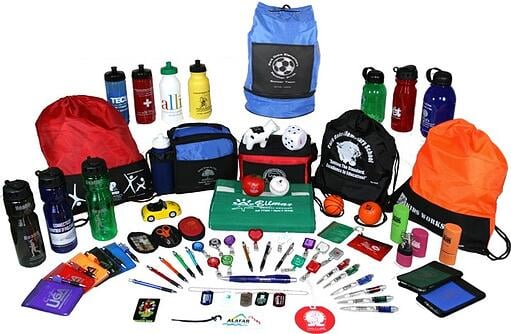 Summer in Des Moines, Iowa is in full swing. The weather is shaping up to be pretty nice, local attractions have hit the outdoors, and families are active outside while enjoying this Summer.
Summer is a great time for your business to get out into the community or even sponsor your own event. Business promotional items are opportunities for your brand to be seen by many people in your area. If those people are current customers, great, now they're promoting your brand. If those people are complete strangers, that's okay, now they have seen your brand! Hey, we love any opportunity to marketing our business, right?
So what are the top business promotional items to giveaway this year?
Tumbler- Now THESE are popular! A Tumbler is a double wall acrylic cup with a lid and a straw. The Tumbler is a hot giveaway right now because the new double wall idea is to reduce condensation. Reducing condensation always helps in the Summer! The Tumbler is BPA free, keeping your customers safe.
Golf Accessories- Summer just screams golf to many people. People are out on the golf course with their friends and family showing off their skills. Wouldn't be better if they were showing off an accessory that had your logo on it? Golf balls tell people that you show an interest in their work as well as in their play, and that says more in today's business world than you realize. Personalized golf balls and accessories like golf tees, divot repair tools, or golf umbrellas will definitely set your company apart from the masses and win you some future business you didn't even see coming! Maybe your golf ball will be their next lucky golf ball!
Tote bags- Tote bags have been popular in recent years, yet people still constantly use them! If you had an event where you were giving your customers a lot of items, you should have your own tote bag to put all of those items in. This isn't an item where people just throw away either. They will put their belongings in the tote bag or take it to the grocery store with your logo on it to be seen by everyone.
T-shirts- Do you see how excited people get when people throw t-shirts out at sporting events or at a parade? Everyone loves a free t-shirt. Why don't you do it? If you talk to an experienced commercial printer who understands the printing world, they can print t-shirts for you at a cost efficient price.
Koozies- So original yet always a favorite! There are a lot of cold beverages being drank that need can koozies wrapped around them. A simple one-color logo on one side of a koozie would be just enough to be beneficial for your business. koozies are very easy to hand out and another way for people to promote your brand.
Rubberized Sunglasses- Don't let the sun get in the way for your current or potential customers out there. Sunglasses are usually one color with a one color text. Text is the most popular print on rubberized sunglasses. A slogan or a website URL can be printed on hundreds of sunglasses.
Plastic Water Bottles- People can never have too many sport bottles. If you imprint your logo on some colorful, high-quality drinkware then you can guarantee that recipients will hold onto it. You would keep a durable and reusable drink container if you received one, wouldn't you? They provide value to customers while still being attractive and customizable, which is what makes them so popular. Water bottles most importantly promote healthy lifestyles.
Pens- Giving away pens will always be everyone's go-to promotional item. This is because people will use your pen. That is if it is a quality pen that looks nice. Your promotional pen can represent your company's personality and always remind people of your products and services.
People love promotional items and your promotional items will always remind potential customers of what your business can do for them. Whatever you decide to giveaway, be sure it is professionally done and it has quality that will stand out.
At Blue Frog Marketing, we believe in providing quality promotional items, at the best commercial printing prices, and with fastest turnaround anywhere. Check out our online promotional catalog and let us take care of your needs.