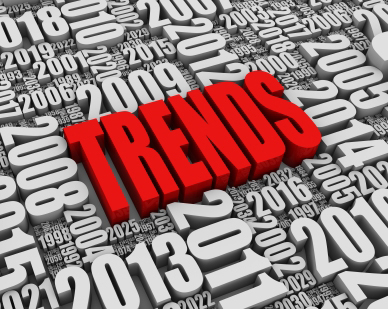 Is it just me or has the first part of 2013 went by in a flash? My daughter is almost done with school for the year and my Chicago Blackhawks are in a battle with the Detroit Red Wings in the NHL playoffs. As we near the halfway point of the year, I thought it would be a perfect time to share with you some popular marketing trends. So without further delay I bring you, The Top 5 Marketing Trends for 2013:
1. Social Media- Twitter, Facebook, LinkedIn, Blogging. These tools are very popular and must have's for your business. If you are a B2B, you should be utilizing LinkedIn. If you are B2C, Facebook. Both Twitter and Blogging can be effective for both B2B and B2C. These tools offer great ways to connect with and stay connected with your audience. The beautiful thing about blogging is it allows you a platform to talk about topics that can generate conversation with your audience, raise awareness of your business and drive traffic to your website. A win all the way around!
2. Inbound Marketing- Inbound marketing is all about allowing your target audience to find you instead of the other way around. This method is less intrusive and more appealing than traditional outbound marketing. Inbound marketing can be broken down into 3 basic phases; getting found, converting and measuring/analyzing. The getting found phase consists of prospects finding your website. You can increase your chances of getting found through things like SEO, blogging, social media and content creation. The second phase focuses on turning those prospects that visit your website into customers. This is accomplished by using landing pages, calls to action, lead nuturing and email marketing. The final step is measuring/analyzing your results and making adjustments where needed.
3. Content Creation- Content, content, content. There is now a big focus on having good, quality content on your website moreso than in the past. Last year Google rolled out new search algorithims, and now websites are rewarded for having good content on their website, not a bunch of links back to their site. Blogging is a great way to create content for your website. Pick a keyword you would like to rank on, and write about it. If you don't have the time, or don't feel comfortable writing content for your website, outsource it. Having good 'Google-friendly' content on your website will go a long way in helping your website be found by prospects.
4. Mobile Marketing- You can't go anywhere without seeing people on their mobile phones. It is all ages; kids, parents and grandparents. I coach my daughter's soccer team and last week during halftime I glanced at the sidelines and noticed half of the parents were on their phones. You must have a mobile presence, or the prospects could be finding your competitors. Studies have shown a decline in traditional desktop searches as consumers get more comfortable with mobile searches. Depending on what your business does, I would also recommend looking into mobile commerce as well as mobile apps. Bottom line, make sure you have some type of mobile presence.
5. Measurable Marketing Technologies- More and more businesses are investing in technology solutions that will track inbound marketing, social media management and measure a marketing campaigns ROI. At the end of the day your marketing efforts have to produce results (more sales). If your marketing is nothing more than a bunch of pretty pictures or fancy slogans that do nothing else, than it has failed. Measuring your efforts will allow you to know which programs are working and perhaps you should double those efforts, and which ones are not working and can be eliminated. If the needle isn't being moved, try something else.
So there you have it. The Top 5 Marketing Trends for 2013. I hope these are helpful and put you on the path to a successful finish to 2013.
Hesitant to try any of these on your own? Contact your friends at Blue Frog sales@bluefrogdm.com. We can help you leap ahead of your competition!