With the growing popularity of social media sites such as Facebook, Twitter & LinkedIn, companies can't afford to not go social. Here are a few tips for managing social media for roofing companies.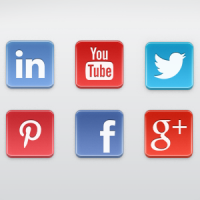 Research the platforms.
Not all social media platforms are used the same, so it's a good idea to research all of them to determine which ones best fit your business & your goals. For example, Instagram is mostly for sharing pictures, whereas LinkedIn was designed mostly for business purposes. Your company may not need to be on all platforms. When you are first getting your company on social media, send an email to current customers telling them where they can find you.
Post interesting content.
Once you've decided what platforms are right for your company, make sure you post regularly. You'll want to post at least once a day, sometimes more depending on what events are coming up.
Pictures are huge on social media. Many studies have shown that posts with pictures get a lot more engagement than those without it. For roofing companies, it is a great idea to show pictures of completed jobs. Also consider posting 'before and after' pictures so potential customers can get a good idea of the quality of your work.
While promoting your company is important, it should not be the only thing done on your social media profiles. You will also want to post things about the community & current events. This will make people realize that you care about things outside of your business, & will also help you appeal to a larger audience.
Engage your customers.
In the roofing industry, customer referrals are crucial. One of the best & easiest ways to get these referrals is by having an online presence. When someone engages with your page, all of their friends & followers will see it. For example, one of your loyal customers may retweet something your company posted on Twitter. All of their followers will then see your message. One of their friends or colleagues just might be looking for a roofer when they see your message reposted by their friend. There's a good chance you'll get that business because of this. This is a referral that you didn't have to work very hard to get.
Make sure you respond or acknowledge everything that is posted on your pages to keep people engaged. If someone comments on your Facebook status, make sure you reply, even if it's just a few words. Customers really enjoy feeling like a company cares about them & what they have to say.
One way to increase engagement on your pages is to have a contest. You might post on your Facebook page that whoever 'likes' or comments on your post will be entered into a drawing to win a prize.
Consider Facebook advertising.
With Facebook's ever changing algorithms, it's becoming increasingly difficult to post content that people who have 'liked' your page will see. Right now, only around 6% of your fans will see what you've posted.
Facebook ads offer a way around this. Consider either advertising your website or your Facebook page to increase your reach. You can also promote just certain posts so more people see them. Promoted posts are excellent for when your company has a sale, or some other big event going on.
Know your limits.
Social media never sleeps. Keeping up with it can be difficult, especially if your company has multiple profiles setup. If it becomes too time-consuming for you or your staff to manage, consider hiring an outside firm, like Blue Frog. To see what Blue Frog can do for your company, click here.