When ordering bound print materials, you'll need to decide what type of binding you want to use. A professional printer can help you decide which type is the best fit for your needs and budget, but here is a basic overview to get you started.
Spiral Binding
You're doubtless familiar with spiral binding, since most of us have used spiral notebooks from the time we were kids. Spiral binding is so often used because it's durable, cost effective, and safe even for young children. If you use spiral binding for your print project, you can choose between metal or plastic coils in a wide range of color options.
Wire-O Binding

Also known as twin or double-loop binding, wire-o binding uses coated steel wire bent into a c shape for a professional bound look. It can be used for a range of document sizes, varying from around ¼ inch to 1¼ thick.
Saddle Stitching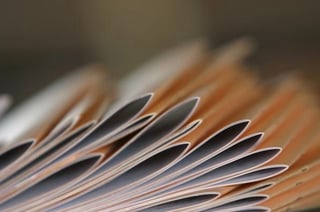 Saddle stitching is a bindery method that holds folded sheets of paper together with wire staples passed through the crease. Each sheet is twice the width of the book and comprises four pages. The collated sheets are draped over a piece of equipment similar to a saddle (hence "saddle stitching"), and the stables are passed from the outer spine and fastened at the book's center. This is a very common type of bindery to use for small booklets, catalogs, or magazines. It becomes less effective with larger publications, which won't lie flat when saddle stitched. If you're thinking of using saddle stitch bindery, it's important to consider this at the design phase because the design will have to account for a small amount of creep that happens as a result of the bulk created by the fold, which causes the outer pages to be slightly wider than the inner ones.
Perfect Binding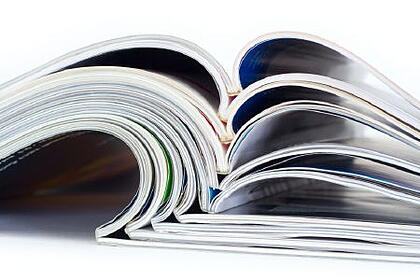 Perfect binding is what we commonly think of as book binding. Pages are glued together at the spine, and the cover is wrapped around them. Perfect binding is more expensive than saddle stitching, but it results in a very professional-looking finished piece with a spine that can also be printed with text and/or graphics. This type of bindery is durable, and it allows even very thick publications to lie flat (unlike saddle stitching). The primary drawback of perfect binding is the fact that it does not allow books to lie flat when open or stay open when you want them to. For these reasons, spiral or wire-o binding is often used instead for publications like cookbooks or atlases.
The printing professionals at Blue Frog Marketing can help you choose the best bindery solution for any bound printed material you want to produce. Our in-house graphic designers and writers can work together with our print staff to ensure that your piece is properly designed for the binding you choose and that the graphics and text are just as professional as the print job itself. We can also create business cards, letterhead, promotional items, signage, and just about any other kind of print marketing materials that you can think of. Click below to request a quote on your next print project.