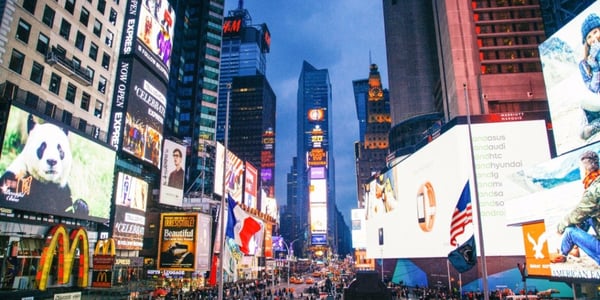 There are currently three zettabytes of digital content out in the world right now. For your reference, a zettabyte is a trillion gigabytes of data. Marketers are tirelessly working to compete with the frenzy of content in order to connect with users. They're developing digital marketing strategies using online advertisements and social media left and right, and it seems that traditional marketing and print may have been left behind.
However, if you think that print marketing is dead, think again. In 2017, print marketing is making a resounding comeback. Why? Because in the crowded digital world, print stands out.
Print is Unique Again
Since print is used less, it grabs more attention. It's easier to read and navigate because it's tangible. In fact, 81% of survey respondents said that they prefer to read print media over digital media.
Digital experiences are not satisfying because they're difficult to connect with. Paul Woolmington says, "We're hardwired for physical and emotional connection, so the more that we're removed from them, the more we wish for them." Print media engages more senses than digital media, making it easier for users to connect with and making it more memorable.
The Most Effective Strategies Include Print and Digital Media
Marketers shouldn't focus on one medium and forget about the other. In fact, 76% of small business owners said that their ideal marketing mix includes print and digital media. Print media can be supplemental to digital media, and it should be used as a tool to augment digital marketing efforts and drive website traffic. Print can be a highly effective complement to a digital inbound marketing campaign; when used together, print and digital media engage users on multiple levels and reach more people than either can alone.
Merging Print with Digital Media
As technology continues to advance, it provides marketers with innovative ways to combine print and digital media. Here are 3 cool examples of companies that are revolutionizing print marketing materials.
Audi
For the launch of the Audi TT, Audi redesigned the conventional sales brochure by adding Bluetooth connectivity and allowing users to preview Audi TT's virtual cockpit.
Battersea Dogs & Cats Home
Battersea changed the leaflet game by embedding paper-thin RFID tags and implemented the #LookingForYou campaign.
GARAGE Magazine
GARAGE Magazine leveraged social media and created unique Snapchat filters that overlay their magazine covers.
For more information, check out our article, "How to Get Noticed With an Inventive Approach to Print Marketing." If you're ready to discuss your next print project, click below to tell us about it and get a quote!