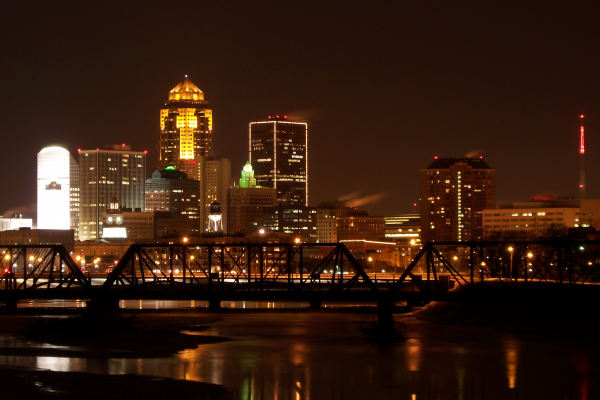 Des Moines marketing and ad agencies have created and in some cases recreated some truly excellent brands. A lot of time we marketers talk about logo design and branding in the same breath. But in reality, branding is much more than just a logo. It's your logo, your sales collateral, your website, the decor and ambiance of your office, and most importantly the way you treat your customers. In the end it's your clients, customers, and prospects that dictate how your brand is actually perceived. Below are four of my personal favorite local brands (in no particular order) including a brief statement about what makes them standouts.
Badowers -- As the sole 'men's only' clothing store in the metro, Badowers fills an important void for men who like clothes. From the logo and website design to the wood floors, leather couches and wet bar in the store - the place is manly. They carry nothing but top quality clothing, products, and accessories from across the country and around the world. The staff is second to none. They remember your name, you size, and your style -- Very friendly and helpful, but not overbearing. In short the type of place that men like to shop.
Templeton Rye -- The local product that needs no introduction. Upon it's re-launch (or initial legal launch) of the the Templeton Rye brand was built on its small batch, prohibition era recipe and connection to Al Capone. Word spread quickly about "The good stuff". It quickly became nearly impossible to get. Harder to get in fact, many joked, than when it was illegal! Demand far out weighed supply for the first several years. People would be on waiting lists for months to get their hands on a single bottle.
Raygun -- The purveyors of hilarious t-shirts and apparel formerly known as "Smash" had built quite a brand for themselves by 2008. In probably one of the funniest responses to a cease and desist order to date, the name change to Raygun occurred in November of 2009. While the new name and logo received mixed reviews initially, they kept pumping out A+ material. Sales continued to increase and recently expanded the store. The logo changed, but the brand remained the same.
Scratch Cupcakery -- The cupcake renaissance is in full swing in Des Moines. There are several establishments serving great cupcakes in the metro. Scratch is the relative newcomer, opening their West Des Moines location in January 2013. West Des Moines is the third store in less than three years after their initial location in Cedar Falls (a fourth is already in the works). The line is often out the door on a Saturday morning. How did they get grow so quickly? The cupcakes are great, the packaging is cool, and service is friendly. More so, they blitzed the area in the weeks leading up to the opening, delivering dozens upon dozens of cupcakes to local businesses. There was a buzz about their product before they even opened the doors!
These are a few of my favorite examples of great local brands, but I think they all exemplify what we want our brands to be. A brand is more than just a design, it's how people interact with and experience your organization. How is your brand perceived by your customers? Ask them.