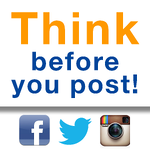 It's being reported on every major news station that on Sunday, a hacker released stolen nude photos of Jennifer Lawrence, Kate Upton, and a number of other female celebrities. This incident is disturbing, disgusting, and a violation of privacy, but it is surprising? Celebrities are constantly putting themselves out there to the public. The FBI and Apple said they are investigating the hacking of iCloud accounts that led to alleged nude photos of Jennifer Lawrence and other female stars being posted online. "We take user privacy very seriously and are actively investigating this report," Nat Kerris, Apple spokeswoman, told NBC News. The computer giant has not explained how the hackers could have obtained the images. The FBI said it was "aware of the allegations concerning computer intrusions and the unlawful release of material involving high profile individuals, and is addressing the matter."
The questions emerge for those of us with kids…is it safe to post photos online? Should your child be posting photos online? Visit any mommy blog or parenting forum on the Internet, and you'll be sure to find this question hotly debated.

There are advantages and disadvantages to having at least some content about your child online. Here are a few tips to help keep your child safe.
Create a Photo Rule- you and your child need to sit down and discuss what is appropriate and what isn't.

Cyberbulling – If you share photos of your child that might be considered embarrassing, there is a possibility that a bully will seek them out and use them to taunt or abuse your child. Help your child identify these photos.

Avoid pictures that give out personal information. Think hard about what kind of personal data can be discerned from a photograph before you share it online. Does the shirt your child is wearing display the name of his or her school? The likelihood of a stalker tracking down your family may be extremely low, but that doesn't mean you should avoid taking the appropriate precautions.

Think Before You Post! - Any content you send out on the Internet can be sent to anyone.

What are your thoughts on the scandal? Do you think it could be avoided? How do you feel about taking nude photos? Leave your comments below!

Visit our website and download our free Pre-Teen/Teen Online contract to help keep your kids on the right track. PRE-TEEN/TEEN ONLINE SAFETY
Let's keep our kids safe! Your teens are online. Do you know what they're doing?

THIS ONLINE SAFETY COURSE IS FOR YOU!

We don't know about you, but when we were growing up, we didn't have cell phones, tablets, or constant Internet access. As parents today, we face many issues that didn't even exist a few years ago. Parenting during the tween & teen years is difficult enough, but now the Internet presents many new unknowns. While allowing your tweens and teens to use social media isn't necessarily a bad thing, – in fact, in many ways it can be incredibly helpful to your child's growth by teaching them independence, problem solving, and computer skills – every parent should understand the very real safety concerns that exist on the Internet today.

Fill out the form to the right for a complimentary Pre-Teen/Teen Safety Contract to start the conversation and establish boundaries with your child. We will send you monthly emails about issues you need to be aware of.

We also offer online training courses for a small fee of $19.99. You can register for the event and watch it anytime. Please email Raylee Melton at Raylee@bluefrogdm.com to get an updated event list, or watch for the next event in your inbox.