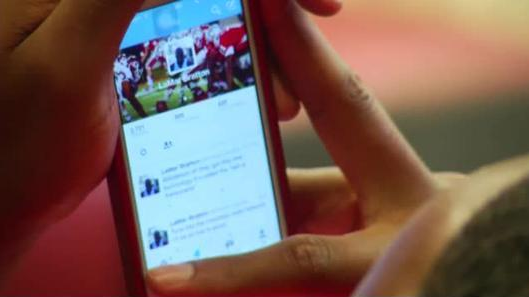 In the heat of the college football season social media can be a good or bad thing for college football players across the country. College football is always a hot trending topic on Fall Saturdays whether it's a SportsCenter Top 10 Play, an upset over a ranked team, a controversial call on the field, or an injury to an impact player.
As an Iowa State University graduate and proud season ticket holder of Iowa State Football, we're going to take a look at one of my favorite current Cyclone's Twitter account @Farnyard. That Twitter handle belongs to Iowa State's starting Center, Tom Farniok. Farniok is one of the nation's most talented Centers in college football and is highly respected in Ames, IA. Farniok has over 2,400 loyal followers and has tweeted 7,200 messages since September 2010 (which is an average of 5 tweets a day.)
As I skim through Farniok's Twitter feed I see a lot of the following: Retweeting fans encouraging Tweets to Tom, supporting his teammate's accomplishments, being your average 23-year-old college kid. He has a very clean Twitter account and is perceived as a great guy. However, that is not the case across all Universities.
The Pros of College Football and Social Media
Social media is a great way for fans to learn a lot about the athletes that they cheer for on Saturdays. Not all fans have the opportunity to congratulate their favorite athletes at the stadium, but they can do so with a 140 character message tweeted directly to that person.
The Cons of College Football and Social Media
Fans can feel a sense of invisibility when they are on social media, even though all messages on social media are out there for the world to see. Fans can say very hurtful and disrespectful things to athletes on social media. Trust me, those messages are seen by the athletes and their peers.
Coaches Not For Social Media
Some college football coaches have taken the privilege of social media away from their players. They don't want fans being negative to their players after a tough loss and they don't want their players saying stuff to the social media world that they shouldn't say after a tough loss.
Don't Press Send
Herm Edwards is a National Football League (NFL) Analyst and former NFL coach. When college football players enter the NFL, he teaches the players to "Don't press send." Because once a negative social media message is posted by a player, the world is going to see that message and cause an uproar with all sports fans.
Taking Away scholarships
University of Colorado's, Yuri Wright, who was once committed to Michigan, was dropped by several schools after he posted a series of inappropriate messages from his Twitter account. College athete's represent their entire school (or brand) and coaches don't want their team to look bad by certain players poor judgments.
How To Do Social Media Right
Social media is a powerful tool and is a great piece of college football. Take a look back at Tom Farniok for example. He is doing all the right things on social media to share with his fan base. He is avoids talking about controversial things such as sex, drugs, alcohol, etc., or posting profanity-laden messages. All social media messages should be positive and non-controversial.
Social Media Education
The first part of social media education is to have the coaches and administrators learn everything about social media. Not only will this help coaches and administrators keep an eye on their athletes, but they also can teach their athletes how to use social media appropriately. Coaches can form guidelines and polices around social media too. If these rules are broken, you can expect a suspension!
Future of Social Media
While controversies involving current players and recruits are unlikely to fade completely, the problem has become visible enough for all parties involved to start educating themselves on the issue. Young college football recruits are quickly learning about the dangers of social media as their peers and parents are starting to understand some of the potential social media pitfalls that come with the recruiting process, according to the Atlanta Journal-Constitution.
The NCAA has become more lenient towards college football coaches recruiting via social media, because the NCAA understands that social media is here to stay and that youth athletes across America are using their social media accounts to brand themselves.