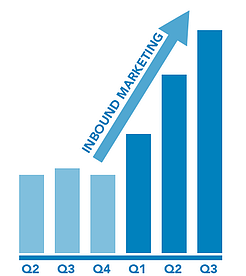 If you haven't heard about Inbound Marketing, you may be behind in your industry! Click on the following link to learn more about the Inbound Marketing Philosophy. Anyway, it is definitely the way of the future with marketing your business. Not only has the Inbound Marketing strategy been growing in popularity with all types of marketers, it has a proven record to be more effective than the traditional outbound marketing practice when it comes to generating leads. You get the point, Inbound Marketing is great.
So now you're thinking about hopping on board with an inbound marketing program to help attract more website visitors, capture more leads, and close more sales. You're ready right?! What if your boss or the people around you not sold on the hottest marketing trend out there? Well here are 9 statistics that will help you convince your co-workers or boss that inbound marketing is the way to for your marketing budget in 2014.
Inbound Marketing bring in 54% more leads than outbound marketing. These leads have found you via Google, Social Media, Website, or some other online platform. Therefore they have interest in you! Explain to your co-workers that being found on the first page of Google is crucial. Once your business is found from having an SEO friendly website, we will want to CAPTURE those visitors with Calls-To-Action and Landing Pages where the visitor (who is interested to learn more about your product/service) fills out their information (name, email, etc.) in return of an eBook, guide, or whatever the marketing piece that you want to give to them. So, they gave you their information, you give them something free in return. Oh yeah... Outbound Marketing... How are you going to know who to push marketing out to or your ROI?
The average cost of an inbound marketing lead is 61% lower than the cost of an outbound lead. Not only does starting an inbound marketing program lead to more and better leads, they cost much less. In 2012, the average cost of an outbound marketing lead was $346, while the average cost of an inbound lead was $135.
Maintaining a blog requires, on average, 7% of a marketer's time and 9% of their budget. The reason the average cost-per-lead for inbound marketing is so low is because content is so cheap to implement, both in terms of money and human resources. Blogging is very important to your website's SEO efforts and a way to inform your potential customers on how your business can solve someone's problem.
Companies that blog once a month generate 70% more leads than those who don't.

If you don't post any content at all, you'll see an improvement. And if you put in even just the bare minimum of effort, you'll see your leads increase dramatically.



70% of all links clicked from searches are organic, not paid.

Content is king. And the most effective way to drive customers to your site isn't with a pay-per-click campaign, but with a well-researched, well-implemented SEO strategy.



Companies with over 1,000 Facebook likes see an average traffic increase of 185%.

Basic social media is free to implement, but if you put the time and effort into it, it can have a huge payoff. How does it tie in with inbound marketing? We're all about driving traffic to your website or hitting a demographic on social media for your page to be found.



Companies with up to 200 pages of content on their site generate 2.5 times more leads than companies with 50 or fewer pages.

When it comes to content, there's no such thing as too much. The more unique pages you have, the better chance your business has of success. With Google's most recent algorithm, it's all about GREAT content. If you have great content, Google is going to give you a boost in the rankings.



60% of companies have adopted some element of the inbound marketing methodology into their overall strategy. What are you waiting for? Don't let your competition have better marketing efforts that you!


53% of CEOs/CMOs increased their 2013 inbound marketing budgets. and only 9% decreased their inbound marketing budget. The CEOs and CMOs have seen results from inbound marketing. Inbound Marketing has a lot of analytic tools to show your boss why the inbound marketing budget should be increased yearly.

The numbers don't lie. Starting an inbound marketing program is the best route to success with your brand. With these numbers, your boss can't afford NOT to implement an inbound marketing campaign.
Blue Frog Marketing in Des Moines uses the Inbound Marketing philosophy and are results through the roof! The customers we implement inbound marketing for thrilled with the amount of traffic that inbound marketing bring into their business. Click on the button below if you would like a consultation on inbound marketing for your business.